Asus Laptop Review: UL30VT-A1 - Portability and Battery Life
In the Sweet Spot Between a Laptop and a Netbook
The Asus UL30VT A1 is a laptop that straddles the line between full-size notebooks and smaller netbooks. Its 13.3" widescreen display allows it to be significantly smaller and more compact than typical laptops, while providing more screen real-estate than sometimes-cramped netbooks.
It includes both Intel integrated graphics and NVIDIA graphics hardware. You can switch back and forth between the two, taking advantage of the greater battery life with integrated graphics while away from an outlet, and the greater performance while plugged into an outlet or playing a game.
Battery Life (5 out of 5)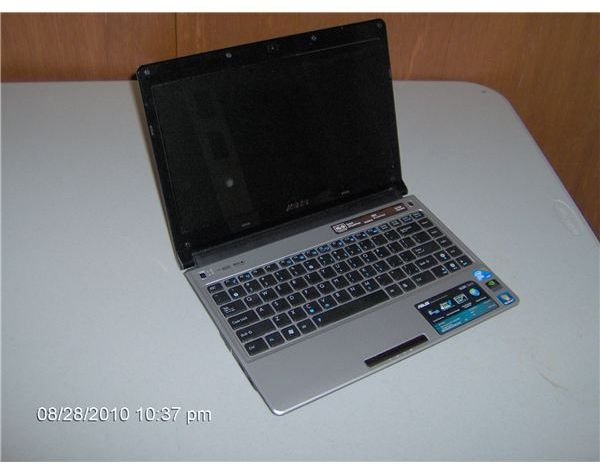 Asus quotes the battery life of the included 8 cell 5600mAh battery at 12 hours. It's very possible to get this level of battery life if you use a low power mode. This is a level of battery life not normally seen in more capable laptops and more common in less capable netbooks. The more demands you put on the system, the less the battery life. But, even with heavier use, 10 hours or more is easily achievable.
The battery life lets you work all day away from an outlet, and the multiple graphics cards and power modes allow you to not sacrifice performance while you're plugged in.
This Asus laptop review covers the UL30VT A1, which has longer battery life than the original Asus UL30VT X1.
Portability (4 out of 5)
The laptop is very light itself; once you insert the battery, you realize that the majority of the weight is in fact in the battery. At 3.74 pounds, this Asus laptop is much lighter than full-size laptops. In fact, it's over twice as light as many full-size notebooks.
It's also less than an inch thick, and the 13.3" screen allows it to be easily carried around. While it's not quite as portable as smaller netbooks, it's significantly more capable.
One concern to bear in mind is that the screen is very glossy. This isn't a concern if you use the laptop indoors, but if you plan on using it outside in direct sunlight, you may be disappointed by the reflections. Asus laptop computer reviews often note the problems with their glossy screens. While it's supremely portable, you might want to look for a laptop with a matte display if you plan on using your laptop outside in direct sunlight a lot.
Keyboard and Touchpad (5 out of 5)
This Asus laptop includes a chiclet, or island-style, keyboard. The keyboard is full-size, allowing comfortable typing without your fingers feeling cramped. Many smaller, portable laptops have smaller keyboards, but the UL30VT's size is a sweet spot that allows it to include an normal-size keyboard.
The laptop's trackpad supports multi-touch for intuitive cursor movements. You can place two fingers on the touchpad and move them around to scroll up and down or left and right. The touchpad also allows you to perform left, middle or right clicks by tapping one, two or three fingers on it.
Software (4 out of 5)
No Asus laptop review would be complete without mentioning the included software. The Asus UL30VT A1 comes with the 64-bit edition of Windows 7 Home Premium. Home Premium includes the features most users expect, but if you need professional features such as the ability to join Windows domains, Windows 7's Windows AnyTime Upgrade feature allows you to upgrade to another edition over the Internet.
The UL30VT A1 also includes the typical grab bag of utilities and third-party promotional software usually found on new Windows computers. Some of the utilities are very useful and allow you to disable Bluetooth or wireless, change the computer's power mode, switch video cards and more. Other utilities won't be used by most users and add clutter to the system, for example, proprietary utilities for creating an encrypted an encrypted file vault and managing windows.
The system also includes several games, which feel about the normal quality of flash games available on the Internet. Users with kids might find these useful for keeping kids entertained, but otherwise they aren't impressive.
It also includes Asus Express Gate, an instant-on operating system that you can boot into by pressing a button above the keyboard. This may be of interest to some users, but if you hibernate your laptop instead of shutting it down, resuming from hibernation seems faster than starting Express Gate.
Value (5 out of 5)
As of August 2010, the UL30VT A1 was only $714.99 on Amazon.com. While you do pay more than you do for netbooks and some full-size laptops, it's still quite a deal. The netbooks lack the power of the UL30VT A1 and the full-size laptops lack the portability and battery life. For both, you pay only slightly more.
Conclusion (5 out of 5)
The UL30VT A1 is an amazingly capable and portable device with its weight, power and battery life. If you're not sure whether you want a netbook or a more powerful laptop, the UL30VT or a similar model from Asus is a great choice that gives you the best of both worlds.
Asus laptop computer reviews of this model have been almost uniformly positive. While the included software is cluttered and the glossy screen reflects in direct sunlight, these are minor criticisms, almost nit-picks, that don't detract from the quality of this laptop.
Photos: Asus UL30VT A1 / Chris Hoffman