LaCie Rugged eSATA 500 GB Review
LaCie Rugged eSATA 500 GB Portable Hard Drive Review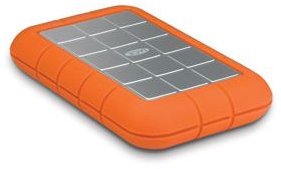 LaCie is a relatively new player in the hard drive space compared to Western Digital or Seagate or even Transcend, but they have made quite a mark with their range of LaCie portable hard drives. They offer a nice set of features and good performance at a very reasonable price. The new LaCie Rugged eSATA hard drive is a new entrant which offers eSATA and USB 2.0 connectivity at a very low price. It has very good data transfer speeds and is built to last.
LaCie Rugged eSATA 500 GB Specifications
Dimensions: 5.7 x 3.5 x 0.9 inches
Weight: 240 gms
Drive Type: 2.5 inch
Drive Speed: 7200 RPM
Connectivity options: USB 2.0, eSATA
Storage Capacity: 500 GB
Operating Systems: Microsoft Windows XP, Windows Vista, Windows 7, Mac OS X 10.5 or later
Software: LaCie Backup Assistant, LaCie Setup Assistant
Box Contents: LaCie Rugged eSATA 500 GB, USB 2.0 cable, Power eSATA cable, USB power sharing cable.
Warranty: 3 year limited warranty
Price: $159.99
Design (3 out of 5)
The LaCie Rugged eSATA hard drive looks quite stylish and well, rugged, in its orange and silver avatar. The design of the Rugged series of hard drives has remained the same throughout the years. The build quality is really good and the drive is built to withstand rough handling and small drops and bumps. It has a thin aluminum covering which is covered by an orange bumper which protects it from bumps. Some may not find it appealing, especially in a business environment, but most, like me, shouldn't have a problem with the design. It has dimensions of 5.7 x 3.5 x 0.9 inches and weighs around 240 gms which makes it a bit bulky compared to other drives.
Features (4 out of 5)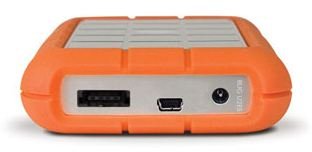 The LaCie Rugged eSATA has a USB 2.0 port, a power over eSATA port which is powered and transfers data through the same port. It comes with a USB cable, an eSATA cable and a USB power sharing cable which works on older PCs and laptops which cannot supply power over the eSATA port.
The LaCie Rugged eSATA hard drive comes with both USB 2.0 and eSATA connectivity. It comes with the LaCie Backup Assistant which allows you to backup your data and restore it easily. It is available for both the PC and Mac OSes. It also comes with the LaCie Setup Assistant for Windows which allows you to setup your drive for use with your PC.
Performance (4 out of 5)
The LaCie Rugged eSATA is a very good performer when it comes to data transfer speeds. It offers really good data transfer speeds via USB 2.0, a read speed of around 30 MBps and a write speed of 25 MBps. With eSATA it has exceptionally good speeds of around 96 MBps (read speed) and 86 MBps (write speed). It performs quite well for extended durations without heating up a lot.
The Verdict (3 out of 5)
The LaCie Rugged eSATA 500 GB is a very good performer when it comes to USB 2.0 and eSATA speeds. It is priced at $159.99 with a 3 year limited warranty, which is a good price if you plan to use the high speed eSATA connectivity. However, if you, like most users can do with USB 2.0, you should rather get the Samsung G2 Portable Hard Drive or the Transcend StoreJet 25F. Both offer better value for money but don't have eSATA. If you are looking for a good drive with FireWire 800 connectivity, the G Tech G Drive Mobile would be a great deal.