Transcend Storejet 25F Review
Transcend StoreJet 25F Review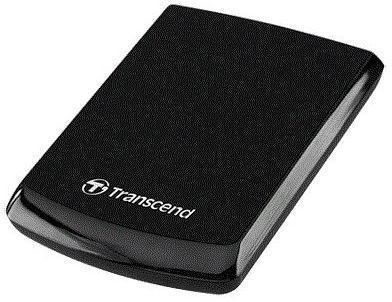 The Transcend StoreJet 25F is a budget portable hard drive which provides you with a very good price to storage ratio. It is one of the best options if you are looking for a no-frills portable hard drive which offers just the basic functionality without any advanced features but at a very low price.
Transcend StoreJet 25F Specifications
Dimensions: 114 x 81 x 15 mm
Weight: 163 gms
Capacity: 250 GB, 320 GB, 500 GB
Drive Size: 2.5 inch
Drive Speed: 5400 RPM
Interface: USB 2.0
Data Cables: USB cable
Compatibility: Windows XP / Vista/ Windows 7, Mac OS X, Linux
Warranty: 3 years
Design (4 out of 5)
The Transcend StoreJet 25F has a nice design and is quite stylish. It has a very compact form factor and is very slim with dimensions of 114 x 81 x 15 mm and a weight of 163 gms. It looks great in glossy black and the build quality is really good. It has a USB 2.0 port at the back of the drive. It has rubberized feet at the bottom of the drive which hold it in place and protect the body from scratches when placed down.
It is very light and easy to carry around and comes with a USB cable to connect it to computers. Inside the StoreJet 25F lives a 2.5 inch external hard drive with a drive speed of 5400 RPM and an 8 MB buffer. It also has an LED indicator which indicates when it is in use.
Features (3 out of 5)
The Transcend StoreJet portable hard drive offers a lot of nice features. It is a plug-and-play device so you don't need to configure anything at all. Just connect the device and transfer data around. It offers just USB 2.0 connectivity (no FireWire) and works with Windows 7, Windows Vista and Windows XP. It also works on Mac OS X and Linux systems.
It comes with the Transcend StoreJet Elite software suite which allows you to backup, restore and synchronize your data with the StoreJet 25F. It also allows you to compress your files and protect it with a password using 256 bit AES encryption. It also has an automatic backup solution. It also enables you to store your email and your favorite bookmarks on the drive.
Performance (4 out of 5)
The Transcend StoreJet 25F offers excellent performance. It has very good read / write speeds on the USB 2.0 interface: 28 Mbps and 24 Mbps respectively. They are some of the best data transfer speeds in this price range. It runs silently and remains cool even after prolonged usage.
The Verdict (4 out of 5)
The Transcend StoreJet 25F is a very good option in the price range it's being offered in. It combines a good design with nice features and performance. It comes with a 2 year warranty and is priced at around $100 for the 500 GB version. If you want an alternative to the StoreJet 25F, I would go with the Samsung G2. It has better speeds than the StoreJet 25F and is priced nearly the same.