G Tech G Drive Mobile Portable Hard Drive Review
G Tech G Drive Mobile Review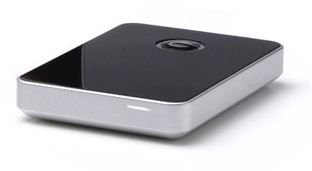 G Technology is a relatively new player to the hard drive space. In a market which is the stronghold of heavyweights like Seagate, Western Digital and Samsung, G Tech offers a good alternative - the G Drive Mobile. It offers fast data transfer speeds, USB 2.0 and FireWire 400/800 connectivity and a nice design. It is priced a bit high at $149 for 500 GB but the great performance makes it worth it.
G Tech G Drive Mobile Specifications
Weight: 9 oz
Capacity: 500 GB
Drive Size: 2.5 inch
Drive Speed: 5400 RPM
Interface: USB 2.0, 2 Firewire 800
Data Cables: USB cable, Firewire 800 cable, Firewire 800 to 400 converter cable
Compatibility: Windows XP / Vista/ Windows 7, Mac OS X, Linux
Warranty: 3 years
Design (4 out of 5)
The G Tech G Drive Mobile is a stylish drive which comes dressed in glossy black or white. It is a sleek, compact drive which has a relatively high weight of about 255 grams. It feels sturdy and has excellent build quality.
It comes with 2 FireWire 800 ports and a USB 2.0 port on the back. It has 6 rubberized feet at the bottom which give it a nice grip. Design wise, it has no issues at all. At the heart of the G Drive mobile is a 2.5 inch 500 GB external hard drive with a drive speed of 5400 RPM.
Features (4 out of 5)
The G Drive Mobile comes with almost all the basic stuff you would expect from an external hard drive. It comes with a USB 2.0 and 2 FireWire 800 ports. The drive can be powered directly from the port's power. It comes with a USB cable, a FireWire 800 cable and a FireWire 400 to 800 converter which allows you to connect the drive to older FireWire 400 ports.
It comes formatted with the HFS format but can be formatted using NTFS or FAT32 for use with Windows too. It is compatible with Windows XP / Vista/ Windows 7, Mac OS X and Linux systems. It doesn't come with any built-in backup utility but is fully compatible with Time Machine.
Performance (5 out of 5)
The G Tech G Drive Mobile does exceedingly well when it comes to drive performance. The read / write speeds for both FireWire 800 and USB 2.0 are way above average. It has a read speed of about 69 Mbps and write speed of 65 Mbps when connected via FireWire 800. In the case of USB 2.0, it has a read speed of around 30 Mbps and a write speed of 25 Mbps. It doesn't heat up a lot, even after long usage, and is pretty silent. It comes with a 3 year standard warranty.
The Verdict (3 out of 5)
The G Technology G Drive Mobile is an excellent drive which comes with both USB 2.0 and FireWire 800. It's priced a bit high at $149 for 500 GB but the superb speeds and the FireWire capability make it worth it. If you don't want to spend that much and can make do without FireWire, you could go with the Samsung G2 Portable Hard Drive 640 GB for around $100.