Samsung G2 Portable Hard Drive Review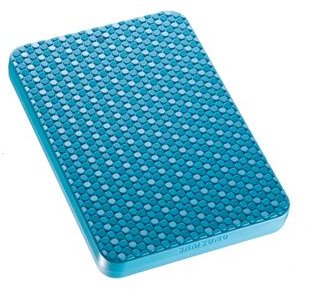 The hard drive space is dominated mainly by Western Digital and Seagate, but players like Samsung and Toshiba are also trying to make a mark. The Samsung G2 is a stylish portable drive by Samsung which provides a mix of style, speed, performance and features in a compact portable hard drive. It supports the USB connectivity interface and comes in a lot of colors. It is available in varying capacities ranging from 250 GB to 640 GB.
Samsung G2 Specifications
Dimensions: 112 x 79 x 17 mm
Weight: 146 gms
Capacity: 250 GB, 320 GB, 500 GB, 600 GB
Drive Size: 2.5 inch
Drive Speed: 5400 RPM
Interface: USB 2.0
Data Cables: USB cable
Compatibility: Windows XP / Vista/ Windows 7, Mac OS X
Warranty: 3 years
Design (4 out of 5)
The Samsung G2 is quite a stylish drive with great build quality. It has dimensions of 112 x 79 x 17 mm and a weight of 146 gms which makes it really portable and compact. It has a stylish beaded pattern on the top which exudes an artistic feel. It is available in 4 colors: Cobalt Black, Silver White, Olive Green and Cobalt Blue. It is one of the better looking external hard drives I've seen.
There is a USB slot at the back of the case which connects to the cable. It also has an LED indicator on the top which blinks when data is being transferred. As the drive is a 2.5 inch hard drive, it is powered directly via USB.
Features (4 out of 5)
The Samsung G2 comes with all the basic features you would want in an external hard drive. It supports only the USB 2.0 interface and comes with a USB data cable to transfer data. It is compatible with Windows XP, Windows Vista and Windows 7. It can also be used with Linux machines and Mac OS X. It comes bundled with two useful applications: Samsung Secret Zone and Samsung Auto Backup. Auto Backup can be used to automatically backup specified folders at regular intervals. It's quite easy to understand and use. Secret Zone can be used to create a virtual drive and store data in it using a password. Both these applications work only in Windows.
Performance (4 out of 5)
The Samsung G2 is great in terms of performance; it offers superb read/write speeds via USB 2.0. It has a data write speed of around 26 MBps and a data read speed of around 30 MBps. These speeds are quite good, especially considering the Samsung G2's price. It doesn't offer FireWire data transfer. Even after prolonged usage, it doesn't heat up a lot and is quite silent. It is eco friendly, ROHS compliant and consumes less power than the average drive.
The Verdict (4 out of 5)
The Samsung G2 is a great portable hard drive with nice features and a stylish design. It has really good read/write speeds and is priced very reasonably at just above $100 for the 640 GB version. I would definitely recommend it.
References