Asus EEE PC 1001P Review: Design, Display and Speakers
Asus EEE PC 1001P Review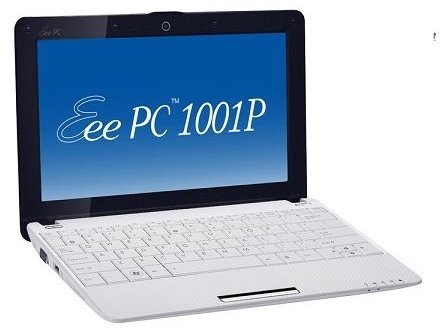 The Asus EEE PC 1001P is a new entry level budget netbook by Asus. Asus has been the frontrunner of the netbook revolution and has launched a lot of new netbooks since the success of the original Asus EEE PC 701, the first netbook. In the following years, netbooks have evolved not only in terms of design and size, but also in terms of capabilities. It has a good hardware configuration: the new Intel Atom N450 processor, Intel GMA 3150 integrated graphics, 1 GB RAM and a 160 GB HDD. It also has a nice design and offers good build quality.
Asus EEE PC 1001P Specifications
Dimensions: 10.3 x 7.0 x 1.4 inches
Weight: 2.8 pounds
Display: 10.1 inch WSVGA display, 1024 x 600 pixels
Processor: Intel Atom N450 at 1.66 GHz with 667MHz FSB and 512 KB cache
RAM: 1 GB DDR2 SDRAM
Chipset Intel NM10
Graphics: Intel GMA 3150
Hard Drive: 160 GB Seagate HDD, 5400 RPM
Operating System: Windows 7 Starter Edition
Connectivity: Wi-Fi 802.11 b/g, Bluetooth 2.1 + EDR
Ports: LAN, VGA, headphone jack, mic, 4 in 1 card reader
Battery: 6 cell Li-ion battery, 4400 mAh
Retail Price: $340
Design (4 out of 5)
The Asus EEE PC 1001P has a nice design and is quite compact with dimensions of 10.3 x 7.0 x 1.4 inches. It is also very light with a weight of just 2.8 pounds. It comes with the seashell design, the same as the older EEE PC 1005 PE. Despite its low price, the build quality is really good and the netbook chassis feels sturdy with minimal flex around the display and keyboard. The RAM on the back can be easily replaced thanks to the access panel. Overall, the Asus EEE PC 1001P has no complaints when it comes to build quality and also sports an attractive design.
Display and Speakers (4 out of 5)
The EEE PC 1001P comes with a 10.1 inch LED backlit display with a resolution of 1024 x 600 pixels. It is a matte display which is not as attractive as glossy displays but also doesn't have much reflection which makes it viewable even in brightly lit rooms. The display quality is quite decent, you can easily watch videos and movies on it. It has wide viewing angles, both vertical and horizontal.
The Asus EEE PC 1001P comes with built in speakers which have decent audio quality. The volume is a bit low but they suffice if you intend to play small videos. For music and movies, I would recommend using a good headset with the 3.5 mm audio jack.
Keyboard and Touchpad (4 out of 5)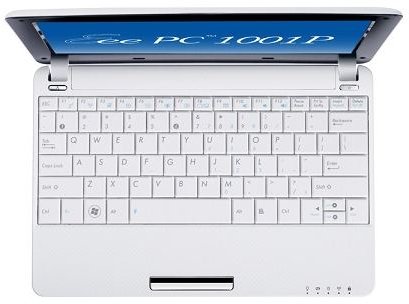 The Asus EEE PC 1001P sports a standard sized netbook keyboard with decent key spacing. The keys have a nice feel and offer good feedback. For regular laptop users, the keyboard might feel a bit cramped, but once you've gotten used to it, it's great. You can get used to it in a relatively short amount of time. The keyboard also includes shortuts for Wi-Fi, display brightness, volume, etc.
Below the keyboard lies the touchpad which is a Synaptics model. It supports multitouch gestures like pinch-to-zoom, etc. The touchpad surface is quite smooth, responsive and allows for fast navigation. It has a single button below which acts as both the left and right keys.
Hardware and OS (4 out of 5)
The Asus EEE PC 1001P is a very capable machine when it comes to hardware. It sports the latest in netbook hardware: Intel Atom N450 processor at 1.66 GHz with 667MHz FSB and 512 KB cache, 1 GB DDR2 SDRAM, a Intel NM10 chipset and the Intel GMA 3150 integrated graphics. It also comes with a 160 GB Seagate HDD at 5400 RPM. The RAM can be easily upgraded to 2 GB. It runs the Windows 7 Starter Edition. It can handle standard usage like music, video playback, movies, document editing, and Internet browsing without breaking a sweat. It stands at the top of its budget range when it comes to performance. The Intel Atom N450 is both relatively powerful and power efficient. It can handle low end games easily.
Battery, Ports and Features (4 out of 5)
The Asus EEE PC 1001P comes with a 6 cell 4400 mAh Li-ion battery which offers excellent battery life. With moderate usage, the battery lasts for about seven hours before getting fully drained out. With the volume lowered, display brightness reduced and Wi-Fi off, it lasts for about 9 hours easily.
It comes with a range of expansion ports and connectivity features: Wi-Fi 802.11 b/g and Bluetooth 2.1 + EDR as well as LAN, VGA ports, a headphone jack, mic and a 4 in 1 card reader.
Conclusion (4 out of 5)
It is one of the best netbook offerings in this price range. I would definitely recommend it.