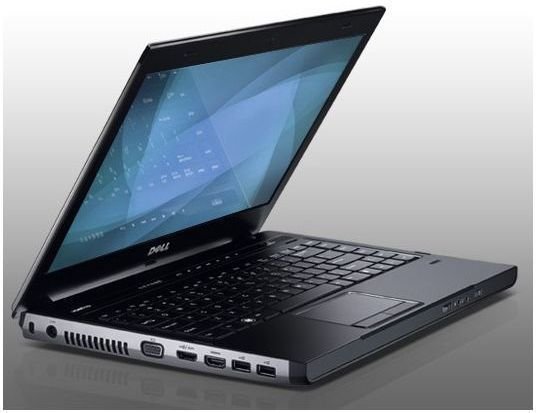 The Dell Vostro 3400 is one of the best business laptops that you can get. It combines some of the best laptop hardware, good battery life and a stylish design to offer you one of the best light weight business laptops around. It starts at $549 for the basic version and costs around $800 - $1000 with some of the better laptop hardware chosen.
Dell Vostro 3400 Specifications
Dimensions: 13.35 x 9.54 x 1.16 inches
Weight: 4.8 lbs
Processor: Intel Core i5 430M, 2.26 GHz, 1066MHz, 3 MB L2 cache
Memory: 4 GB DDR3 RAM, 1066MHz
Hard Drive: 320 GB 7200 RPM HDD
Graphics: Nvidia GeForce 310M with 512 MB VRAM
Display: 14 inch LED Display, 1366 x 768 pixels, Webcam
Operating System: Windows 7 Home Premium
Optical Drive: 8X Dual layer CD/DVD RW
Connectivity: Wi-Fi 802.11 b/g/n, Bluetooth 2.1 with EDR
Battery: 6 cell Li-ion battery
Starting price: $549
Design and Build Quality (4 out of 5)
The Dell Vostro 3400 comes with a sleek and stylish design which is classy enough to suit business sensibilities while being stylish enough to attract normal users. It has dimensions of 13.35 x 9.54 x 1.16 inches and weighs around 4.8 lbs, which makes it quite compact and slim.
It looks great in black and silver and has excellent build quality. The chassis is sturdy and the body is very durable. It is available in two colors: Silver and brownish red. It has an access plate which allows you to upgrade RAM and hard drive easily.
Display and Speakers (3 out of 5)
It comes with a 14 inch high definition display which is LED backlit. It has a resolution of 1366 x 768 pixels. The display quality is pretty good but the resolution is a bit on the lower side. It has really good viewing angles and has good contrast too. The LED backlit display is impressive and improves the battery life too. The display lid has a bit of flex but other than that, the display is fine.
The Dell Vostro 3400 comes with built in speakers which offer decent audio quality with adequate levels of volume. They come in handy when watching short videos but using a headset is highly recommended for listening to music or watching movies.
Keyboard and Touchpad (3 out of 5)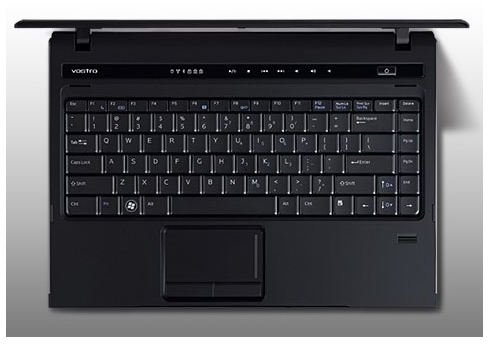 The Vostro 3400 comes with an excellent keyboard with standard sized keys and decent key spacing. The keys have a nice feel and offer good feedback. It is one of the best laptop keyboards around.
Below the keyboard lies the touchpad, which supports multitouch gestures. It has a scroll bar to the right and the two buttons below it. The touchpad offers just the right amount of sensitivity and is very responsive. The keyboard-touchpad combo is very satisfactory.
Performance (4 out of 5)
The Dell Vostro offers customizable hardware options. You can customize it to fit your budget and suit your needs. The entry level $549 option comes with the Core i3 processor 370 M at 2.4 GHz, 2 GB DDR3 RAM, Intel Integrated Graphics and a 250 GB 7200 RPM hard disk. You can upgrade the configuration to the Intel Core i5 520 M processor at 2.93 GHz, 4 GB DDR3 RAM, 500 GB hard drive and the Nvidia GeForce 310M GPU with 512 MB VRAM. It comes with Windows 7 Home Premium, which can be upgraded to Windows 7 Professional. It also has an 8X DVD RW optical drive. These will increase the price to the higher level mentioned earlier.
With the Core i5 processor, 4 GB RAM and the Nvidia Geforce 310 M card, the performance sees a significant increase but the battery life suffers a bit. You can easily do video editing and play games at moderate settings. The basic stuff like document editing, chat, web browsing, watching movies etc., can be handled easily.
Ports, Connectivity and Battery (4 out of 5)
The Dell Vostro 3400 comes with a lot of expansion ports and connectivity options. It has three USB 2.0 ports, 1 USB / eSATA port, VGA and HDMI ports for video out, an Ethernet port, memory card reader and an Expresscard slot. It also offers a Wi-Fi 802.11 b/g/n adapter and Bluetooth 2.1 with EDR for wireless data transfer.
It has a 6 cell 56 WHr Li-ion battery which is pretty capable. With moderate usage, it can last for up to 4 hours. You can extend the battery life further by lowering the display brightness, speaker volume etc. It also comes with the option of a 9 cell battery, which offers much better battery life.
Conclusion (4 out of 5)
The Dell Vostro 3400 is a great business laptop which offers a stylish design, a wide range of hardware options, a nice display and good battery life. It's definitely worth checking out if you are on the lookout for a new laptop. You should also check out this list of Best Budget Laptops Under $1000. Even the Dell Studio S1535-125B is a nice alternative if you want a standard multimedia laptop.