iThoughts HD: A Mind Mapping App for the iPad
iThoughtsHD Overview

If you're looking for a full featured iPad mind mapping app, iThoughtsHD is one of the options that would probably be on the top of the list. The makers of this app have also created the very popular iThoughts for iPhone app.
In this review, the following things will be explored: its features, the best parts of the app, and its challenges.
iThoughtsHD Background
Category: Productivity
Released: 23 April 2010
Version: 1.0
Download Size: 1.1 MB
Language: English
Seller: Craig Scott
Rated: 4+
Compatibility: iPad. iOS 3.2 or later
Price: US$9.99
iThoughtsHD iPad Mind Mapping App Features
iThoughtsHD has several features. These are some of the features as highlighted on the developer's website:
Configurable canvas backgrounds
Support for very large maps (with a canvas that is 600x the standard screen size)
Work in landscape and portrait mode
Pan and Zoom (out)
Auto align and arrange topics relative to each other (automatically if desired)
Cut, copy, paste, move and merge topics and branches
Collapsible branches.• Relationships (links between topics)
Task Management (due date, percent complete)
Topic notes (with hyperlinks)
Topic attributes (color, icon, shape)
Integrated with box.net online collaboration service
Open email attachments in iThoughtsHD
Email maps as attachments (in all supported formats)
Wirelessly upload/download mind maps using a web browser
Export as PDF or PNG images. Import and Export Freemind, Novamind, Mindmanager, XMind, iMindmap, Mindview, and OPML format maps.
To see a more complete list of iThoughtsHD's product features, check out the Features Page.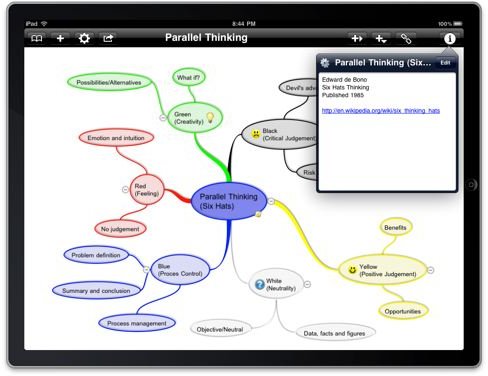 Pros and Cons of iThoughtsHD iPad Mind Mapping App (4 out of 5)
Just like most apps, there are great things and some challenging things about iThoughtsHD as a mind mapping tool.
These are some of the things that I like about iThoughtsHD:
It integrates a "To Do" function, so you can create a list of tasks while you're brainstorming.
Users are able to move branches from one place to another, so you can shift the ideas around easily. This isn't always possible in some of the other apps that I've tried.
It is also easier to reorganize the flow of ideas, compared to some of the others that I've tried.
It is possible to change child branch colors (manually).
It has several import/export functions. I love that it can integrate to many popular apps that are already existing, such as Freemind and iMindMap. I've tried the iMindMap import and export, and apart from some minor formatting issues, it works really well.
Some of the things that I found that I didn't like about iThoughtsHD:
Cost is prohibitive in a way, since it is more expensive than the usual apps. Having said that, I still think it's worth its price.
It is not organic. It creates mind maps in a more flow chart type manner, not the typical mind mapping approach where the ideas are on the branches.
There is no undo function. You need to delete something when you wish to change or remove ideas.
It was not as intuitive as I would've liked. It takes a while to get used to all the functions and features.
There's no automatic change of colors for new ideas.
Bottom line: It is an expensive app, and it will definitely take some time to learn. But, for all its challenges, it is still a pretty good mind mapping app for the iPad. At the time of writing this review, I don't think there's any other app quite like it. If you need a tool to help you with brainstorming and idea mining on the iPad, then iThoughtsHD is the tool for you.
Check it out at the iTunes App Store