Sony All-in-One PC Reviewed
Sony All-in-One PC
With all-in-one PCs becoming increasingly popular there is no shortage of models to choose from. The idea is to consolidate a full PC system into a monitor so there is no box. This frees up space and reduces clutter. Sony produces a wide range of all-in-one PCs with various specs and in different shapes and sizes. In this review we focus on a specific Sony all-in-one PC – the Sony VAIO VPC-L116FX/B.
Design (4 out of 5)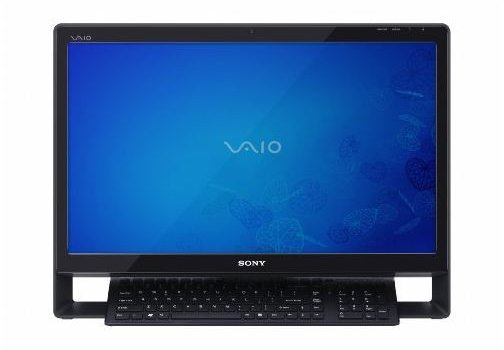 This is a really attractive device which measures 22.9 x 16.9 x 7.4 inches. The gorgeous screen is surrounded by a glossy black border and the kickstand allows it to sit angled on your desktop. The air can swirl around it to prevent overheating and the controls are all accessed on either side of the display. It is obviously thicker than a normal monitor but dispensing with the box altogether is a great space saver and it is a stylish looking system.
Features (5 out of 5)
This Sony all-in-one PC has a great range of features with a fast processor, big hard drive and a decent graphics card. The 24 inch touchscreen is the star of the show and it supports full high definition at 1920 x 1080 pixels. In the interests of consolidating your technology and distilling various functions into a single device Sony has also thrown in a TV tuner and a Blu-ray player.
This system is great for games, movies, TV, music and photos. If you have time after all that then you can browse the web or get stuck into some work. You can even work and watch TV with the picture-in-picture function. The system comes with the Windows 7 Home Premium 64 bit operating system pre-installed.
Additional features include HDMI connectivity and Bluetooth for streaming stereo audio and wireless communication. The Blu-ray drive pops out on the right hand side and it can also read and write DVDs and CDs. This is a powerful and versatile system and it should fulfil all of your needs.
Specifications (5 out of 5)
Taking a closer look under the hood we find the following specs:
2.66 GHz Intel Core 2 Quad Q8400S processor
6 GB of RAM
500 GB hard drive (7200rpm)
Nvidia GeForce GT 240M GPU (1 GB dedicated RAM)
This is a fast, efficient system with enough power for the vast majority of users.
Connectivity (3 out of 5)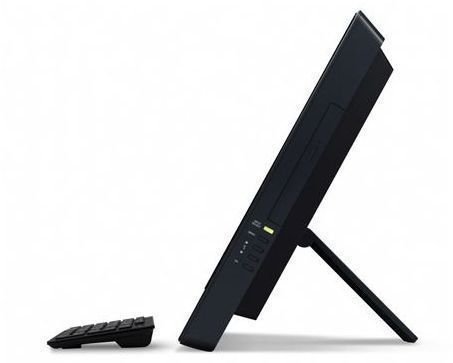 Many of us use extra devices nowadays and so connectivity is a big deal. With an all-in-one PC space is at a premium so you might expect limitations in terms of available ports and connections and compared with a normal desktop you'd be right. This Sony all-in-one PC offers the following:
1 Ethernet Connection
1 HDMI Input
5 USB 2.0 Ports
1 Audio In (Line In)
1 Headphone Output
1 Microphone Input
1 S/PDIF Output
1 i.LINK Connection
This is probably more in line with a laptop but with 5 USB 2.0 ports it certainly isn't too limited.
Extras (4 out of 5)
The system comes with a wireless mouse, a wireless keyboard and a remote control. They are all high quality peripherals and pleasing to use. The batteries are supplied and the final ingredient is a power cord. This makes for minimal mess and a tidy desktop.
You also get some other software on top of Windows 7. Trial versions are generally considered bloatware and so you may not be delighted to hear that there is a 30 day trial of Norton Internet Security 2009 and Microsoft Works SE 9.0 with a 60 day trial of Microsoft Office Home and Student 2007. On the other hand the VAIO Multimedia Suite is very handy and allows for simple movie creation and touch navigation of your multimedia gallery. There are also tools for system diagnostics and maintenance.
The Sony VAIO VPC-L116FX/B is not overflowing with extras in terms of hardware or software but it does meet expectations.
Overall (4 out of 5)
This is a fantastic product and if you have limited space it is the perfect option because of its versatility. You could hook up your PS3 to this system and use it for console and PC gaming. You've got the Blu-ray drive for music and movies in high definition and the built in tuners for watching TV. When you need to do some work it is more than capable and you can use it to access the web as well. What more do you need?
The specs and connectivity options are good enough to cater for most people although there is no doubt you'll pay a premium price for a system like this. This is largely because of the touchscreen and the fact that all-in-one systems are still fairly new. You could certainly get a more powerful system if you chose to spend your money elsewhere but it wouldn't be as stylish or appealing as the Sony VAIO VPC-L116FX/B. Considering the complete package the value for money is pretty good.
If you are intent on getting a Sony all-in-one PC this is undoubtedly one of your best options. You can order one for $1,799.99 at Amazon.