HP Photosmart Plus Model B209A Wireless Inkjet Printer Review
Wireless Printing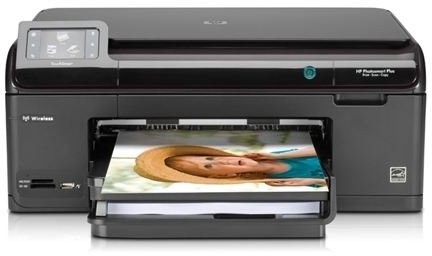 The HP Photosmart Plus Edition Model B209A is an incredible all-in-one printer that also features wireless connectivity. This means you can use it without having a direct connection to any computer. You don't even have to place it next to a computer. As long as it has power and is within range of your wireless network, you could put this printer most anywhere inside your home or office.
If you live near a Sam's Club, which is where my wife and I bought this printer, you can get it for less than $100. Given all its features, that is a steal. Just know that you'll end up spending more than that on ink during the life of the printer, but such is the case with inkjets. The added functionality of scanning and copying will help prolong the usability of this printer for a while. It comes with everything you need right in the box, including a USB cable for configuration.
Installation (5 out of 5)
The installation process is pretty straightforward for this printer. You just pop in the CD and follow the on-screen instructions. You will have to connect the printer to a computer during the install process, and from there you can configure it to work with your wireless network and enter any passwords. The entire install process took about ten minutes on an Acer Netbook, and that's because it installs all the drivers plus a program called HP Solution Center that handles all your scanning, too.
Printing (5 out of 5)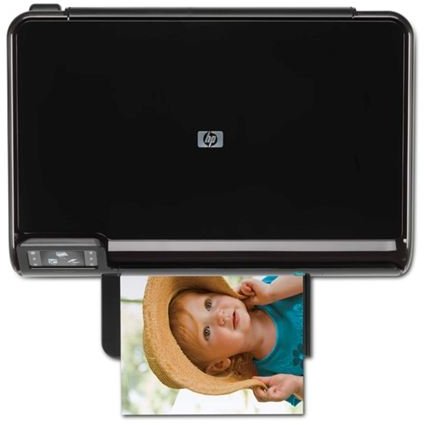 I have been a loyal HP printer customer for as far back as I can remember, and I have never had any major complaints about their color inkjet printers. This one prints excellent color as well as black and white. It uses four separate ink cartridges (black, cyan, magenta, and yellow) that you can buy individually or in packs. The ones that come with the printer aren't filled to max capacity, but this is typical. HP is making money on the back end with ink sales, and that's why the up-front cost of the printer seems so cheap.
This printer can print up to 30 ppm (pages per minute) in a reduced quality 'draft' black color, or up to 15 ppm at normal quality. For everyday printing, the draft quality is fine and will save your ink consumption. Color printing ranges from 1ppm at the highest quality to up to 28 ppm in draft quality. These numbers are fairly standard for when it comes to inkjet printers. Black and white print quality goes up to 600 dpi, and color printing can go as high as 4800 x 1200 dpi, which makes it great for printing full color photos on photo-quality paper.
Scanning and Copying (5 out of 5)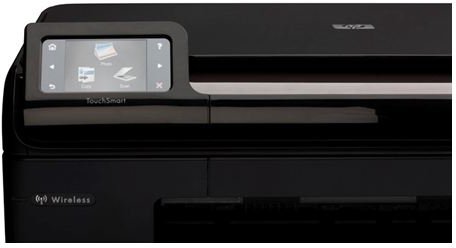 Thanks to the touch screen interface, copying a document is as easy as placing it on the glass or in the feeder and hitting a button. You don't need to have your computer ready to copy anything, either. Scanning is equally as easy. Just place the document on the glass or in the feeder, then use the included software to do a scan. It's fast and easy. Scan quality can go as high as 1200 dpi, and it copies at 600 dpi. Scanning is fairly quiet, too.
Wireless Functionality (5 out of 5)
Once you configure the printer to work wirelessly, it works exactly the same as it would if you had the printer connected via a USB cable. Whether you are printing color images or scanning documents, there doesn't even seem to be any speed issues involved. I was quite amazed by how effectively it worked over the wireless network. Even scanning full page color images took just a few seconds to scan and import into the PC, then I could save the documents to PDF using the HP Solution Center software. That is such a nice feature.
Overall (5 out of 5)
If you have a wireless network in your home or office and need a good printer, you should check out the HP Photosmart Plus Edition Model B209A. It's easy to use and packed with tons of great features, plus you can always rely on HP quality.