HP Officejet 6500 Multi-function Ink Jet Printer Review - An AIO Printer for Small Business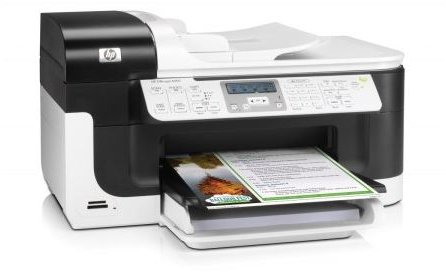 The 6500 series is a print, copy, scan, fax flatbed inkjet printer that is rated to handle 7,000 pages per month (maximum). HP advertises this printer as a "…fast economical, and eco-conscious AIO (all-in-one) that will save you 40% per page compared to laser printers." While some of these claims are a bit exaggerated, the 6500 series is certainly feature packed.
Performance (4 out of 5)
HP makes some big speed claims about this printer… well, sort of. The 6500 printer's overview page on HP's site claims that the 6500 all-in-one will "Print fast, at up to 32 pages/minute black, 31 color" but then HP contradicts itself by stating, on the same page "that the series will match laser printer speeds… up to 7 pages/minute black and color." It sounds like they are a bit uncertain of the capabilities of this printer. To be fair to them, their footnotes qualify the lofty 30+ ppm claim by stating that the super fast speeds come sometime after the first page is printed.
In between prints, the printer tends to go through periods of indecision, in which the printer heads paces up and down the guide rail in seeming confusion as to what to do next, and all this is going on while your next print job waits in the queue. This whole process takes on average 50sec, so you better go do something else until it decides to start working again. Don't worry; you will know when it's done, as this is a noisy worker that loudly chants its busy-ness. If you do most of your printing at night and don't want to wake the household, don't buy this printer; it is one noisy wonder.
Supported Media (4 out of 5)
The 6500 series supports direct photo printing from memory cards, so a computer doesn't have to be used to get a quick print from your memory stick. Supported memory card media include: Secure Digital; Secure Digital High Capacity (SDHC); MultimediaCard; Secure MultimediaCard; Reduced-Size MultimediaCard (RS-MMC)/MMCmobile; MMCmicro/miniSD/microSD; xD-Picture Card; Memory Stick; Memory Stick Duo; Memory Stick PRO; Memory Stick PRO Duo.
Cartridges and Printer Costs (4 out of 5)
The printer is shipped with standard cartridges but HP also sells high-yield cartridges. The prices for the standard cartridges ink are average, but the high-yield versions are impressively cheap: 2.7 cents per page for black text and 9.1 cents per page for color. In fact, you will be hard pressed to find a cheaper inkjet solution than the HP 6500 series. Even if you use you use cheap refill cartridges this is still a competitive package.
Ease of Setup (2 out of 5)
Whatever the specifications of the computer to which the 6500 is connected, users often complain of the software compatibility issues. The software tends to load and work slowly, especially if other HP printer management software is present on the machine. I highly recommend that you uninstall any older versions of HP's software the may be on the host machine; it will make life a lot simpler. Even so, you may still have issues getting the 6500 to work seamlessly on your network, especially if you use the wireless option.
Overall Rating (3 out of 5)
The HP 6500 printer series is a competent all-round printer that has low printing costs and above average print speeds. I would have gladly recommended it if it didn't have that excessively noisy trait.
Pros:
Inexpensive high yield inks
Has automatic duplexing
Fast print speeds
Cons:
Very noisy
Has software compatibility issues, especially with older HP software
Price range, when this review was written: $139 to $495