HP Officejet 6500 Printer Review: All-in-One Wireless Printer, Scanner, Fax Machine and Photo Copier
Multifunction Printers
The printer market seems to have undergone a lot of changes in the last few years. The revolution in photography and home photo printing coupled with the rising number of people operating businesses from home has led to greater demands in the functionality stakes. It seems there is no such thing as "just a printer" anymore, and the HP Officejet 6500 is part of this trend.
Features (3 out of 5)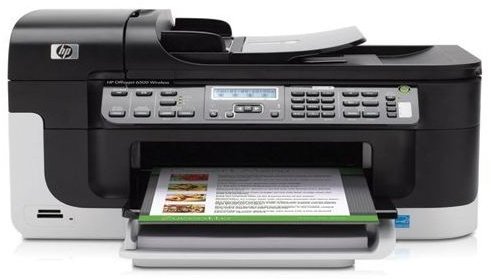 This is an all-in-one device suitable for a home office. It works as a printer, a fax machine, a photo copier and a scanner. How well does it perform? Well, advertised top speeds for printing are 32 pages per minute for black and 31 pages per minute for color.
How HP reached those figures is tough to work out because in reality the speeds are closer to 11 pages per minute for black and 3 pages per minute for color. That will still be fast enough for most people but it is quite a distance from their claims. The printer is also capable of printing photographs at a decent level of quality.
As a fax machine this device has a 100 page memory and it can store up to 100 speed dial numbers. When it comes to copying you can print between 25% and 400% of the original size. For scanning the maximum resolution is 2400 dpi and the maximum scan size is 8.5 x 11.7 inches. It can handle faxes, copies and scans in color if you so desire.
Additional features include a 250 sheet paper tray, an automatic document feeder and support for automatic double sided printing. It also has support for wireless on the 802.11g standard although there is a wired version as well. It packs 32 MB of internal memory and supports various memory card formats. To round off, there is a text LCD which shows two lines for reviewing print jobs and other bits and pieces.
Usability (2 out of 5)
The HP Officejet 6500 is designed to be easy to use. It works with PC or Mac and there is software provided. Unfortunately the software is surprisingly sizable and has to be installed on every machine that wants access to the printer. With the software installed, print jobs are easy to set up and you're unlikely to have any problems there. In addition to basic paper it can handle cards, labels, envelopes and of course photo paper. You can print across the network or direct from a memory card.
The other functions aren't quite as straightforward as the printing. On the plus side there is a 35 page automatic document feeder for queuing up fax, scan or photocopy jobs. The lack of a color LCD to review jobs is a bit of a disappointment but it helps to keep the price down and you can set up jobs without ever going near the actual printer using the software provided. If you have moderate office needs then it should do the trick. For people with a heavy workload who need a real workhorse machine this might not be the best option. The actual operation is noisy and quite slow.
Connectivity (3 out of 5)
For a start you have the wireless option. There is also an Ethernet port and a USB port. Your choice of supported memory cards is Memory Stick, Memory Stick Duo, Multi Media Card, xD-Picture Card and SD Memory Card. You shouldn't have any problem getting it up and running on your network but it will take you a while to install the software, especially if you have multiple machines you want to use the printer with.
Value for Money (4 out of 5)
The HP Officejet 6500 wireless model is currently being offered for $139.99 at Amazon. That's pretty good when you look at the specs on offer here. There are similar all-in-one office devices on the market at similar prices but there are a couple of money based reasons that the HP stands out. Firstly the cartridge system uses 4 separate cartridges for different colors so when you run out of one you only need to replace one cartridge, and the prices are relatively low. Single cartridge printers will definitely work out as more expensive in the long term. The printer is also Energy Star qualified and the double sided printing feature allows further savings. If you are concerned about being eco-friendly you'll be glad to know HP also recycles your old cartridges for free.
User Reviews (3 out of 5)
The user reviews are distinctly mixed. On the pro side it is reliable, it offers good quality prints and scans and it has a good range of basic features for the price. The separate ink cartridges are another big plus which is often highlighted in user reviews. It seems the HP Officejet 6500 is a good all-rounder for people with fairly basic requirements. The negatives include the software set up, the high noise level and the slow start up and operation speed. It is also quite a cumbersome device and the build quality is quite basic, so it may not last a huge amount of time, especially if you use it a lot.
Overall (3 out of 5)
There are some slightly cheaper options out there but the range of features and the actual cost per print are big selling points for this device. The HP Officejet 6500 is a decent budget machine. You can get better quality machines and you can certainly find quieter and faster machines but not for this price. There are enough flaws here to prevent a strong recommendation but in the budget price category it is tough to beat. If you are not convinced then you might be interested to check out some other suggestions for good wireless printers.