Review of Optoma HD20 Projector
Overview (4 out of 5)
If you are looking for a highly affordable data projector to use to project images or videos or for use as a home theatre, the Optoma HD20 is a model in the $1000 range. It is a 1080p projector. This means that it has 1080 horizontal scan lines that are scanned progressively. In the other HDTV mode, interlacing is used to project the image in which alternate lines are scanned. Both modes use a frame frequency of about 30 frames per second so that the alternate line scanning is never apparent to the ordinary viewer.
The Optoma HD20 projects very high quality images and this would definitely be a big boost to your home theatre projection room.
The weight of the Optoma HD20 is just 6.4 pounds, making it very easy to move from place to place, and its dimensions of 12.8 inches by 9.2 inches with a height of 3.8 inches makes it very handy to carry or even stow away if this is how you prefer your equipment when not in use. You can also easily set it up permanently so that it is available for immediate use in your home theatre room to all the family members who are trained to use it.
Insert New Section
Connectivity (4 out of 5)
The Optoma HD20 does not come with an HDMI cable. So you have to have the correct cables and have everything on hand to set up the Optoma HD20, which is otherwise quite a simple thing to do. Once you have connected the projector to the correct devices, TV, DVD etc, you just have to point the projector at the screen or a designated wall area and focus the image to the best results that you require. The Optoma HD20 has a trigger connector that you can attach to a retractable screen that will come up when you start the projector and retract when you switch it off. You can also use the various ports on the Optoma HD20 which include two ports for HDMI connections, a plug jack for composite video, and also a connector for another TV.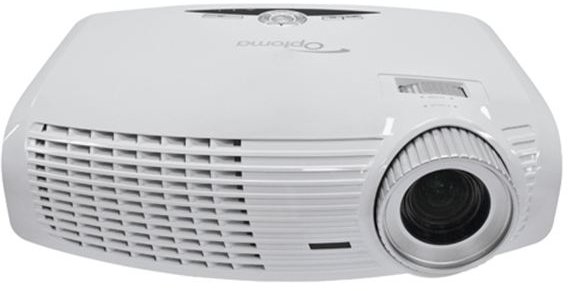 Picture Resolution (4 out of 5)
The brightness on the Optoma HD20 appears to be a little less what the manufacturer claims, but more than adequate if used in a darkened room. The image size, however, should satisfy most home theatre buffs. The best quality pictures are those that are available with an HDMI connection and a 480p resolution which is just right for standard DVDs. The pictures are much crisper and the colors richer with very adequate skin tones. Picture quality is not as good with a standard video format and composite video connection. Noise reduction is adequate. The fan noise on the projector may be a little disturbing if your home theatre room is a little small, but once you are immersed in the movie or whatever you are watching you may not notice the disturbance at all.
Availability (5 out of 5)
The Optoma HD20 is available from a number of online dealers and brick and mortar stores dealing in home theatres, cameras, and other such equipment. This wide availability is a point in its favor and will definitely help it to spread widely to its targeted base of home theatre addicts. The Optoma HD20 is very similar in appearance to the HD65 model of earlier years, but offers you the more technically satisfying 1080p line at the same price.