CM Storm Scout PC Case Review: Cooler Master Gaming Case for Pro LAN Party Gaming
First Impression (4 out of 5)
This is a tough looking case and, according to Cooler Master, has a "Fierce Design Inspired By Military Weapons". Luckily, the case looks better than the description sounds: drop the "Fierce" bit and yes, there are some nice military looking rivets and angles reminiscent of stealth aircraft. The Scout is equipped with two 120mm fans that have red LED's and one 120mm fan in the top of the case which doesn't light up. The front panel of this gaming chassis features the normal buttons along with eSATA, USB, and audio connectors as well as a button for dimming the LED fans. The front panel looked to be missing an external 3.5" mesh panel, how ever after opening the accessory box that comes with the case I found the front mesh cover 3.5" external bezel. The only use I could see for external 3.5" on a gaming case if for fan control. A floppy drive or multi card reader isn't really necessary in a gaming chassis. The top of the case has a handle that, just as with it's big brother the Sniper, isn't just a plastic handle, it has a metal core attached to the chassis then covered with plastic. In other words this case will not (like some of the cheaper cases out there) break out of your hand and hit the floor.
CM Storm Scout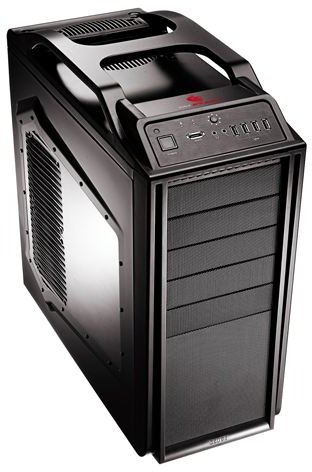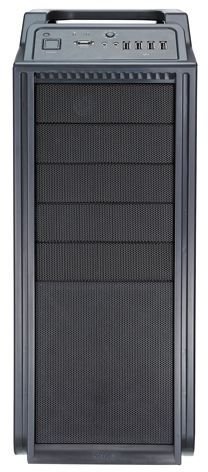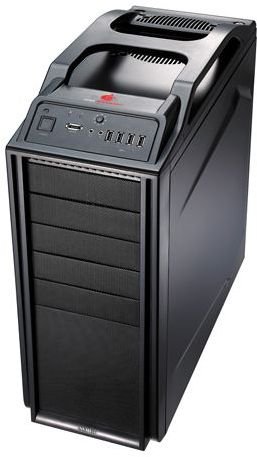 Features & Specs. (5 out of 5)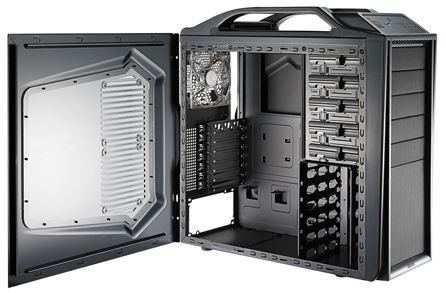 This case is suitable for use with ATX and Micro ATX motherboards. As with all other hardware in the CM Storm series this case also comes with a "StormGuard®" system: essentially a bracket that will keep cables snug. If a cable gets tripped over or yanked, it wont fly out of the motherboard, possibly damaging it in the process. It's a nice, thoughtful, feature that I know will save some motherboards from damage. I can think of one instance that I personally would have benfited from StormGuard®. It also makes it harder for people to steal your valuable peripherals.
SSD is becoming a popular option to supplement traditional drives. To accommodate this the CM Storm Scout comes with brackets to fit any 1.8" or 2.5" SSD into the HDD 3.5" cage.
The motherboard tray features a hole for easy and quick swapping of processors or cooling. No having to take out the motherboard to upgrade a cooler, even if you need access to the underside to install brackets and screws.
The acrylic side panel comes with a 40% automotive tinting and can be fitted with 2 120mm fans. The flared design of the side panel isn't just for looks, it helps the Scout swallow larger coolers.
Specs.:
Model SGC-2000-KKN1-GP
Available Color Black/All-Black Interior
Material Steel, ABS Plastic, PC, Mesh bezel
Dimension (D)489 x (W)219 X (H)495.5 mm (D)19.2 x (W)8.6 x (H)19.5 inch
Weight 8.7 kg / 19.23 lbs
M/B Type Micro-ATX/ATX
5.25" Drive Bay 5 Exposed (without the use of exposed 3.5 inch Drive Bay)
3.5" Drive Bay 5 Hidden 1 Exposed (converted from one 5.25 inch Drive Bay)
2.5" Drive Bay 1 Hidden (converted from one 3.5 inch Drive Bay)
Cooling System Front: 140mm Red LED Fan x 1; 60 CFM; 30,000 hrs life expectancy (included) Top: 40mm Fan x 1 (included) or 120mm Fan x 1 (optional) Rear: 120mm Red LED Fan x 1; 44 CFM; 35,000 hrs life expectancy (included) Side: Acrylic window; supports 120mm x 2 (optional)
Expansion Slots Standard x 7, Special x 1
Power Supply Standard ATX PS2 (optional)

"True Ultimate LAN Gaming Case" ORLY?
After spending some time walking around, with everything installed in the case, I can say the claim is true. This case will enable you to easily carry your hardware from LAN to LAN party. It would have been nice to see a soft case cover in the box but you can buy those for pennies at several websites. The back panel has enough room for you to hide even the most elaborate wiring setups. I'm a stickler myself when it comes to clean install: I'm known as the ZIP Tie king. To get the best airflow in a case you must first make sure the wires are out of the way, and this case has excllent cable management.
Conclusion: (4 out of 5)
This is a highly portable case with a tight mid-tower form factor that still provides room for sufficient cooling opportunity. It's a well built gaming chassis that won't fall apart under the pressure of being moved a lot. If you equip your entire gaming team with this case your sure to make an impression. The CM Storm Scout sells in stores and on ebay for between $95-$125.
Combine this case and the new Sentinel Advance gaming mouse and you will definitely look the part at your next LAN party.
Questions? Or Comments?
If you would like to share your opinion about this article or ask a question then please leave a comment below. Or send me an e-mail using this form. Or come join me in the new IRC chatroom.