Laptop Cooler Review: Lian-Li NC-09 Laptop Cooler
First Impression
When I read "aluminum design," I thought Lian-Li's NC-09 Laptop Cooler would, like often seen, have some aluminum with some plastic. But, this is a true aluminum design front and back. As a result of this, I can say this is the sturdiest laptop cooler I have reviewed so far.
Laptop Cooler Images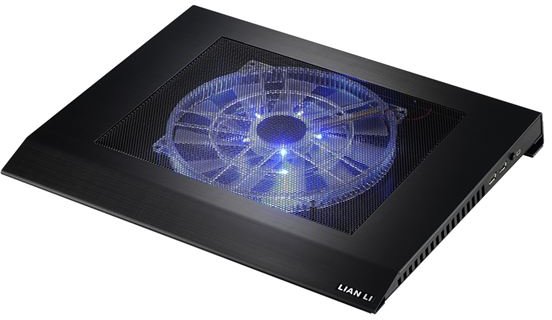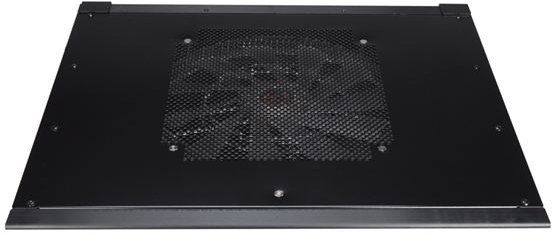 Features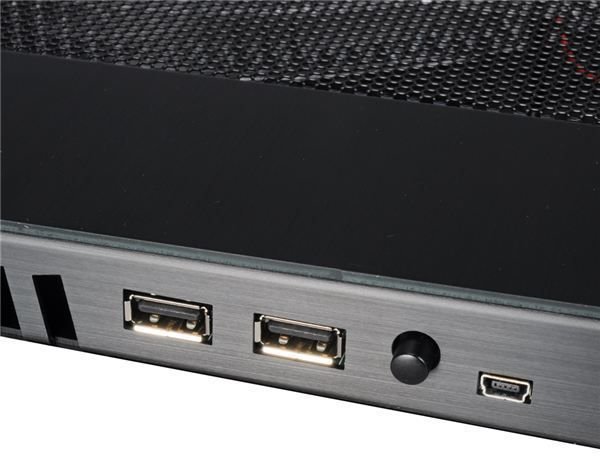 The most obvious feature of this laptop cooler is the fan, a 220mm fan that lights up blue and is seated in the middle of this laptop cooler. On the side we find three USB ports. The Mini USB can used for a mini USB phone adapter.
The NC-09 laptop cooler comes with a USB cable that has two type a (male) connectors. This cable goes into one of the USB ports on the laptop cooler. The other port can be used to connect other USB enabled devices like flash drives. I tried to use the mini USB and then to connect two more USB devices on the other ports, but this didn't work. The mini USB really is only intended to be used with a cell phone adapter. This laptop cooler will take laptops up to 17 inches.
The NC-09 also features a way to put your laptop under an angle this is easily done with the thumbscrews. Just loosen them up and move the bracket to the desired position.
Brackets on the Back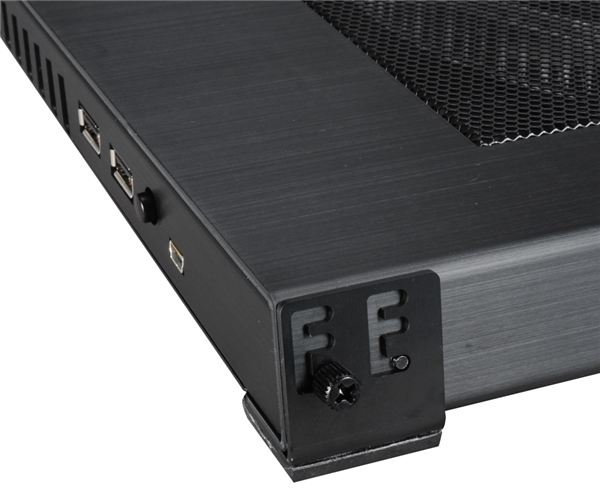 So, Does It Really Cool?
I decided to test this on an older laptop, a Compaq v2000, as this is a laptop that runs hotter then the newer laptops we have here. Initially, it looked like it wasn't working at all. However, this turned out to be a problem with the laptop. After reapplying the thermal grease and retesting, the temperature drop is 4C° from 56C° to 52C°, so the big fan does cool the laptop down some.
Overall, I would buy the NC-09 laptop cooler, and lifting the laptop up under an angle always makes using the laptop more comfortable.
Rating (4 out of 5)
I'm going to have to rate this laptop cooler with a 4 out of 5. At a MSRP of US$70+VAT, I need more cooling to give it an higher rating. That said, I would buy this cooler for its design only. It's one of the sharpest looking laptop coolers I've seen in a while. Keep in mind, this is a full aluminum cooler, and it will last forever because of this. This makes the price a little more just. It's not the cheapest but also not the most expensive aluminum laptop cooler around.
Related Articles
Questions or Comments?
If you would like to share your opinion about this article or ask a question, then please leave a comment below. Or, send me an e-mail using this form.