Best 2009 Review of Netbooks
Introduction
Up until last year, computer manufacturers sold us on bigger and more powerful machines, convincing us with each new purchase that we needed to spend more for the more advanced computers. When they got smaller they made us pay even more, attributing the cost to the trouble of cramming good components into a smaller package.
That was until last year. Then a company, Asus, recognized that the power most people really needed to do their everyday stuff- cruise the Internet, run a few simple applications, watch movies on the go- was already available years ago. What people wanted now was a small, portable laptop that didn't have unnecessary specs just to blow up the price. The final catalyst to push this forward was the Intel Atom processor- basically a really small processor that still had a good kick to it. With this last piece in place, Asus put together the Eee PC and the netbooks were born.
Netbooks differ from laptops mostly in their philosophy: netbooks are meant to provide their users with basic, efficient functioning in a cheap, small, and portable package. In 2009 every other company (well, most) have caught on and are offering up their own options that adhere to this philosophy.
Because of this difference, a review of netbooks must be different than a traditional review of laptops. We must first note a few things:
Most netbooks have comparable specifications. The standard netbook configuration right now is 10" screen, Atom processor, 1 GB RAM, 3 cell-battery, 160 GB hard drive, and Windows XP. Pretty much every company offers this configuration. But pretty much every company also offers a higher end, one with 2 GB of RAM, a SSD (solid-state disk), and a larger battery. Note: All come with comparable webcams and wireless capability as far as I can tell.
The most important differences are the small ones. Because the specs are all comparable, what will determine your choice will be things like price, durability, screen quality, support, and, probably most significantly, the configuration of the keyboard and mouse (since the biggest disadvantage to these computers is that their small-size often sacrifices ease of use). Just today I was at Best Buy talking to customers about netbooks, and they were confused at how to make the decision between various netbooks because these differences seem so minor in comparison to what they were used to looking at with computers. Welcome to netbooks :)
More is not always better. When you look at what they are offering keep in mind that these computers are meant to run all of your basic stuff on the go. So if, like Gateway does, they offer better specifications but throw Vista on there- that runs contrary to the whole philosophy- and Vista is going to take up every last bit of that extra RAM and processor.
These are new to the market, so it is hard to make some judgment calls on things. Specifically, durability is really hard to judge. The only ones that have really been around long enough to take the hit in this department are the Asus and Acers. So if you've heard about them having problems realize this: these are small little things so they tend to get thrown around a bit. All of the netbooks are and are going to continue to have problems with durability. My recommendation: get an extended warranty.
All right, so with these four things in mind, here's a rundown of the netbooks of 2009. My judgments may seem somewhat arbitrary because, as I said above, the small things make all the difference with netbooks. If you feel that this is the case the only advice I can give you is to go to the store and play with them yourself with this stuff in mind and see how the small things make all the difference.
Asus Eee PC (5 out of 5)
Quick Impressions: Asus is the innovator and father of the netbook. Its Eee PC excels in almost every respect. There is a reason it is the number one selling netbook, in close competition with Acer's Aspire One. The main reason I love this one so much is their innovation in design and configuration and in the ease of use.
Price Range: $250-$500, probably the cheapest out there without sacrificing much at all.
Availability: Asus offers the full range of netbook configurations–From a low priced 8.9" Linux based PC to a higher end SSD, large battery PC. The coolest thing is, they offer such a huge range that, as long as you get them online (stores will normally only carry one model) you can really customize what you get. If you want a Linux OS with a 9 cell battery and an SSD, I'm sure they have a model for that.
Design and Screen: The Asus features a glossy finish that comes in several colors (black, blue, white, pink) and a build that is thicker in the back and skinnier in the front. The screen is a nice glass with brighter displays than many of the other computers, but this means it does worse if you're trying to use outside since it has a problem with glare. Also just released was the Eee PC Touch, the first netbook with a touch screen.
Ease of Use: This is really where I love Asus. In their newer models (as of Summer 2009) they put in flattened keyboard that I think is the best out there as far as making it easy to type on. Other company's (Dell and HP) put flattened keyboards with keys that sink in slightly in the center for differentiation, but I don't like that much. Also, the slanted design makes for easier typing while it is sitting on flat surfaces. Most importantly, their keypad is the most innovative: it is simply a textured section underneath the keyboard, allowing for a larger surface to navigate with. Also, the touchpad allows you to use multiple fingers, allowing you to zoom in and out using two fingers. Only the Asus and Acers do this, you'd be surprised at how helpful it is while trying to navigate the internet.
Support: Asus doesn't offer the same sort of in-company service that a company like HP or Dell does but they still offer a standard 1-year warranty that I've heard good things about. A friend of mine who had his screen go out sent it off and got it back repaired in less than 2 weeks. Impressive. I've also noticed the company has done a good job going around the Internet and personally responding to any complaints or negative reviews left by customers. That shows some dedication.
For a more in depth review see the in-depth review of the Asus 1000HE.
Acer Aspire One (4 out of 5)
Quick Impressions: Acer took the hint from Asus in putting out a product that is pretty comparable in almost every aspect. In fact it is somewhat difficult to separate out the two. To get a more detailed exploration on how they differ check out my article comparing Asus and the Acer Aspire One.
Price Range: $299-$500
Availability: Like Asus, Acer is offering a wide-range of netbooks. However, it looks like lately they've been narrowing down to a few main configurations you'll see around in stores and on the Internet. Though more available than most others, the Acers are available in limited stores. For some reason they aren't at Best Buy, for instance, but you can find them at Wal-Mart.
Design and Screen: The Aspire One had the glass screen before the Asus Eee did. It is just as good and bright, but has the same problems with glare. The build of the Aspire One is a little thicker than the Eee Pc, but about the same as most others. What is unique about the Aspire one is that the screen, when open, sit above the keyboard slightly, leaving a gap between the keyboard and screen. Some don't like this, but I found it better than the sinking feeling you get on all the other laptops whose screens sink slightly behind the base.
Ease of Use: The Acer is a little more difficult to use than some of the others. Its keys are still traditionally set, with the slight pyramid shape to them, making it a little difficult for those of us with big fingers. Also, the keypad is small with the buttons on either side of the keyboard, which takes some getting used to (others have this as well, such as the HP). Still, the touchpad is multi-touch enabled. They also did something cool by putting the page up and page down buttons above the right and left arrows which makes for really easy PDF navigation.
Support: Acer has the standard one year warranty with all of their netbooks as well, but no external protection. Again, a protection plan might be a good idea.
For more in depth see BrightHub's full review of an Acer Aspire One.
HP Mini (3 out of 5)
Quick Impression: The HP Mini is a sturdy little contender that is definitely a bit different than the Acer or Asus products. It is a bit sturdier but also more traditional. It looks like they basically shrunk down their larger models to make this one.
Price Range: $279-$500, generally a bit more expensive than the Acer or Asus.
Availability: The advantage of buying from someone like HP is that you can go to their website and hand-select each of the configuration specifics you want. However, the options are actually more limited than the Acer or Asus, but comparable to Dell, Sony, or Samsung. Also important to note, they do not offer a 9 cell battery like many of the companies do, for those of you who want to your computer to last forever.
Design and Screen: The screen is one of those matte-like screens with anti-glare, if that is a big deal for you. It means it isn't as bright but does better outside. Also, you have the option to get an HD screen, which a lot of others don't, as long as you get it through their site. The design is somewhat blocky but sturdy with nicely finished top engraved with those weird designs HP loves.
Ease of Use: The keyboard on the HP Mini is well done with nicely spread keys that have a slightly sunk feel to them. I'm not much of a fan of this slight sink to the keys but I could see how it could help some with key differentiation. The touchpad is small, only slightly larger than the Acer's, but similar in that the buttons are on either side.
Support: As always, HP offers the HP Total Care package if you are willing to pay for it.
For a more in depth review see Bright Hub's full review.
Dell Inspiron Mini (3 out of 5)
Quick Impression: My impression handling the Dell Inspiron Mini was this: Well, this is like a cheaper feeling version of the HP Mini. I don't think Dell took enough time to put together a good product, and the reviews show this. Oddly enough, major vendors seem to think so as well; the Dell Mini doesn't even show up under the netbooks category in Newegg or Amazon. That being said, if you like Dell and trust the company, the Mini does seem like a solid choice as long as you like the build.
Price Range: $239-$500, which is a pretty good range.
Availability: Like HP, Dell offers full customization if you buy it through their website. The price can rocket skyward fairly quickly however, so be careful as you pile on the features.
Design and Screen: I think that it looks almost exactly like the HP. Same screen. Same basic build. Same matte finish.
Ease of Use: Dell's main thing here is that they feature a "custom interface" for the Mini. However, my general bias here is that these programs only serve to slow the computer down and double up on things you already have another way to do. As far as keyboard and keypad goes–the keypad is weird because it doesn't have buttons. The keypad clicks on either side of the bottom instead, which some might like, some might find obnoxious. The keyboard is the same sunken style the HP has.
Support: Dell has their expensive but thorough protection plan for this as well.
Our reviewer over here found it a lot better, but I'd say in comparison to the others, it's about average. Which is to say, it's a netbook, so it's great, but it doesn't seem to excel over the others for any particular reason.
Samsung N and Go series (4 out of 5)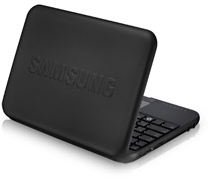 Quick Impression: Samsung did a good job entering the netbook market, if not on the little on the expensive side. Samsung's NC series has been compared on many instances with the MSI wind, which it resembles. Their new GO series wins them some points with a new, sleek design, but its still on the expensive side.
Price Range: $350-$500
Availability: Samsung seems to be more set in keeping their buyers on the more expensive side of things. For instance, on Amazon they offer only the 6 cell battery, which means that you'd have to shell out the extra $50-100 that can add on to the price.
Design and Screen: Some of the Samsung laptops feature a bulkier feel (the N-10 series) while the newer Samsung GO N-310s have a rounded and molded look to them (as pictured). I think this makes them look less professional but some people might like the seamless feel this gives. The screen is on par with just about all of the others–same resolution, without the anti-glare stuff. Notice that there is a big SAMSUNG across the back of the computer, which is a little lame.
Ease of Use: This is one of the first computers to have Bluetooth, if there is anything you have that needs it. (Keep in mind that you are paying for it, though.) Otherwise, I did notice that they did the same thing with the page up and page down buttons that the Acer did, which I like.
For a more in-depth information see our Bright Hub review.
MSI Wind (2 out of 5)
Quick Impression: The MSI Wind seems to have made most of its business in other markets besides the US. Its offerings to US stores seem far more limited and not up to par with price comparison of the other companies. They generally just seem a bit behind the others. So while their product may be solid, it doesn't have the most stellar reputation.
Price Range: $250-$400
Availability: Seems to run the full gamut for most things. It's hard to keep saying the same thing. Just noticing that, for some reason, the same specs are more expensive on an MSI than on almost any others- at least on the Amazon listing. Hopping over to Newegg, however, and they've got the standard low-end version for $289, which is pretty good. I never have seen these in stores in the US, though.
Design and Screen: The design of the Wind is nothing spectacular. It is plain but solid without much significant to note.
Ease of Use: The keyboard on this one looks similar to the Acer Aspire One's, which is a disadvantage since the raised keys still make it a bit more difficult for those of us with larger fingers. Also, the track pad is a decent size but it lacks the multi-touch the Acer and Asus have.
For more impressions on the MSI Wind look here and here.
Toshiba Mini (4 out of 5)
Quick Impression: I didn't like the look and feel of the Toshiba Mini at all. The keyboard really put me off and it felt a little clunkier than many of the others, but this may be because they only offer it in the 6 cell battery form. Also, the price was a little heftier. But I'll admit those are finicky things to point out. The specs are about right for the price but no lower model offered. However, poking around the reviews shows that many people love this netbook, so it's worth taking a look into.
Price: $349-$399
Availability: There is a limited number of models out, all of which are going to cost a little more since they have the 6-cell battery and Bluetooth capability. But, hey, those are pluses.
Design and Screen: Toshiba did a good job getting a little creative with their design, even if I didn't like it much. The power button is in the center of a round cylinder-like build underneath the screen. They also moved around some of the slots, putting the SD reader in the front. The screen looks alright, but it didn't seem as bright as some of the others.
Ease of Use: I hate the keyboard. It has small spread out keys that stick up from the base. Otherwise it seems to function well… and it has Bluetooth.
For some more check out this review.
Two More New Entries: Sony Vaio-W111XX and Lenovo IdeaPad (3 out of 5)
These last two are a bit new for a full review, so here are the quick impressions:
Sony Quick Impression: The latest entry into the market, this mini Sony Vaio looks a lot like the Toshiba and seems to keep to the top end. As a new laptop there isn't much to review. I took a look at it today at Best Buy and it seemed like a well built machine but the verdict is still out in terms of its performance and use. I noticed the screen features a better resolution than most netbooks (1366 x 768) and it has a full range of features. But it also looks like these start at a much heftier price–around $400-$500 with the ones I've seen.
Lenovo IdeaPad: Nothing spectacular here.. just another solid entry into the netbook market by a solid laptop maker. It only has one model out in the US, running into a problem similar with the MSI. Read the full review here.
Conclusion
My ultimate impression is that these netbooks are all quite comparable, with small differences being the only real thing of note. I struggled a little with actually ranking them since, as netbooks, they all deserve an excellent rating for what they do for people who need cheap, portable computing. You'll find that as you cruise the Internet for reviews and read the comments left by users most of them will just be astounded to have a nice little machine that works, is fast, and will do it all on the go. For this I'll give NETBOOKS OF 2009, as a whole, a great big 5 STARS. Good job computer companies for finally giving the public a nice cheap option. And you, the reader, go get one!
But yeah, you're going to find positive reviews for each of these netbooks somewhere and all of the negative reviews will most likely be something minor. So I'll say again, before you choose to buy one go sit with one in the store and decide based on your likes in feel, use, and taste. Either way it is my strong recommendation that you do buy a netbook. Happy shopping!