How to Make an RSS Feed for Your Website - Want to Publish an RSS Feed from Your Web Server?
How to Make an RSS Feed
RSS feeds have become a staple of automated Internet communication. They allow you to provide content to multiple sites just by updating one simple file that is hosted on your web server. RSS feeds can populate your own custom Google or Yahoo page, among many others. If you've got a website that you keep updated, then you ought to have an RSS feed to share with others, but how do you make one?
RSS Builder (5 out of 5)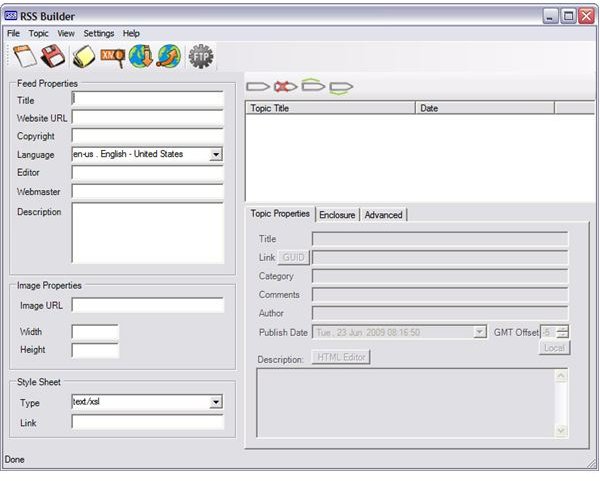 You could always get into scripting XML and do all kinds of extra work setting up things on the web server, or you could get a free Windows XP program called RSS Builder and let it do all the work for you. This freeware utility uses a menu-driven interface to build the RSS file as well as upload it for you. With this software, there is no excuse for you not to have your own RSS feed on your website.
RSS Builder is really easy to use and can create a fully functional RSS feed in just minutes. First, you need to fill in the feed properties, which are just your website URL, a title, your contact info, and a basic description of what is in the feed. This is to help others find your RSS feed and get an idea of the content it contains, plus it will help you get the feed indexed. You can also add an image to the feed, which is a great way for logo branding. Once the feed properties are set, you won't have to edit them again unless you want to.
Most RSS feeds are displayed on web pages as a bulleted list of some kind, and this program lets you build and sort that list. You can put as many or as few items as you want. All you do is put in a link to the web page, a title for the content, the author's email, and a brief description of what the page is about. There is a publish date that defaults to the current date, but you can edit that to be whatever you want.
When finished building your feed, you can use the built-in FTP controls to upload it directly to your web host, just like any other file. It's best to make a folder in the root directory of the website and call it RSS, but you can name it whatever you want. After it is uploaded, you can point your browser directly to the feed and it will display, then you could add the feed to any number of web pages, RSS feed viewers, and more. Many email clients, such as Microsoft Outlook, can also display RSS feeds much like emails.
The bottom line here is that if you have a website where content is constantly being updated, then you need to have an RSS feed. With a free program like RSS Builder, it's never been easier. If you run a web host, you should recommend your clients use it to help drive home more traffic.
Download RSS Builder - https://home.hetnet.nl/~bsoft/rssbuilder/index.htm