Dell's Studio Hybrid Review: Small and Cute
Overview (3 out of 5)
It is a fairly well-known fact that Dell computers are grossly underrated products in the market – maybe because Dell Computers are relatively lower priced and not too aesthetically designed. Dell believed, and one would be inclined to agree, that computers have to be functional and consistently perform well and physical appearance is less important.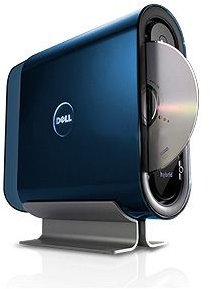 With the benefit of hindsight, it may now be said that Dell was presumably waiting all along to prove to the computer market analysts that it can also bring out computers comparable to the popular models of other manufacturers. Dell's latest innovation, Studio Hybrid, has the aesthetic appearance and almost all the positives of all the leading brands in the market.
Technical Specifications (3 out of 5)
Dell Studio Hybrid has the following technical specifications:
Dimensions: 8.75"x3"x8.75"
Multi-core Dual Core Processor technology with 64 bit T8100 Intel Core Duo 3MB Cache (L2 Cache)-800 MHz FSB-2.10 GHz.
Graphics Processor: Graphics Media accelerator Intel X3100 Dynamic Video Memory 4.0 integrated technology.
RAM Specifications: 2GB to Maximum 4 GB DDR2 SDRAM with memory speed of 667 MHz.
Hard Drive: 250GB 5400RPM S-ATA Standard with no 2nd and 3rd Storage Drive Options.
Disc Recorder (DVD/CD) with multi slot loading system.
Wireless LAN Access: 802.11a/b/g/n (draft) (IEEE Standard).
Integrated Network Adaptor with Fast Gigabit Ethernet LAN interface.
Memory Card Reader: Built-in.
Realtek HD Audio
Cable lock slot
OS Software: Windows Vista Home Premium SP1
Energy efficient: power consumption is low with a power provision of 65 watts.
Appearance and Design (4 out of 5)
It is clear Dell was bothered by market criticism that its range of computers looked somewhat unappealing. To set matters right, Dell bestowed care and attention in the external design of Studio Hybrid. The computer is compact and cute-looking and its physical dimensions with the sleeve are: 8.75(L) x 8.75"(D) x 3"(H). It weighs a little over 6 lbs with the stand.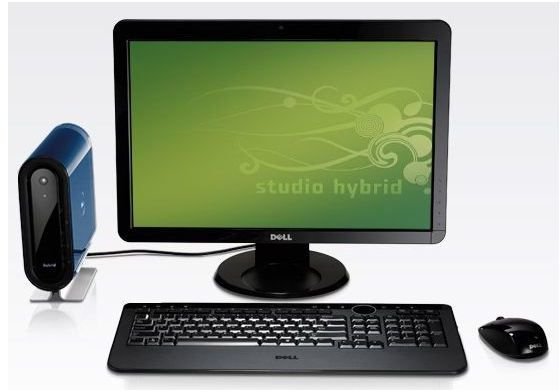 In addition, there is a free gift, as buyers can select slate, emerald, quartz, ruby, topaz or sapphire plastic sleeves. If the buyer is willing to pay, there is also a fabulous looking bamboo sleeve to give the product a majestic look.
Unique features (4 out of 5)
The front panel has a logo – "Hybrid" and it shines constantly. As soon as the machine is turned on, two logos - one horizontal and another vertical – appear, adding to the overall pleasing effect. Dell has even taken special care designing the stand which is used for the display by the computer.
Computer technicians and IT professionals feel the inside of Studio Hybrid is imaginatively designed, as there is a metal tray fastened with a single screw to facilitate future upgrade to the optional Blu-Ray optical disc drive. Beneath this tray one finds the entire system is housed. The notebook RAM modules are placed on the left near the 802.11n (draft) card. (One thing which is important to note here is that the Dell Studio Hybrid is mostly stuffed with major notebook components. Thus, it falls under the category of Nettops. The reason why Dell has incorporated notebook components in its Hybrid system is the reducation of power and heat consumption. Also to make the size compact and useful, CPU of this nettop has been developed in such a way that it makes it better than several other nettops capable of doing basic computation tasks like internet browsing or document processing.)
As well, the Studio Hybrid has a fair number of ports for such a highly compact system. The SD card reader is placed over the optical disc slot along with a headphone jack and two USB 2.0 ports. Dell also designed a new wireless keyboard and mouse to go with the Studio Hybrid.
In conclusion (3 out of 5)
There is a mixed response to the Studio Hybrid in the computer market. Quite a few customers agree that the Dell Studio Hybrid is an excellent combination of aesthetic looks and sound technical specifications, and stands out among super small desktops. There are also critics who disagree and argue that several standard budget PCs in the market provide a more favorable cost benefit ratio than the Studio Hybrid.
Dell Studio Hybrid's price begins at $499 and increases with upgrades to the system. If you want a small, reliable and low priced desktop computer, then this is for you, otherwise, there are always alternatives .
Visit Dell's Website for more details on product, pricing and system upgrades.