In the market for a new Mac? Short on space? Enjoy watching your friends drool at your shiny new tech toys? If so, then the iMac 20 inch may just be the system for you. Read on and find out why.
Device Design (5 out of 5)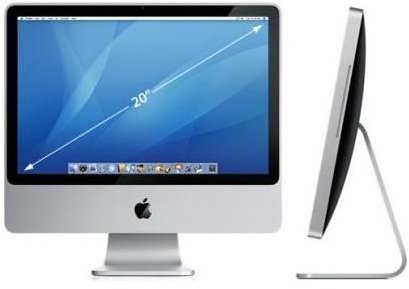 Mac users are no strangers to sleek design and beautiful computers. The iMac 20 inch does not skimp in this department. In addition to the generous screen, this model offers the ultimate in space savings. The hard drive is in the same casing as the screen. While this does reduce your hard drive space by half, this reviewer's favorite part about this feature is that it eliminates cords, the bane of many users' existence. The keyboard is also surprising.
On first glance, it looks downright dinky. Visions of sliding and breakage will dance through your head when you first lay your hands on the device. However, it is sturdy. This reviewer found no sliding, which leads this reviewer to the belief that it was somehow weighted. The size is similar to what you would get on the Macbook, so you will not have the mistype effect you often experience with small hard drives.
Audio and Video
The iMac 20 inch comes with an impressive array of audio. Fans of the Macbook will be familiar with the built-in microphone and iSight camera, which make chatting easy. The device also comes with a pair of built-in speakers and ports for a headset. This is great if you happen to be using the iMac with Skype, or another internet phone service.
Screen Quality (4 out of 5)
This screen provides high quality graphics, both while using web based video services and DVD's. It may not inspire you to throw out your HDTV, but you will not miss any of the details. It played everything from The Simpsons to The Tudors admirably. It is worth noting that the quality of your web-based video will also be improved, if only slightly. That is, of course, dependant on the quality of the videos before you watched them. A YouTube video will probably look the same, but if you happen to be a fan of Hulu or one of the other myriad video sites online, you will notice a TV-like quality.
Wireless (5 out of 5)
Wireless on the iMac 20 inch is a step up from what you expect from a Mac. You have the ubiquitous air port to allow you to connect to wireless networks in range. You also have one upgrade: a Firewire 800 port can be found on the back. If you plan on doing any large file transfers, this is the way to go. Don't think you will need it? Just think back to the last time you uploaded home movies off your camera.
Heat (2 out of 5)
It is worth noting that this model can get very hot after only about half an hour. You may want to give this machine a bit more space then normal; think at least six inches from the wall. At least this will be easy to achieve, given the unique form factor of the device. The built-in fans for the hard drive are whisper quiet. With the heat, you may sometimes question if they are working.
Out Of The Box Software (3 out of 5)
The iMac 20 Inch will come, out of the box, with the following software installed.
Mac OS X v10.5 Leopard (includes iTunes, Time Machine, Quick Look, Spaces, Spotlight, Dashboard, Mail, iChat, Safari, Address Book, QuickTime, iCal, DVD Player, Photo Booth, Front Row, Xcode Developer Tools)
iLife '09 (includes iPhoto, iMovie, iDVD, iWeb, GarageBand)
Conclusion (4 out of 5)
If you are in search of a solid desktop that will save you space and get the job done, the iMac 20 inch is a solid choice. This model has a few different options as far as memory and processor, so you will be able to find one to meet your needs.