Netgear WPN824 RangeMax Review Design & Specification
They Said It was the Best
When my old school Linksys Router decided to stop working, I could not get Linksys customer service to help me. They stated my warranty was up, and if I wanted help, it would cost me $30.00. Yes, folks, $30.00 for over the phone help from Linksys customer service!
It was a crock. I hung up angry, especially considering the router didn't even cost $30.00. After calming down some, I headed out to a nearby Radio Shack.
I wanted a new wireless router, something cheap, and something that would quickly set up. I was without Internet access and I was starting to feel like I was having withdrawal symptoms! I was agitated, and annoyed. I asked the salesman which router would be best for the lowest price.
He managed to talk me into this ridiculous Star Trek-looking device called a Netgear WPN824 RangeMax Wireless Router. My Linksys router was around 4 years old, and looking at how much time has passed since my last router purchase, I was surprised at how little the new routers managed to impressed me.
Yeah, they added some cool lights, some new groovy looks, but as far as I am concerned, most of the new routers look like they will die out a hell of a lot faster than old school routers.
The guy behind the counter had me convinced that the Netgear WPN824 RangeMax was the best my money could buy. Although a bit more pricey than what I was looking to spend, he promised that the thing would give the best signal I could get from a router. This sounded spectacular, no more weak signals! A wider range of signal!
The Netgear WPN824 RangeMax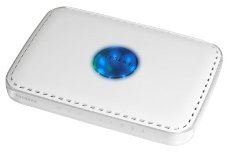 Appearance (2 out of 5)
The Netgear WPN824 RangeMax had a very Nintendo Wii-like appearance to it, which I liked, but would have liked more in a sleek high gloss black finish. The white high gloss finish has never been my cup of tea, and it stuck out like a sore thumb among my black high gloss finished electronics.
It screamed for attention as well. The router itself is shaped like a slim rectangular box, with this odd circular shaped lump that sticks out slightly from the middle of it. I guess this bump was supposed to impress me because it lights up a nice bright blue. For me though this meant another bright light to light up the night in my room. As if the room isn't blinking enough with odd electronic lights, the Netgear WPN824 RangeMax had to go and add the brightest blue light of all.
Small lights also do a flash dance on the Netgear WPN824 RangeMax's hazed out strip that is located on the router as well. These lights thankfully are not as bright, or as distracting.
All in all the appearance may impress some buyers, but for me, I was not digging the whole look.
The Netgear WPN824 RangeMax has seven built in antennas, which to me was out of this world. My old router had two little antennas that stuck up out of the unit. Although they said there were seven of them in there, I felt a little less confident because frankly, I couldn't see them.
Features (2 out of 5)
The Netgear WPN824 RangeMax promised ten times more range, which of course means a stronger signal.
My old Linksys router had a 90% signal upstairs when it was set up in the downstairs part of our house. It was a strong signal, and we never had too many issues with signal strength.
With the Netgear WPN824 RangeMax I figured there would be a solid 100% signal strength all throughout the house, no matter where we were.
Anyhow, besides this new promise of ten times more range, the features that are included in the Netgear WPN824 RangeMax are of course seven built in antennae, it is supposed to deliver 108 Mbps of wireless connectivity with an enhanced range. It also has 4 10/100 RJ-45 Ethernet ports located at the back of the unit, enhanced security including a double firewall, WPA, and 128 bit WEP encryption.
For those of you who don't want the kiddies looking at naughty sites, it also comes with parental control over website access.
The router also comes with an odd stand that you can use to mount the router upright. I found the stand to be stupid, though, because it holds the router up the long way, which makes it a hell of a lot easier to bump in to it and knock it over. I liked leaving it flat to better keep it from tipping.
The only feature I was interested in, though, was the promise of more range in signal strength.
Ease of Set Up (4 out of 5)
I had a major headache when trying to set up my first router. However, I was a new user and did not know how to even go about such a task. It had been years since I set up that router, so I was praying to the heavens above that setting up the Netgear WPN824 RangeMax would be an easy task.
Thankfully, it was. I simply installed the included installation disk, and followed the on-screen directions. Next I gave my network a new name and happily went about syncing up my PCs and laptops with the new network name. You have the option to set up a private WEP Key that only you will have access to, or you can set up the Netgear WPN824 RangeMax as an open network, which means anyone in range will have access to your connection.
If you don't want to share your network with your freeloading neighbors, than set up a WEP key; jot it down, and keep a record of this key. You will need the WEP Key in order to get your other devices to work on the private network.
All in all I was very impressed with the ease of the directions and how quickly everything was up and running properly. It is definitely user friendly for beginners.
So How Was The Signal Strength? (1 out of 5)
Gosh, this was the total deal killer, and the reason I ended up ripping the Ethernet plugs out from the router and packing it back up in its box for a refund. Man, I wanted to kill that Radio Shack employee who told me that this was the best of the best! Far from it! Ten times more range! Phooey! Now the room that the Netgear WPN824 RangeMax was set up in did not have a problem. Every laptop within the room had a clear 100% signal strength. However upstairs the computers and wireless devices we had on the network was at a horrendous 60% strength! This was completely unacceptable, considering my old router which was around 4 years old managed to give our upstairs devices a decent 90% signal strength. The PCs and laptops upstairs would consistently get booted off due to the poor strength. It was nearly impossible to even play XBOX Live without getting booted from the network. After about twenty minutes of moving the Netgear WPN824 RangeMax around, I finally had had enough!
Overall (1 out of 5)
The Netgear WPN824 RangeMax was a waste of time and money in my opinion. It had a weaker signal strength than my four-year-old router did, and it is unacceptable considering the fact that it is advertised to be ten times more powerful when it comes to signal strength!
The Netgear WPN824 RangeMax may look nice to users who do not know any better, but all that glitters is not gold. Don't be fooled by this one's cutesy blue glowing orb - it has a weak signal.
If you plan on only using devices in the room that the router is located, the signal strength is fine, however if you move from the room your signal strength will drop, and drop, and drop till finally you are booted off the network. It's just not worth the hassle.