A Guide to the Bigger USB Flash Drives Available in 2009: New 128GB Drives - ARCHIVED
The biggest USB flash drives available- and they aren't 64GB!
Prior to June 15, 2009 the biggest USB flash drive on the market was 64 GB- see the rumored 128 GB drive. Now there are multiple 128GB drives as well. When first released, most of the 64 GB USB drives were around $200, if not more. Now many of them have come down in price to $150 or less. Some are available for as little as $120. These are all USB 2.0 standard drives, and all are backward compatible to USB 1.1 as well. They vary in style, construction, robustness, speed of reading and writing to the drive, and built in security. In this guide we will look at the top choices available, what they have in the way of unique features, and rate them.
The Real 128GB USB Flash Drives from reputable companies are growing
Kingston, Patriot and Edge-Tech all announced in June 2009 that they now are producing a 128GB USB flash drive, for about $400 - $550 each.
Because of the price of these drives, it is even more important that you make sure you have a real drive- not just because of the price, but because of the amount of data you might lose with a fake. See How To Identify Fake USB Flash Drives Before Buying Them for pointers on avoiding the problem.
Kingston's new 128GB Data Traveler 200 USB Flash Drive
Kingston announced on June 15th that they were releasing a new series of their Data Traveler USB drives, the 200 series. It now has a 128GB USB flash drive available- the first on the market. The MSRP for the drive is $547. They also said the 128GB drive in this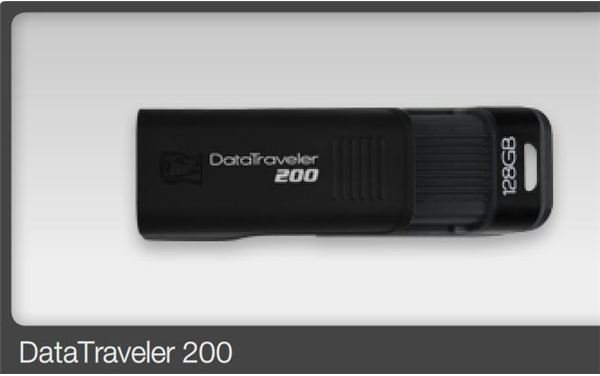 series is built to order- and they are now backed up with orders until July 15, 2009.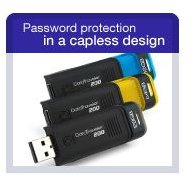 Amazon has the drive currently for $405.99.
The drive is password protected, and has a capless design. It has read/write speeds of up to 20MB/sec and 10MB/sec. It works with Windows ReadyBoost ™. The drive has a 5 year warranty, and all authentic drives have a serial number engraved on the USB connector. Like other Kingston USB flash drives, it is plug and play.
At Amazon, it is $405.44, and in stock now. At Newegg it is $399.99 with free shipping.
User reviews are tongue in cheek, but not negative. They both gave it 5 stars, while complaining about having to sell their computers to afford the drive.
Because of the very large numbers of faked 128GB USB flash drives available, both from China and eBay, it is important to know what the authentic drive looks like.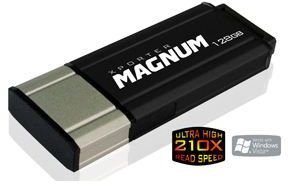 Patriot evidently did not hear about Kingston's announcement of their 128GB drive, and their publicity material was prepared beforehand, because they announced that they were the first on the market with a 128GB drive. However, their announcement came a day later than Kingston's announcement.
Patriot has said their drive will be in their Extreme Magnum series, and said it will have a read speed of 31MB/s, and a write speed of 20MB/s.
.
The 128GB Patriot Ultra Fast Extreme Performance 210X Magnum Xporter USB 2.0 drive is $465.00 at Amazon. It is currently at Newegg for $399.99.
The 128GB Hi Speed 210X USB 2.0 Compatible Drive is backward compatible to USB 1.1. It is plug and play in Windows ME/2K/XP/Vista, Mac OS 9.x, OS X and Linux. It has a life time warranty.
It is 2.8 x 1.1 x 0.4 inches in size. Magnum also boasts Microsoft® certification, Certified for Windows Vista™. The certification guarantees maximum compatibility, including the Vista® Readyboost feature. It is available from Amazon Marketplace. Retailers say the item is in stock.
It is one of the fastest USB drives currently on the market. In-house testing shows you can stream music and DivX movies directly from the disc. They have not tried playing Blu-ray directly from the drive.
A user review said it is very fast, with high quality construction, and the same speed as found in 64GB drives. 5 stars.
Edge-Tech DiskGo™ 128GB USB 2.0 Flash Drive
Edge-Tech also made an announcement in June of 2009 about their new 128GB USB flash drive.
The Edge-Tech DiskGo™ 128GB USB 2.0 Flash Drive is $385.95 directly from Edge-Tech, with free shipping. It comes with Cryparchiver Lite (128-bit AES encry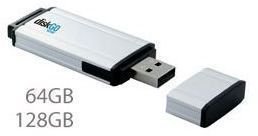 ption) for securing 25MB of data. The encryption software only works on PCs for now, although all other features are available on the MAC. The 32 GB, 64GB, and 128 GB drives come with a write protection switch. It is plug and play and hot swappable, a USB 2.0 drive, but backwards compatible to USB 1.1. There is a lanyard or key-chain grommet.
Edge-Tech expects it to provide at least 100,000 data transfers. There is a lifetime warranty & toll-free technical support. If needed, Technical Support: Phone: 800-259-6565 and Fax: 580-310-6517. Email support is available on site.
It is not extremely fast: from what I can find on the Internet, it has a read speed of 13.5 BM/s and write speed of 11 MB/s.
Edge Tech has two sizes in the style they are using for the 128GB drive, a 64GB drive, and the 128GB. You can see them on the Edge Tech drive on their website.
Corsair CMFUSBAC-128GBGT 128 GB Flash Voyager GT USB 2.0 Flash Drive (5 out of 5)
The [Corsair CMFUSBAC-128GBGT 128 GB Flash Voyager GT USB 2.0 Flash Drive](https://Corsair CMFUSBAC-128GBGT 128 GB Flash Voyager GT USB 2.0 Flash Drive ) is available for $419.93 at Amazon. At Newegg.com, it is currently available for $399.99.
It has formidable speed- Sequential Read: 32.6 MB/s and Sequential Write: 28.8 MB/s. The speed is comparable to many portable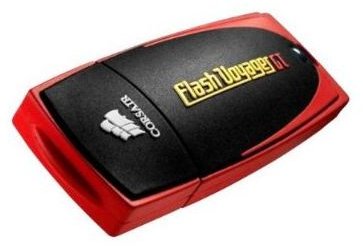 harddrives and is more than 2.5 times faster than competing high-capacity USB flash drives.
It is durable - without any moving parts and a rubber housing, the Voyager GT 128 is water-resistant and almost shockproof, according to Corsair, to 1500G.
It is plug and play and needs no drivers, cables or adapters. The USB drive works with Windows, Mac OS X, and Linux operating systems. There is a ten year warranty.
Corsair has a well known reputation for its USB drives and other storage drives. (The size of the Flash Voyager GT 128 is about a quarter of the size of most portable hard drives.)
Super Talent 128 GB USB 2.0 Luxio with Encription High Speed (4 out of 5)
The Luxio 128GB USB drive from Super Talent also was released this summer. Amazon is selling three different ver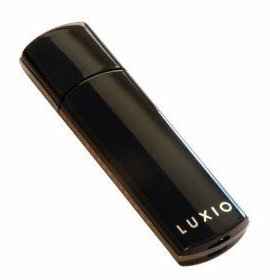 sions for $388.70 each. You can get the USB drive in Silver, Black, or wood grain, although it takes 4-6 weeks for the wood grain drives to be shipped. They may be being manufactured as requested. Newegg.com has a sale right now, and the silver and black models can be ordered for $324, with free shipping.
They have dual channel flash memory architecture with AES-256 hardware Encryption included. They support Vista ReadyBoost™ and have an LED that indicates the power is on. The drives come with a limited lifetime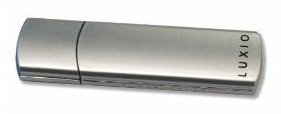 warranty.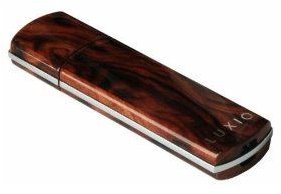 I found one user review at Newegg.com. They said it had good speed, great capacity, and the cap was a pain, as it only fits one way, and does not stay on reliably. He also complained that, although he did not need the encryption software, he was having a terrible time getting rid of it. He has been in contact with Super Talent for help.
If you decide to get one of these very large capacity drives, be sure to get it through a reputable dealer, as they are among the most frequently counterfeited USB drives found. Take a good look at the pictures here, so you know what the drive you are buying is supposed to look like, and if pictures in an ad do not match, don't buy the drive, even if it is a bargain. The potential loss of your data far outweighs any savings you might get in a 'bargain' drive.
This article has been placed in our archives.