Bright Hub Review: Epson Stylus Pro 3800 Photo Printer- Quality 17 inch Printer
Epson Stylus Pro 3800 Photo Printer
The Epson Stylus Pro 3800 Photo Printer does not have some of the features found in its upscale cousin, the Epson Stylus Pro 4800 Photo Printer – but it also does not share some of its problems. Here we look at what you do and do not get in the Epson 3800.
Images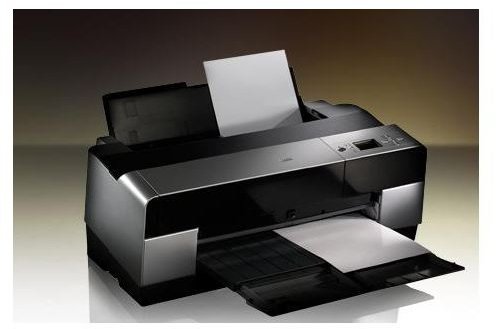 Cost, Compatibility and Connectivity (5 out of 5)
It retails for $1295 from the Epson site**, but is available for about $1168 from Amazon.com. Newegg.com is currently selling it for $1145 plus shipping. The Epson Stylus Pro 4800 Photo Printer is about $1695 at its cheapest.
Epson sometimes offers a rebate on the Epson Stylus Pro 3800, usually if you if you purchase the printer and $100 in Epson media from them at the same time. They also offer free ground service shipping.
It is compatible with Windows 2000, XP, and with Vista, although you may need to download the Vista drivers directly from Epson if they are not on the installation disk. It works with Mac OS X 10.4.7 and higher, and there is a [Linux driver available at driverscollection.com](https://driverscollection.com/?H=STYLUS PRO 3800&By=Epson) .
It has a USB port and a 10/100Base Ethernet port and can be used on a network.
Features (5 out of 5)
It is a large format printer, meaning that it can handle paper up to 17 x 22 inches. Unlike the Epson Stylus Pro 4800, it can only use cut paper media, not rolled media- one reason for the lower price and weight, as it does not need a cutter either. It can handle paper sizes from 4 x 6 inches up to 17 inches wide, with a maximum of 17 x 22 inches. Like the Epson 4800, it has four paper handling choices, from a top loading feeder which will hold 120 sheets or regular bond or up to 20 sheets of photographic media to a straight pass through which can handle 16 x 22 inch poster board up to 1.5 mm in thickness.
A further discussion of features continues on the next page.
Features, continued (5 out of 5)
It, like the Epson Stylus Pro 4800, has only 8 ink channels to the printhead; however, on this less expensive printer, they made room for all nine color cartridges to be installed at one time. Photo black and matte black use the same channel to the print head, and depending on the profile for the media you have chosen to print on, will automatically switch from one ink cartridge to the other. Conversion to matte black from photo black takes 2:55 mini:sec, and uses 4.4 ml of ink. From matte black to photo black, the conversion process takes 1:55 mini:sec, and uses 1.5 ml ink. The ink used in the conversion process, which flushes out the channel to allow a pure supply of the new ink, is shunted into a maintainable cartridge, installed on the far right of the printer near the bottom. Since the Epson 4800 requires that the photo black cartridge be removed, and the matte black ink cartridge be installed in its place, this is a savings of both time, and, especially ink. The Epson Stylus Pro 4800 used about 10% of a 110 ml cartridge every time the inks were switched, as well as varying amounts of ink from other colors. Users estimated that it could use up $75 worth of ink every time the photo black and matte black cartilages had to be swapped, to allow the user to print on glossy media, or matte media. All in all, this is a great improvement over the more costly printer- an improvement which for some will outweigh the extra features on the Epson Stylus Pro 4800 Photo Printer.
The Epson Stylus Pro 3800 photo printer has a one inch wide printhead capable of bidirectional printing in fast mode, with 180 nozzles for each ink channel. Like the Epson 4800, it can deliver up to 3 different sizes of ink droplets in a single printed line, with the smallest droplet size 3.5 picoliters. It also offers auto cleaning/flushing of clogged print nozzles.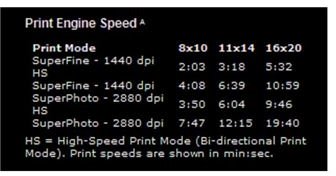 It has a maximum resolution of 2880 x 1440 dpi, and can also print at 1440 x 720 dpi, 720 x 720 dpi, 720 x 360 dpi, 360 x 360 dpi and 360 x 180 dpi. Printing speeds for different size prints and resolutions can be seen in the image below.
The Epson 3800 supports border free printing for these cut sheet sizes: 4 x 6, 5 x 7, 8 x 10, 11 x 14, 16 x 20 and 17 x 22 inches. The prints can also be printed with a 3mm border on all sides, or a 15 mm border on the top and bottom of the print.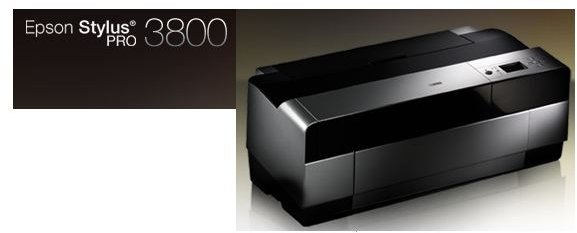 The printer is 27 x 15 x 10 inches in size, making it possible to put on a large desk or counter in your work space. It weighs just over 43 pounds. In appearance, the printer, when not having trays open to feed paper or receive prints, is rather stylish looking: black and silver gray, with a curve rather than s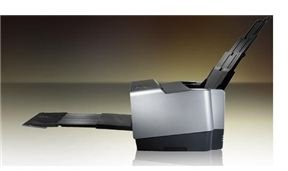 harp edges at the top. When it is opened to the full extent of its paper handling ability, which can be done in stages, depending on the size of your chosen media, it does look a bit gawky.
There is a backlit 2.5 inch LCD display for direct printer control and operational status monitoring.
It comes with a one year warranty, with toll free support available from Epson Monday through Friday, and usually, next business day full unit exchange- important for those who are using the printer in their photography or graphic design business.
The printer ships with a power cord, CD for drivers and software, documentation, and all nine of the ink colors needed to begin printing.
Supply costs (4 out of 5)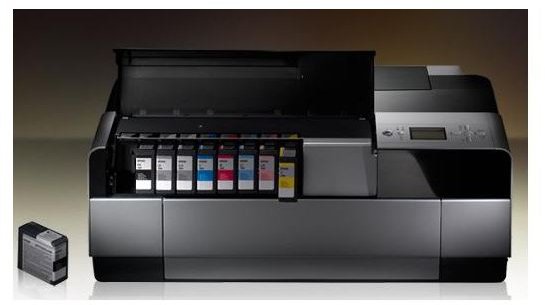 It is the lowest end printer Epsom makes which can use its new UltrachromeK3 inks, a resin and pigment combination which is scratch resistant, fade resistant (up to 200 years) and water resistant.
Ink for the Epson Stylus Pro 3800 photo printer comes in 80 ml cartridges, chipped so installed software can keep track of ink levels. This is also one of the differences between the Epson 4800, which has both 110 and 220 ml ink cartridges. However, since there is so much less ink wastage in the Epson 3800, you could probably consider that the 80 ml cartridges will give you at least the printing capability of the Epson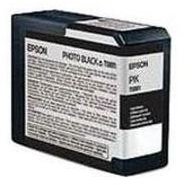 4800's 110 ml cartridges. The first time the printer is used, it may consume up to 25% of the ink in your provided cartridges, but after that ink usage is reported to be quite good.
Retail price from Epson of the T580 80 ml ink cartridges is $59.95. Newegg.com's price is 45.99 per cartridge. Amazon's prices vary per cartridge color, but seem to go from just over $48 to $50 a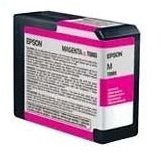 cartridge. This may still be a savings, since Amazon will ship them for free. Other online dealers sell cartridges for as low as $43- but with a $7 shipping charge tacked on. Due to the variability of print media size, it is not possible to get an average price per print. But reviews seem to indicate it is not an ink hog due to wasted ink, unlike the Epson 4800.
The Epson printer will use other print media than what they manufacture, but says best quality prints can be expected by using Epson paper.
The Epson Ultra premium 17 x 22 inch luster paper, in a 25 ct package, was $60 from Amazon and $76 directly from Epson. Ultra premium luster paper in the 8.5 x 11 size, 50 count package, was $31 from Amazon and $35 from Epson. Epson's 17 x 22 inches velvet art paper, 25 count package, was about $100 at Amazon and $139 at Epson. 13 x 19 premium semi-gloss paper, in the 20 count pack was $43 from Amazon and $51 from Epson. So even if you do want to stick to Epson print media, my recommendation is to search online for the best price rather than buy directly from Epson. Do keep in mind that buying directly from Amazon with product totals higher than $25 gives you free shipping, while other online dealers usually charge for shipping.
Epson Print Media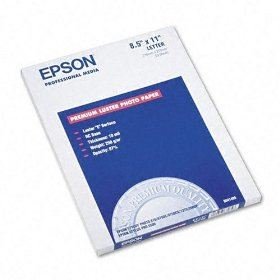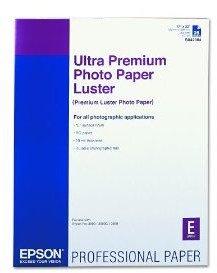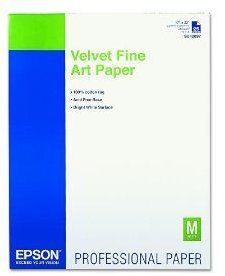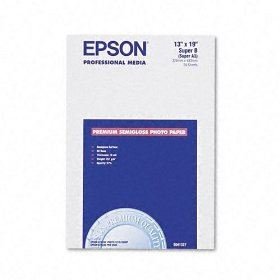 User reviews (5 out of 5)
User reviews were almost uniformly good to excellent. People raved about the quality of printing, and many recommended it as a starter printer for a photography professional, while others said they had been professionals for goodly lengths of time, and were very pleased with the quality. Some mentioned that it was not really a plug and play printer; while you could get pictures from it straight out of the box (for some users) it really paid off in quality of prints to read the documentation and understand how to utilize the options in the user interface. A few people reported trouble getting started until they downloaded updated drivers from the Epson site. It sounds like everyone would find it worthwhile to visit Epson and find out if updated drivers or firmware have been released.
Users also reported that they were successful using many different types of fine art/professional photo media in the printer, as long as the correct profiles were downloaded from the manufacturer's site. They did not find any problem with quality of other good print media besides that manufactured by Epson. Several people pointed out that it could not handle roll media, but not all of them felt that was a point against it, considering the tight curling found in roll media at the end of the roll. People did say it was wise to read through the documentation before trying thicker papers.
People pointed out that you did need a lot of space behind the printer if you were using the direct pass through media option, as there had to be room for a 22 inch sheet to emerge from the printer.
Initial ink charging took longer for several people than they had expected from reading the manual. One person commented it had used up more of the ink in the included cartridges than expected. In general people were happy with ink usage, some reporting they had printed 20 some 17 x 22 inch prints without ink levels going down noticeably. They also reported that the printer did not clog up after being unused for periods of time up to a month, unlike many other professional printers they had used.
Two people reported seeing wheel tracks on glossy prints, although one thought that it might be related to a problem he was having with paper feeding straight into the printer. Only one person reported paper jamming- and as they had other problems, they called up Epson and were sent a replacement printer.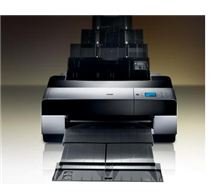 Probably the most irritating issue mentioned was that the front output tray cover was flimsy, especially for an expensive professional quality printer, and two people reported that the magnet that held it shut came loose. One of those people also mentioned that they thought the tray extensions to hold larger print media for input and output were a little cheesy.
User support was generally reported as very helpful, with one person saying Epson stayed on the phone with them for an hour helping them get the printer set up for first time. People generally found Epson very responsive to problems and very quick to send replacement parts or a replacement printer. The person who was most irritated with Epson had had a problem with the magnet dropping off the 'front cover.' They wanted Epson to send them a new part or glue, or some other solution which did not involve shipping the entire printer to them or taking it to a not really local dealer. They felt that Epson was intractable in their stand that only certain procedures were allowed. They also were not able to speak to a supervisor about the issue, and felt it was inappropriate in this economic climatic to only consider costly solutions. They still thought it was a great printer, though.
A couple people mentioned that it not only made great black and white prints on photographic paper, but also could reproduce CAD drawings flawlessly on bond paper and was great for graphic design and other non-photographic uses.
In other thoughts, people mentioned that you do need to lift the printer by the sides, and not the back and front. Again- the $1000+ printer did not ship with a $3 USB cord. It was mentioned as important to calibrate your monitor, and to learn how to use the printer- or you would have spent a lot of money for print quality available from cheaper printers. If you did do your homework with the printer, the quality was impeccable. It was also reported as being rather quiet. One person mentioned that he had been having trouble with using the printer over Ethernet- some days it was very fast, and other days extraordinarily slow. He then realized it was slow whenever his sons were on other computers in his network, gaming.
Finally, one user complained he was extraordinarily disappointed to find out it did not print money.
Conclusion (5 out of 5)
While high priced for a home photo printer, this seems like a bargain for the beginning professional printer. It delivers Epson quality prints – which many people consider to be equal to or better than silver halide prints. Although it does not offer the length options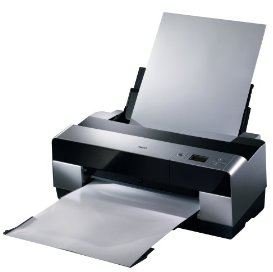 available while using roll media, it is lighter and cheaper without the parts needed to use the roll media, and the cutters to trim the media. It also does not suffer from the handicaps found in the Epson Stylus Pro 4800 photo printer where there is the need to manually replace the photo black ink cartridge with the matte black ink cartridge- along with the corresponding waste of ink. It does seem, from user comments, to have a slightly flimsier build than the Epson 4800, but the quality of the printing seems comparable. Bright Hub gives it an enthusiastic thumbs up!