22" Monitor Review - Samsung SyncMaster 2263DX Dual Screen
Samsung SyncMaster 2263DX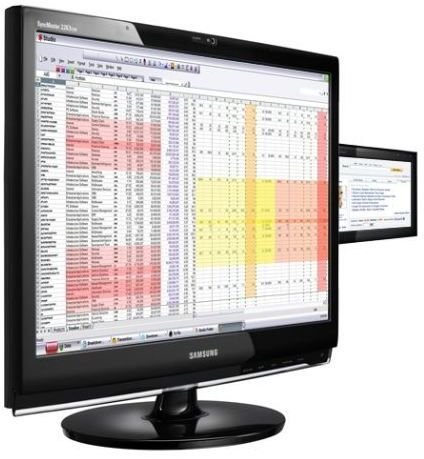 This is an interesting release from Samsung which is either a genius solution or a gimmicky waste of time, depending on your needs. For people who require a dual screen set-up but are put off by the extra expense or don't have the desk space this could prove to be the answer. The Samsung SyncMaster 2263DX is a good quality 22 inch monitor with a difference. It has a small counterpart attached, a 7 inch screen on an adjustable arm which affords you a dual screen display.
Features (4 out of 5)
This is essentially two products in one, the SyncMaster 2263UW and the UbiSync 7. The 22 inch monitor supports a resolution of 1680 x 1050 pixels, it has an 8000:1 dynamic contrast ratio (which actually means 1000:1 contrast ratio), a 5 millisecond response time and 300 cd/m2 brightness. The specifications are fairly standard. Additional features include a built in 3 megapixel webcam above the screen, built in stereo speakers, a built in microphone and touch sensitive controls at the bottom. The 7 inch screen supports a resolution of 800 x 480 pixels, 400:1 contrast ratio, 30 millisecond response time and 200 cd/m2 brightness. These specs render it useless for games or movies but for checking emails or web conferencing it will suffice.
Set Up and Connectivity (4 out of 5)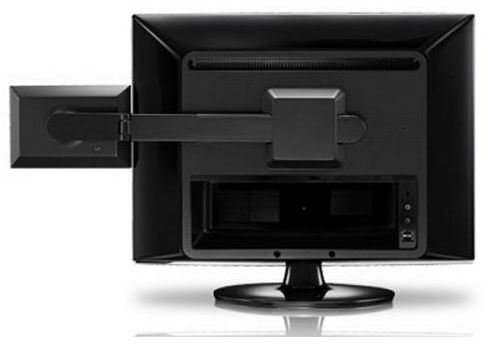 The Samsung SyncMaster 2263DX is easy to set up; slide the 22 inch monitor into the stand and slot the 7 inch monitor onto the rotatable extending arm which protrudes from the back. You can position it at the top or side and tilt the main display to find an ideal position. There is ample connectivity and the UbiSync 7 is powered via USB and uses DisplayLink Technology. The main monitor has VGA, HDMI and DVI inputs and they include the DVI, USB and VGA cables along with a cleaning cloth. There are also two USB ports.
Performance (3 out of 5)
In terms of performance the image quality on both screens is adequate for purpose without impressing. The contrast on the main display is not great and the response time on the small display is awful. The viewing angles are reasonably good at 170 degrees for the big monitor and 140 degrees for the small one. The webcam quality is also quite good, certainly an improvement over your average built in laptop webcam and it comes with a software package which allows you to make adjustments and add visual effects. The built in speakers are a bit tinny, as you would expect and they can't manage bass. There is a headphone jack and an additional microphone jack although you are unlikely to need it.
Overall (3 out of 5)
If your main concern is saving space but you need the dual display then you might want to consider investing in a Samsung SyncMaster 2263DX. At the moment it is probably priced too high, and so we give it an average rating. You can certainly find better quality monitors for a lower price. It is quite attractive and it has a good set of features, but I'm not convinced that it is worth paying over $500 for.