Review of Western Digital My Book World Edition - Top Network Storage Devices
Western Digital My Book World
Western Digital is a brand that has become synonymous with hard disk drives and they have been crafting storage solutions for consumers since 1970. Since people have an ever increasing volume of photographs, video and audio files and documents on their computers the need for bigger and bigger hard disks has led to some great developments. It is also increasingly common for people to have a home network, maybe a few PCs or Macs and a laptop or notebook. This is where NAS (Network Attached Storage) devices like the WD My Book World edition come in. They provide plenty of space for your files and can also be hooked up to your wired or wireless network and accessed by a range of devices.
Visual Design (4 out of 5)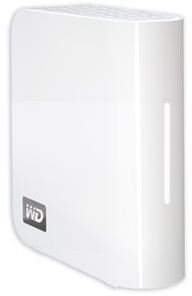 If you are wondering about the name it refers to the design of the device. The Western Digital My Book is designed to resemble a hardback book. It has a curved spine and a glossy white finish with the WD logo on the side. There is a ventilation grill to let the heat escape around the top, back and bottom of the device and the back also has a USB port, an Ethernet port, a power socket and a Kensington security slot. In the center of the spine you'll find a row of lights which indicate whether the drive is on and what it is up to, you can even turn these off if you prefer. It is an attractive device and it measures just 5.8 x 2.3 x 6.8 inches so it won't use up much desk space.
Set Up and Configuration (5 out of 5)

Once connected to your network the drive's shared folders should be visible immediately and you can assign them to be network drives. Computers running Windows Vista and Macs should find the device automatically, for PCs on Windows XP you may need to use the software provided. Not only can the devices in your home access the drive but you can also access it remotely using the MioNet software. Remote access can be tough to configure if you don't know what you are doing so MioNet is great for inexperienced users and it makes the process easy. You can configure numerous user accounts, decide on exactly what permissions to assign to users and configure remote access settings. The set up is easy and quick to perform and with a choice of Basic or Advanced menus novice users can bypass some of the more complex aspects.
Features (5 out of 5)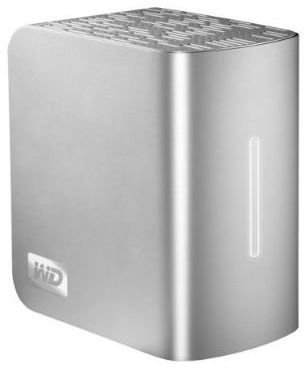 There are two varieties, 1TB or 2TB, providing you with plenty of extra space. The basic idea is that the device can be set up to automatically to back up all of your files. There is software provided which will allow you to schedule automatic or continuous back up plans depending on your needs. If anything goes wrong with one of your computers you won't lose your files and recovery is a quick and easy process. It is very straightforward to set up your back up system and it certainly provides some peace of mind. It is an important function and definitely worth considering but the My Book device is capable of much more than just simple backing up.
Moving on to the more exciting features of the WD My Book World edition you'll be interested to know that it can be used to stream photos, music or videos. You can use a digital media adapter or a games console such as an Xbox 360 or PlayStation 3 to stream movies onto your television. You can also stream photos to wireless digital picture frames and audio files to audio receivers. In fact the device supports iTunes server so you can centralize your entire music collection. Any device on the network with iTunes will be able to access it.
Operation (4 out of 5)
The device uses WD GreenPower technology and it compares favourably with other devices in terms of power usage. It is also quiet and despite not having a cooling fan it doesn't seem to have any problems with overheating. File transfer is fast through USB but if you are using Ethernet it will depend on your router. For Wi-Fi you will find the transfer may be slower, it all depends on the quality of your set up.
Overall (5 out of 5)
All in all this is a great device which is easy to set up whether you are a novice or an experienced user. It offers plenty of space and a wealth of features wrapped in a stylish design. The 1TB model is available for under $200 on Amazon which is a great deal. The 2TB model is a lot more expensive at around $350. If you are seeking a network attached storage device then look no further. In particular, the MyBook World Edition II (reviewed here) fails to reach the bar set by its predecessor.