Sager NP9262 Review - Best Gaming Laptop?
NP9262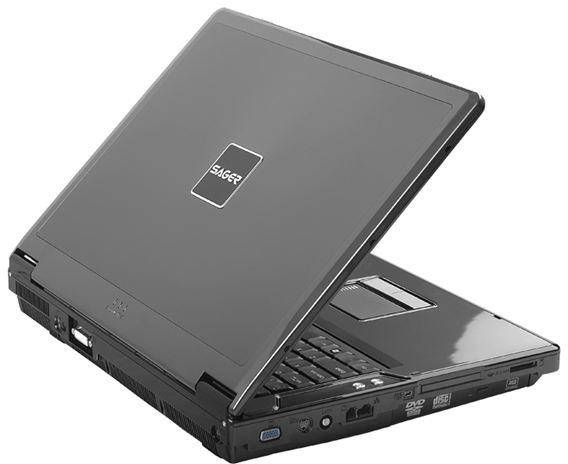 This month, having gotten to review only two gaming laptops, I figured I'd save you the speech about the second-best Alienware computer after the M17. Rather, let's talk about Sager Notebooks, a company that you (like me before I began my research) probably never heard of.
A little research on the web shows that Sager has been around since 1985 and have been in the customized higher-end gaming laptop business for the past couple of years. They are noticeable because they offer you what Alienware won't at a price that can't be beat point-for-point in a comparison with the Alienware notebooks.
For somewhere in the vicinity of $200 more, you're getting a computer that is just amazing to play games on. While the Alienware models like to show off how flashy they are with those exotic and strange alien skull designs, Sager takes it for granted that you're a mature adult who wants a machine that reflects your sensibilities – with most laptops looking no different than an average Acer or Asus machine. Not to say that the laptop is ugly, but it just doesn't give off that same pompous vibe that the Alienware machines manage to give off. For this review, every time I talk about the "Sager laptop", the specific laptop I am talking about is the NP9262.
First, let's get to the main points – if you've read my article about the M17, we'll be comparing this machine directly with that machine. First off, the M17 boasts a quad-core processor that this one manages to top. Rather than a 2.53 GHz, 12 Mb Cache, 1066 MHz FSB processor, Sager gives you a true 3.0 GHz, 12 Mb Cache, 1333 MHz FSB processor, also a quad-core monster of a processor.
Remember the dual-SLI ATI cards in the M17? Sager ups the ante by giving you (and I use the word giving loosely, as you're practically mortgaging your home to pay for this) a dual-SLI Nvidia card setup, which boasts not a 512 Mb memory capacity like the M17's, but rather, each card has 1 Gb of memory each. This setup is double the graphical capacity of my desktop, and that already runs most games available today at full speed with 1680 x 1050 resolution. Oh and the screen on this laptop? You're looking at a 17 in screen with a glossy surface that supports native 1920 x 1200 resolution – something that my 22 in monitor doesn't do.
Finally, remember the 4 Gb of RAM that the M17 offered you at the premium price? With the most expensive model here, you're getting a whopping 8 Gb of RAM to test out. I guarantee that nothing will come even close to needing that much RAM, but it's nice to know you're covered for the future with regards to this "investment".
Once again, let me be the voice of reason here. There is no reason anyone on the Earth currently living needs this laptop, unless they require a mobile computing center with the power of the most advanced desktop money can buy. The price is sheer lunacy - $4200 is enough to put a down payment on a car. And if you're so into gaming, chances are that you can find yourself time to build a great desktop rig and have hours and hours of fun with that instead of paying this much for a product that will be obsolete in about a year or at the most a year and a half. Do yourself a favor, before you consider buying this laptop, just ask yourself again and again – "is it worth it"? The answer I keep coming up with is that across the board, "no", it really isn't.
This post is part of the series: Best Gaming Laptop Reviews
Looking at two of the best Laptops for the Gaming user.