Review Kyocera Mita EcoSys FS-1300D Monochrome Laser Printer - Great Unknown Value Printing
Kyocera Mita EcoSys FS-1300D Monochrome Laser Printer
Kyocera is known for its manufacture of some of the most advanced ceramics in the world. Among their products are monochrome laser printers and AIOs, and color laser printers and AIOs. Kyocera does not make inkjet printers. For their laser printers and multi-functional printers, they have developed an advanced ceramic drum and an engine used in all of these products. This drum is considered a life long component of their printers, rather than a replaceable part. As well, their toner is priced considerably lower than that of most printer companies.
Kyocera says
"Kyocera's ECOSYS printers include a durable imaging system using long-life drums, Organic Photoconductor (OPC) and Kyocera's patented Amorphous Silicon (ASi), capable of handling up to hundreds of thousands of prints. These long-lasting drums are distinctly separate from the toner eliminating the need to replace the drum when toner is depleted."
The Kyocera Mita EcoSys FS-1300D Monochrome Laser Printer is one of the smaller monochrome printers in their product line, and as such is aimed at home offices, small offices and workgroups. It is as environmentally friendly as a printer can be and is meant for a workhorse life in its user's office.
Cost, Compatibility and Connectivity (4 out of 5)
The MSRP of the Kyocera Mita EcoSys FS-1300D Monochrome Laser Printer is $530, but it is available online for a much more reasonable $299 to $399, which makes a big difference in its price to value cost. However, Kyocera's TCO (Total Cost of Ownership)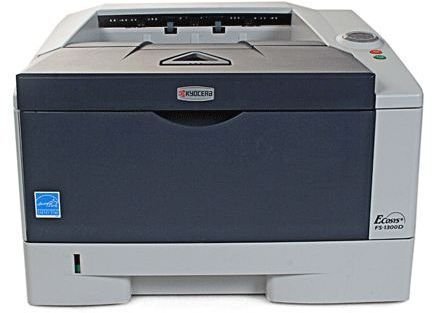 calculator (linked below) uses Kyocera's own price to figure out savings versus competitors' printer and ink costs over 36 months, so an online purchase could save you even more than their chart shows.
Kyoceras are not carried in every office product store, although I was able to find three dealers within 35 miles of my upstate New York home. They have a where to buy locator on their site, where you input your zip code and the printer products you are interested in.
Standard printer memory is 32MB, upgradeable to 544 MB. Operating systems supported are Windows 2000/ XP /Vista, Mac OS 10.x and Linux. With the optional IB-23 network Interface, you have a great many more options (see chart).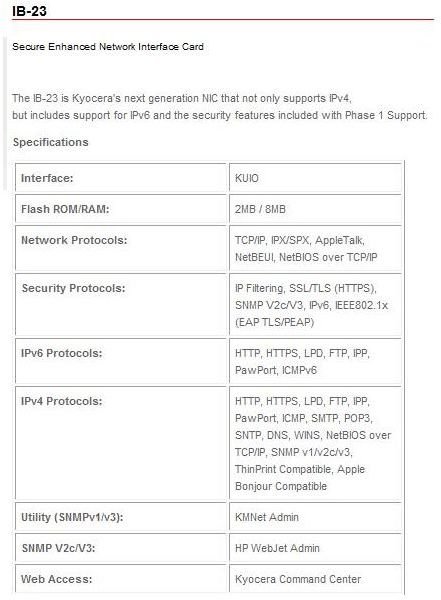 The printer as equipped with the network interface card retails from Kyocera for $749, which puts it right in the price range for other workgroup printers, but the FS 1300DN, otherwise identical to the FS 1300D, can be found on line for $429 and up. This is a very respectable price for a workgroup printer with 30 ppm speed, a duplexer, and extremely low running costs.
Features (5 out of 5)
It is rated for 30 ppm, warms up for 19 seconds, and then takes a low-end six seconds to spit out the first print. After that, densely printed pages come out every two to three seconds. While this is certainly not spectacular, it will happily sit in a corner and chug out as many copies as you want, up to the capacity of its 250 sheet paper drawers. One 250 sheet paper tray is standard, and two additional 250 sheet drawers can be purchased for a total capacity of 800 sheets. There is also a 50 sheet multimedia tray. Load more paper, and six seconds later it is chugging away again.
The paper drawer holds paper sized letter to legal, and the multi purpose tray (MPT) can handle the same, as well as media sized between 2.8 x 5.8 inches to 8.5 x 14 inches. It prints on plain paper, recycled paper, transparencies, labels, and envelopes. Paper weight can go from 16 pound bond to 32 pound bond in the standard drawer, and 16 pound to 110 pound index via the MPT.
It is capable of 1200 dpi resolution, and can print in Fine 1200 mode (1200 x 12000 dpi), Fast 1200 mode (1800 x 600 dpi), 600 x 600 dpi and 300 x 300 dpi.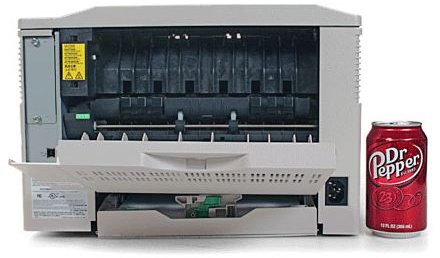 The standard duplexer can handle 16 to 28 pound bond, in sizes form letter to legal, and duplex speed is 15 ppm for letter sized paper.
It does not have a conventional control panel, instead using six green and orange LEDs on a dial, and green and orange button to start or stop print jobs.
It comes standard with an automatic duplexer - a refreshing change from many lower end business printers - a toner cartridge rated for 3600 pages, power cord, NO USB cord, and software.
It is 15 x 15.5 x 10 inches, and 22 pounds, certainly easy to perch in the corner of a desk.
The Drum comes with a three year or 100000 imprint warranty, but is expected to last much longer.
Supply costs (5 out of 5)
The TK-132 toner cartridge, rated at 7200 pages, was available online from $80 to $97. List price per cartridge is $86. At the low end, this works out to 1.11 cents a page- and since the Kyocera FS 1300D has a lifetime drum, there aren't likely to be a lot of hidden costs. This is the cheapest price per page on any monochrome laser printer I have yet reviewed. At the high end, a $97 toner cartridge works out to just over 1.34 cents a page- also a very respectable figure.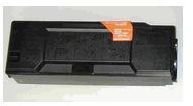 When you initially load your first toner cartridge, it takes about 15 minutes before the printer is initially charged- although Kyocera assures users that this is a one-time situation.
Kyocera has created a Total Cost of Ownership calculator in which you can enter the Kyocera printer that you are interested in, and compare it to most other printers on the market. Or you can enter a competitor's printer, and Kyocera will enter the printer they see as the most comparable to your choice. The calculator will look at the hardware costs of each printer, and then the cost of consumables for the printers, and show you a graph of the costs across thirty six months. They point out that they can not figure the service and maintenance costs, and that they use the highest yield cartridge the competitor makes for that printer, as they have no way of knowing third party ink costs.
User reviews (4 out of 5)
The user reviews are generally very positive. While they do point out that it is at the lower end of ppm for workgroup printers, one user commented that it printed dense text about 8 times faster than his 17 ppm inkjet printer. It certainly is in an acceptable range for home offices and small offices, and if fitted with the optional networking capacity, is a serviceable printer for workgroups, especially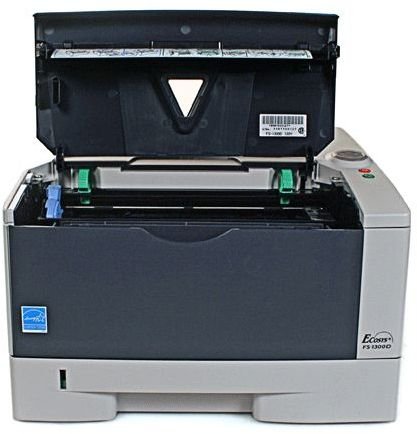 those interested in low costs per page. Text quality was considered quite good, for in office and external documents, something not every faster network laser printer can claim. It also rated well for charts and tables suitable for giving out to clients. It was not recommended highly for its gray scale photographic reproduction capability, with reports of faint patterns showing even in the 1200 dpi print mode.
A user noted that there was trouble with top and bottom margins being held securely, so that printing on A4 media in A5 landscape mode, text was off center to the left or right. No other user complained of paper shifting.
It has received an award from Business Laboratory Inc. (BLI)
Conclusion (5 out of 5)
The Kyocera Mita EcoSys FS-1300D Monochrome Laser Printer is not well known- but it, as well as other printers in the Kyocera lines, deserves to be. At the slightly pricey end for a personal printer, it is in a reasonable range, when purchased online, for small offices. Certainly, even with the price of the networking capacity factored in (FS 1300DN), it should be considered for workgroups, especially those that produce a high volume of paper, but don't need the copies almost instantly. The Total Costs of Ownership costs shown by Kyocera are absolutely excellent. If you need a lot of copies, the saving of paying just over one cent a page is going to mount up through the years- and the printer is built to last for years. With text quality good enough to be shown to clients, and a standard duplexer, the need to refill the printer with paper more often than larger and more expensive laser printers can be overlooked.
Kyocera may not be a household word- but it looks as if it ought to be an office word. Bright Hub will look at other printers and MFPs from Kyocera in the future.