HP LaserJet P4014n Review - A Best Workgroup Laser Printer
HP LaserJet P4014n monochrome printer
Cost, Compatibility and Connectivity (4 out of 5)
The HP site is currently offering the HP LaserJet P4014n printer for $800, originally $899. It can be found online from $719 to $946 but like most other USB devices, is currently sold without the necessary USB cable. It comes with a power cord, a control panel overlay, CD with software and drivers, and comes with a 64A toner cartridge, rated for 10000 pages.
System require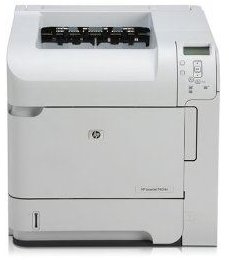 ments are up 64 MB to 512 RAM, depending on the operating system, and 220 MB disk space. Compatible operating systems include Windows 2000; Windows XP Home; Windows XP Professional; Windows Server 2003; Certified for Windows Vista(R); Mac OS X v 10.2; Mac OS X v 10.3 or higher; Linux.
It has an embedded Gigabit Ethernet print server, a hi-speed USB port, an EIO slot, and one external and two internal USB like ports. Optional connectivity includes HP Jetdirect EIO internal print servers, and external print servers, HP wireless print servers, HP Jetdirect EIO connectivity card (for USB, serial, LocalTalk) and Bluetooth wireless.
The P4014n comes with 128 MB memory, and can go up to 640 MB printer memory.
Standard printer languages are HP PCL 6, HP PCL 5e, HP postscript level 3 emulation and direct PDF printing.
There is a one year return to authorized HP service center limited warranty.
Features (4 out of 5)
It prints at a speed of 45 ppm in normal quality mode, with up to 1200 x 1200 dpi. It can print a fast 1200 dpi, a fine 1200 dpi, 600 dpi, and 300 dpi. The maximum duty cycle is 175000 pages, but the monthly recommended volume is 3000 to 12000 pages. The first page takes a fairly routine 8.5 seconds to appear, and then, as a user said, pages seem to fly out at nearly one a second.
It weighs about 57 pounds, and has a footprint of 17" x 18" x 16" without options. It does not come with a duplexer, although there is an option to buy one.
It has two paper trays, with one holding 500 sheets and the other a multipurpose tray that can hold 100 sheets, for a standard capacity of 600 sheets. Four drawers can be added for a total capacity of 3600 sheets. It handles media sizes from 3 x 5 inches to 8.5 x 14 inches, and envelopes. You can also purchase an optional envelope feeder. The P4014n can handle plain paper, envelopes, labels, card stock, and transparencies.
Supplies (5 out of 5)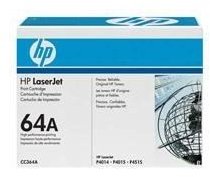 The HP 64A black print cartridge retails from HP for $173, and can be found online from $148 to $180. It is rated to print 10000 pages. There is a larger one, rated for 24000 pages, online for $245. Each cartridge includes an image transfer drum, a part which tends to wear out on most laser printers. Price per page is under 1.8 cents.
User reviews (4 out of 5)
User reviews, unlike some of the other HP products I have reviewed recently, are generally positive. Many users said it was fast, sturdy, and felt solid. It is network ready, and generally was thought to be easy to set up. The graphic interface is said to be nice. Few people reported paper jam problems, although one person said they had jamming problems right out of the box. It is considered cheap to run, with good print quality, compatibility, performance and ease of use. It was noted the printer is meant to be serviced and maintained, rather than tossed out after a few years.
Text is considered to be of reasonable business quality, perhaps a little below the average. PC Magazine reports that over half the fonts they tried were readable at 6 pts, and some at 5 pts. Even the most ornate fonts were readable at 10 pts. Although the HP P4014n is rated the same as the Lexmark T650n, at 45 ppm, PC Magazine felt that the HP was faster, with about the same print quality.
There were some cons. Everyone agreed that it was noisy. One office had employees who didn't want to work within ten feet of the printer - but since it is networked, moving the location away from employee desks is certainly feasible. One user who ordered several units of the printer at a time received a bad one in the group, and its replacement had a bad fusor. He was also not happy with HP support.
The current HP support, or lack thereof, has been a continuing refrain with every HP printer I have reviewed. Users consistently feel that it has gone downhill, although HP once had an excellent reputation.
Conclusion (4 out of 5)
The HP P4014n is a strong contender for best buy for small offices or workgroups. Its running costs are excellent, in line with those of the Lexmark T650 or slightly less, although it is slightly more expensive to purchase. It is clearly built to last, rather than as a piece of throw away technology, which is a nice reversion to HP's earliest LaserJets.
While there seemed to be occasional problems with quality control, they were not common. Despite HP's less than supportive reputation, the printer seems robust enough in build design and operational use that most users will not need to deal with HP support. Standard paper capacity holds a ream of plain paper, along with another feeder holding 100 sheets of variable media. The monthly duty cycle is also right in the range of the Lexmark T650n. Overall, Bright Hub gives the HP P4014n printer a solid thumbs up.