Lexmark T650n Monochrome Laser Printer Review: Black and White Home Printer - Reviews
Lexmark T650n Monochrome Laser Printer
The Lexmark T650n Monochrome Laser Printer is not terribly well known. There are not a lot of user reviews available for the printer yet. However, the printer has fabulous specs, is reasonably priced for the small office workgroup market, and has a lot of options for expansion as your production needs grow.
Images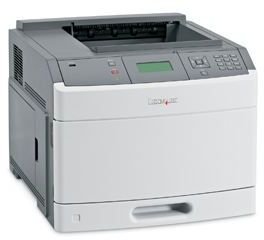 Costs, Connectivity, and Compatibility (5 out of 5)
Lexmark offers the Lexmark T650n Monochrome Laser Printer on their site for $749. Online, the price ranges from $625 (a current sale) to $813. It looks like it can be found for about $700 fairly reliably, but you will want to check shipping and tax on your different choices before you make your final decision as to where to purchase it.
It is network compatible, with Ethernet 10/100 Base TX, a front USB port, and a hi-speed certified USB port. It also has an internal card slot. Optional network ports include three external and internal MarkNet Gigabit options, a Lexmark 802.11 g wireless print server, and an internal MarkNet 802.11 b/g/n wireless choice.
It has an astonishing range of compatibility options. Mac OSX, OS 9.x, MS Windows Server 2000 and MS Windows Server 2003 with Citrix MetaFrame, and a multiplicity of MS Windows OS; ranging from Windows 2000 to Windows Server 2003, including 2003 x64 and moving through XP, Vista x64, up to Windows Server 2008 x64, with all Windows Server choices also running Terminal Services.
Linux Operating systems have not been left out. Among others, it supports Red Hat 3.0 and up, SuSE Enterprise Server 8.0 – 10.0, SuSE Enterprise Desktop 10, Open SuSE10.2 – 11.0. Red Flag, Debian, Ubuntu, a number of Novell choices, Unix and virtually any platform supporting TCP/IP.
The T650n also supports Network protocols TCP/IP and Apple Talk, Network Management protocols from HTTP, HTTPS (including software developed for the Open SSL project), DHCP, DNS, Bonjour, Telnet and many more. It also covers standard printer languages.
As has become routine, you must supply your own USB cord. I think companies are stinting users who purchase a $700- $800 dollar printer by not including a $10 USB cable - and certaining running the risk of upsetting those who've just unpackaged a brand new printer and cannot connect it. Luckily, you have a good chance of being able to canabalize the USB cable from the printer you are replacing.
Features (5 out of 5)
The T650n is about 14" x 17" x 20", so you probably will want a stand, and weighs 41 pounds. It also comes with a one year exchange service and next business day warranty - which will appeal to many, particularly for businesses.
Its maximum duty cycle is 200000 pages a month, but a more realistic usage would be from 3000 - 20000 pages, i.e. enough for quite a productive office. If you are going to use the high end of that page production, Lexmark offer optional paper drawers which bring the total paper input capacity from the standard 350 sheets to a high of 4000, via multiple drawers from 200 sheet to 500 sheet capacities. Also available are a 250 sheet duplexer (unfortunately for a business oriented machine, the duplexer is not standard equipment), 2000 sheet high-capacity feeder, and for those expecting higher output than the standard 350 sheet output bin will hold, a 1850 sheet high-capacity output stacker and a 550 sheet output expander. You can also get a StapleSmart finisher.
The T650n has a 4 line 160 x 64 pixel backlit gray-scale display. There is a 500 MHz processor, with standard 128 MB memory, which can be upgraded to 640 MB. It can run in a quiet mode and in a reduced power mode.
Now, the details for the promised speed printing. The time to print the first page is a fairly good 7.5 seconds. Once the printer is prepared, it will spit out paper as fast as 45 ppm for letter size, and 43 ppm for legal sized sheets. Print resolution is 1200 x 1200 dpi, and 600 x 600 dpi, with 1200 and 2400 image quality.
Supplies and costs (5 out of 5)
Lexmark estimates the average page cost is 1.63 cents. Toner cartridges are available in two sizes, a high yield one with an estimated 25,000 standard pages, priced at $430.50 from Lexmark, and a lower yield cartridge estimated to be good for 7000 pages. This, in the return program cartridge, is available for $153.84 from Lexmark, and for as low as $132 from online sellers. The return program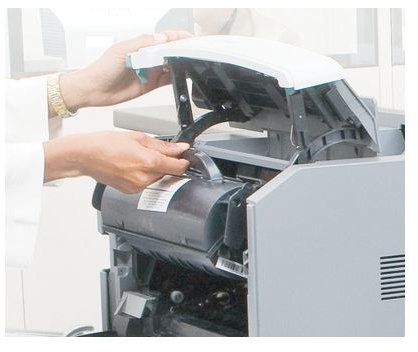 cartridges are an Eco friendly alternative where Lexmark will sell the toner cartridge at a lower price in return for the user's agreement to not try to refill it, and return it to Lexmark for recycling.
Using Lexmark's prices for cartridges, I got 1.71 cents per page from the 25000 copy cartridge, and about 2.1 cents per page for the 7000 copy cartridge. At the lower Internet price, the 7000 page cartridge worked out to 1.88 cents a page. These are pretty low prices per page.
User reviews (5 out of 5)
User reviews are relatively sparse for this new printer. One comment was Pros: Speed, Cons: None yet. Four stars.
However, it has received more than one editor's choice award since last October, and was picked the Outstanding Mid-Size Workgroup Monochrome Printer of the year for 2008 from Buyers Laboratory Inc. (BLI). PC Magazine also selected it as an Editor's Choice for small offices and workgroups, and gave it four stars. The other Editor's Choice came from Better Buys for Business, for the Lexmark T650 Series: "These (mono) printers set a new standard for high-end, large-workgroup printing with outstanding new technology."
I was not able to find a negative comment about the printer in my Google searches, although PC Magazine did feel the text printing was slightly below average, but fully readable down to 6 pt typefaces. They warned that owners might think twice about sending copy from it to important clients, but that it was totally serviceable for in-office documents. They did comment that thin lines reproduced well.
Conclusion (5 out of 5)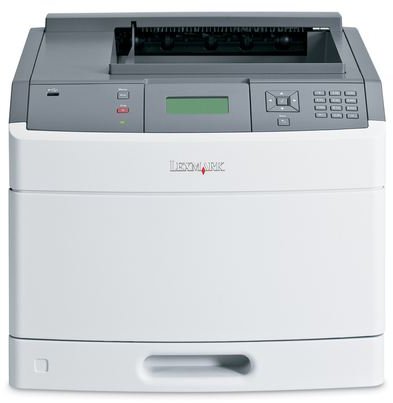 The new Lexmark T650n looks to be one of the great choices available now for small offices and workgroups, and has the ability to grow with the office. Supply costs are extremely low, and its speed is quite phenomenal for a printer in its price range. It has superb compatibility with operating systems, does not have a huge footprint, and is somewhat ecologically conscious.
Crucially, the T650n has been given very positive attention from review organizations. As long as you are not trying to print your resume or wedding invitations, which is probably a no no at work anyway, it seems like a best buy printer. I predict it will soon grace many offices. Bright Hub recommends it as a best buy.