Best Gaming Keyboard - Logitech G11 Review
Overview
The Logitech G11 keyboard may not be the newest offering from the PC peripheral giant, but it is definitely my "old faithful". I've had mine for longer than any other keyboard I've ever owned, and as a professional writer and gamer, I use it far more often and intensely than anyone else I know. This sturdy, comfortable, and feature packed keyboard has served me well so far, and I expect it to last several more years. Let's take a look at the Logitech G11's features and what makes it a great keyboard for gaming and other use.
Appearance and Features (5 out of 5)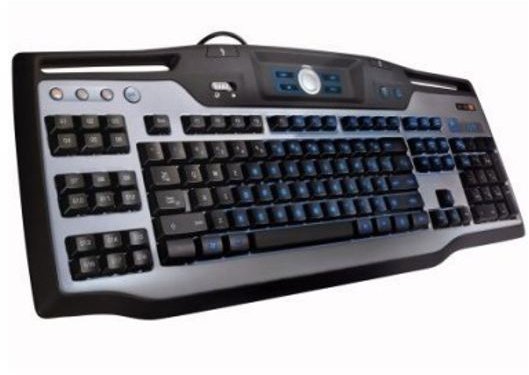 The first thing you will probably notice about the Logitech G11 keyboard is its size. This is a big keyboard, with an extra 18 programmable keys located on the left side, as well as a full number pad. Logitech didn't try to rock the boat with this keyboard - the keys are exactly where you expect them to be and are all the appropriate size, reminiscent of the familiar white-turned-dirty-yellow Microsoft and IMB keyboards most of us started with. It does include a Windows key, which many gamers find irritating, but includes a nifty feature to disable its accidental usage while playing a game. Nice!
Also included are a removable wrist rest which works quite well, and two USB ports. In the top center is a volume adjuster and common playback controls, along with a mute button. There is also a selector for programmable button load outs with three possible settings, so those 18 extra buttons can be configured for a grand total of 54 different uses.
My personal favorite feature on this keyboard is the blue LED backlit keys, which make every key visible even in the darkest situations. If you so choose, you can press a button to brighten, darken, or shut off the key backlights. Besides being functional, the lighting coupled with the sleek design of the keyboard make it both fantastic to use, and great looking.
Quality (5 out of 5)
It is worth noting that I have never cleaned my keyboard, and have never experienced a sticky key, hitch, or hiccup. I don't have to slam certain keys, or worry about any of them falling off, either. And trust me, this is impressive considering the pet hair, crumbs, and soda drops that have fallen into this thing over the last couple of years. I live at my PC, so my keyboard has experienced just about everything that I have, including surviving two cross-country moves.
I can honestly say that this is the highest quality keyboard I have ever owned, which stands in start contrast to the Logitech headsets that dissuaded me from buying from this company for so long. I'm glad I finally broke down and bought the G11, because I would be on my third or fourth keyboard from anyone else by now. After this long, all the backlights still light, all the buttons still work, the USB ports have never failed, and the cable is in perfect condition. Overall, a very high quality and durable keyboard.
Practicality for Gaming (4 out of 5)
I have no real complaints about the G11 for gaming. The response times are excellent, and it is more than capable of registering several keypresses at a time. The backlights help me in finding my macro keys while gaming in the dark, and the USB ports allow me to very quickly swap out my mouse when my wireless one inevitably dies because I forgot to charge it. My favorite gaming feature is definitely that it disables certain functions, like the Windows key, when you're gaming by using a slider located at the top of the keyboard. Simply slide it from the workstation picture to the joystick one or back to swap keyboard modes and reduce the frustration brought on by macros and slipping fingers both in-game and out.
The only place the Logitech G11 loses points from a gaming perspective is in the design of the programmable buttons. While it is probably completely acceptable for most people, personally I find them a little inconvenient. Being an MMO player I came up with ways to live without programmable buttons long ago, and am rather stuck in my ways. I use all of the F keys and number keys for abilities, and Alt and Ctl as modifiers.
The reason this conflicts with the programmable buttons is that they are simply remapped versions of those same keys. I can't have my F1 key programmed to something and the G1 key programmed to another, because the system reads them as the same key. One option I have is to switch to exclusively using the programmable keys, since there are enough of them close enough together, but this would drastically impact my ability to move and use abilities at the same time as my hand will be far away from the WASD comfort zone. You can only do so much with a mouse.
Overall (5 out of 5)
Overall, I love my Logitech G11 keyboard and would recommend it to anyone - gamer or non-gamer. The keys have a wonderful smooth feel, great response, and never stick. You can treat this keyboard like dirt (or just dump dirt in it) and it will still perform for you. It has practical and convenient features that are great in-game and out, and the backlights not only make it great for use in the dark, but also make it look super duper cool. How can you go wrong?
This post is part of the series: Top Gaming Keyboards Reviewed
A selection of gaming keyboard reviews, offering a look at some of the best and worst keyboards for gamers wanting to enhance their game-play with these cutting edge computer keyboards.