Kodak ESP 5 AIO Printer Review - Is a Cheap Printer as Good a Deal as Kodak Says?
Kodak EasyShare 5 AIO Photo Printer
The Kodak EasyShare 5 multifunction photo printer , or the ESP 5, is the lower midrange photo printer from Kodak. Kodak examined the ph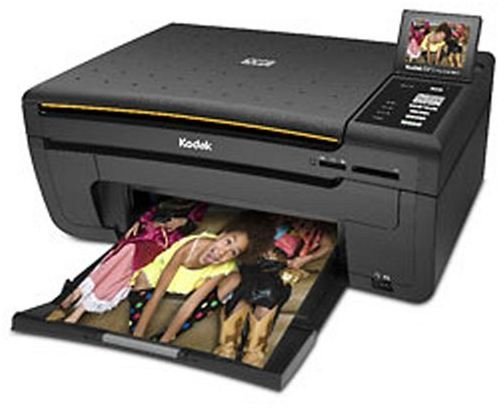 oto printer market, and saw that photo printers were sold at budget prices, sometimes below cost, and that printer companies got their profit by selling their own ink for the printers, at what many users felt were extremely high prices. They created a line of printers that would start priced in relationship to their actual cost to design and manufacture, and have low ink cartridge costs, giving a total lower cost of ownership. They are fairly cheap- but do they deliver what Kodak promises?
Cost, connectivity, and compatibility (3 out of 5)
Kodak's ESP 5 MSRP is $149.99 online, and it is available from $123 to $179. The package contains the printer, adapter, black and color cartridges, a paper pack, and software CD.
It comes with a USB port and device port for Pictbridge equipped cameras and can read seven different types of memory cards. The printer supports wireless Bluetooth with a separate $49 device.
It does not come with a USB cable. Be sure you have one on hand when you go to set up the printer.
There is a one year warranty on the printer and print head, and there is the same warranty on ink cartridges.
It says it needs 200 MB hard disk space, 128 MB RAM, and can be used on Windows XP (SP2), Vista, and Mac OSX 10.4.8 and higher versions. As reported in the review of the Kodak ESP 3, there are no Linux drivers, and there are no plans in the works for Kodak to provide them. General software updates can be downloaded from the Kodak web site. There were no reports of bloated software installations with this model, unlike the ESP 3.
.
Features (4 out of 5)
Kodak's ESP 5 is a multi-functional photo printer, which means it copies and scans up to 8.5 x 11 inch size material, and prints on multiple media. It prints paper sizes from 4 x 6 inch to 8.5 x 14 inches. There is a three inch color LCD display on the printer, which allows you to view, crop and print directly from the printer. It does typical photo image touchups. It prints at 100%, shrinks to fit, fills the page, and mirrors.
It can print in draft up to 30 ppm, and copies and scans at about the same speed. 4 x 6 inch photos print in just 30 seconds. It can make up to ninety-nine copies at a time, without a PC.
The Kodak EasyShare software is especially created for Kodak photo papers, and is unhappy with other photo paper.
It holds 100 sheets of regular 20 – 24 lb paper, from 4 x 6 inches to 8.5 x 14 inches, or can hold 30 sheets of 10 mil photo paper. It prints plain and coated papers, various photo papers, T-shirt transfers, transparencies, labels, and computer printable greeting cards. It senses when you use Kodak brand photo paper, from the backprint and its included Smart Print software.
It weighs just over 22 pounds, and is about 22 x 17 x 11 inches.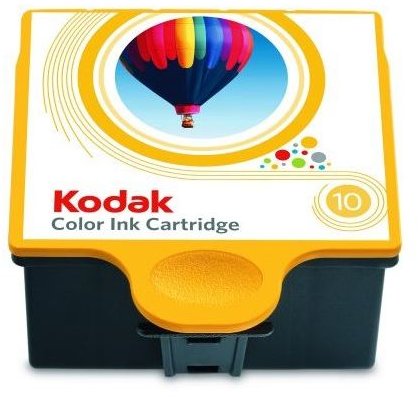 The two cartridge system has plain black ink, and comes with five colors in the color cartridge, for a total of six pigment (archival) inks. These are the typical yellow, cyan and magenta, a photo black, and clearcoat to cover the print once the color is applied.
Supplies and costs
Ink (5 out of 5)
Kodak sells black ink for $9.99, and it can also be found online. Their color ink cartridge costs $14.99, and can be bought online for cheaper. Their web site sells a premium photo pack with a Kodak Store frequent printing bundle, which contains what they say is a color ink and black ink combo cartridge, although the picture shows separate black and color cartridges. It also has two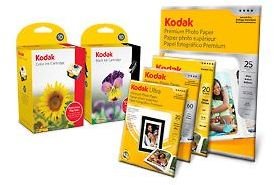 sizes of Kodak premium photo paper (60 ct 4 x 6 inch gloss and 25 ct 8.5 x 11 inch gloss) and two sizes of ultra premium photo paper (20 ct 4 x 6 inch high gloss and 20 ct 5 x 7 high gloss) for $46.99. This can be used in any of the EasyShare printers.
Kodak claims print costs are about fifty percent less than those of comparable printers, at a price of 2.3 ¢ for text documents. Color printing is about 7 ¢ per page. 4 x 6 inch color photos cost about 9.6 ¢ each. These are really great ink costs.
Kodak costs of printing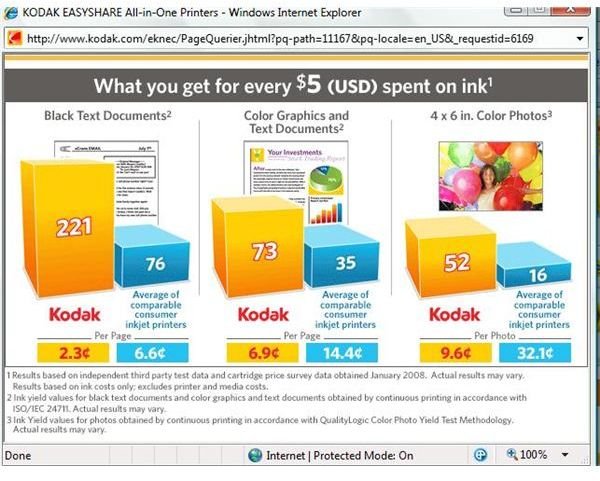 Paper (3 out of 5)
Kodak paper prices are not as cheap as their ink. From the bundle above, 60 ct 4 x 6 gloss paper costs $8.99- a definite bargain compared to 20 ct 4 x 6 gloss paper at $5.99. 25 ct gloss paper in the 8.5 x 11 size is $11.99. The ultra premium photo paper part of the bundle breaks down to 20 ct high gloss 5 x 7 inch paper for $8.99 and the 20 ct high gloss 4 x 6 inch pack is $6.99. 50 ct high gloss 8.5 x 11 inch paper is $33.99, and the 25 ct pack of the same is $17.99.
User reviews (3 out of 5)
User reviews of the Kodak EasyShare 5 were somewhat better than those for the Kodak EasyShare 3 photo printer, The average of the user reviews at Amazon was two and a half stars. There were fewer five star reviews than the ESP 3 had, but there were also far fewer one and two star reviews.
More people complained about setup problems, and also said Kodak support was not well prepared to deal with the problems setup was giving users. Another user, despite Kodak support, was never able to get it to work with her Mac.
Another user was on her fourth replacement printer sent from Kodak, and said although Kodak claimed they were sending her new printers, she was sure they were reconditioned products. In her Amazon review Carolyn D. Hopkins included the number for Kodak you need to get your replacement printer- "1-800-421-6699. GOOD LUCK!"
Another user pointed out that Kodak recommends you do not let dust get on your photo paper- and that Kodak has built a paper tray that can not be folded or retracted while loaded, and Kodak does not have a dust cover available.
There were users who were very happy with the printing, ink consumption, paper handling, and color quality of their printers. One said he'd had the printer for three weeks, and had satisfactorily printed 2000 documents, many of them on card stock. Others were happy with the printer- pointing out that it was very inexpensive, did a quick job on snapshots and had medium copy and scanning performance- which was what you should expect from a budget AIO photo printer. They did advise picking up the printer on sale.
A number of people had color issues where a color would just not print, even with a brand new cartridge. Others had color dropout in the middle of printing, and some just could never get the printer to print.
Almost everyone had issues with noise from the printer, and some complained about vibration.
There were several user issues with skewed printing, and one review offered the idea that this was because any non Kodak paper slipped against the "polished plastic feeding rollers," and therefore could not print content parallel to the paper edge.
Conclusion (3 out of 5)
Kodak's EasyShare printers really do seem to provide far lower ink costs than their competitors. There did seem to be fewer people having the issue that the ESP 5 was a complete dud - and more smaller issues. Use of Kodak's paper as the only option for print quality continues to upset people, along with their paper prices. You still need to get your own USB cable. Linux users are still out of luck. Kodak does seem to replace problem printers in the ESP 5 model - although I am starting to imagine a printer graveyard somewhere behind their warehouse. All in all, this model seems to be slightly more satisfactory than the ESP 3 - but it definitely has limitations.
.