Review Kodak ESP 3 AIO Printer - A Bargain Printer or Not?
Kodak ESP 3
The Kodak EasyShare 3 multifunction photo printer, or the ESP 3, is the low end model in a recent photo printer produ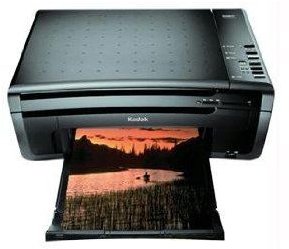 ct line from Kodak. Kodak looked at the photo printer market, and determined that photo printers - and printers in general – were sold at low prices, sometimes under cost, and that manufacturers made their money supplying proprietary ink for the printers, at what many consumers considered exorbitant prices. They decided to bring out a line of printers that would start out at somewhat higher prices, and have much lower ink costs, contributing to a total lower cost of ownership.
Cost, connectivity, and compatibility (3 out of 5)
Kodak's ESP 3 MSRP is $129.99. Online, it is available from $99 to $149. Included is the printer, adapter, black and color cartridges, and a paper pack.
It comes with a USB port and a device port for Pictbridge cameras, and it can read most memory cards. It can also support Bluetooth enabled imaging devices, although that needs an optional $49 device. Be aware it does not come with a USB cable. Frustratingly, most USB devices no longer come with a USB cable included. You will want to make sure you have one or purchase one when you buy your printer.
The ESP 3 has a one year warranty on the printer and the print head, or thirteen months from the date of manufacture. It also offers the same warranty on its ink cartridges.
It needs nearly half a gigabyte driver and software space, per a user, and can run on Windows XP (SP2), Vista, and Mac OSX 10.4.8 and above. According to this thread at Ubuntu forums, there are no current plans for Linux support for Kodak products. Software updates are available from the Kodak web site.
Features (4 out of 5)
Kodak has made this an All-In-One printer, which in this case means it can copy and scan up to 8.5 x 11 inch documents, as well as print on plain paper and photo paper. It can print documents up to 8.5 x 14 inches. There is no display on the printer. It can do photo image enhancement. The printer can print at 100%, shrink to fit, fill the page, and mirror.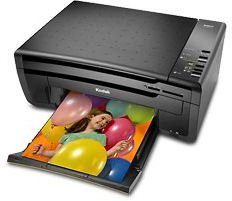 The ESP 3 can print in draft up to 29 ppm, and copy and scan are approximately the same. 4 x 6 inch photos take about 30 seconds to print, although a user commented it took nearly a minute for the photo paper to load. It can make up to nine copies at a time.
The included EasyShare software is optimized for genuine Kodak photo papers. It also has scan to file, and OCR support for documents.
The print tray can hold 100 sheets of plain paper, from 4 x 6 inches to 8.5 x 14 inches, or 30 sheets of photo paper. It will print on plain and coated paper, photo paper, iron on media, transparencies and label media, and greeting cards. It auto detects when you are using Kodak photo paper.
It weighs just over 13 pounds, and measures about 17 x 12 x 7 inches.
The two cartridge system uses plain black ink, and five colors in the color cartridge. These are cyan, magenta, yellow, photo black, and a clear coat applied after the pigment color is printed.
Next: Read on to find out about the cost of supplies and our overall recommendation for the ESP 3
Supplies and costs
Ink (5 out of 5)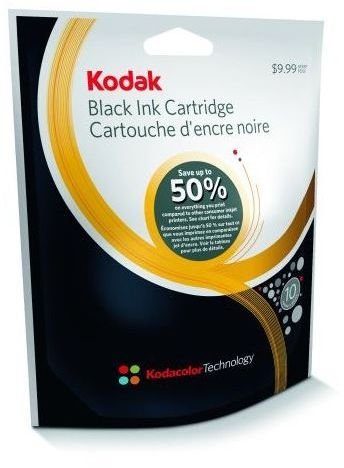 Kodak sells a black ink cartridge for a MSRP of $9.99, which is available at other online sites for a couple dollars less. Their color cartridge is $14.99. A Kodak store starter bundle provides one black cartridge, one color cartridge, and two sizes of ultra premium photo paper (20 ct 4 x 6 inch high gloss, 25 ct 8.5 x 11 inch high gloss) – Kodak's best grade photo paper – currently for $40.99. The normal price shown is $49.96. This combination is compatible with the whole EasyShare printer line.
Kodak does not offer average pages printed per cartridge. Instead, they offer a pop up window that compares Kodak results with comparable consumer printers, per $5 of ink. Rough figuring gives about 440 pages of black text printing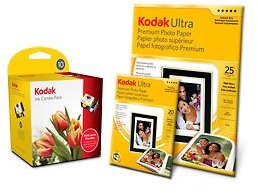 per cartridge, at a claimed average price of 2.3 cents ink per page. Color documents result in approximately 210 pages per cartridge at an estimated price of 6.9 cents cost of ink each. 156 4 x 6 inch color photos can be printed from a color cartridge, with ink costs of about 9.6 cents per print. These are much better than average ink costs, especially since the color is pigmented ink.
Paper (3 out of 5)
Kodak, although they have made strides toward reducing total cost of ownership, has hedged its bets slightly. Its paper prices have not made the drop in price that their ink has. The paper included in the above starter bundle retails at 25 ct 8.5 x 11 inch ultra premium paper for $17.99, and 20 ct 4 x 6 inch ultra premium paper is priced at $6.99. 25 ct 8.5 x 11 photo paper - the lowest grade - is $7.99 and 20 ct 4 x 6 inch photo paper is priced at $3.99.
Kodak Paper prices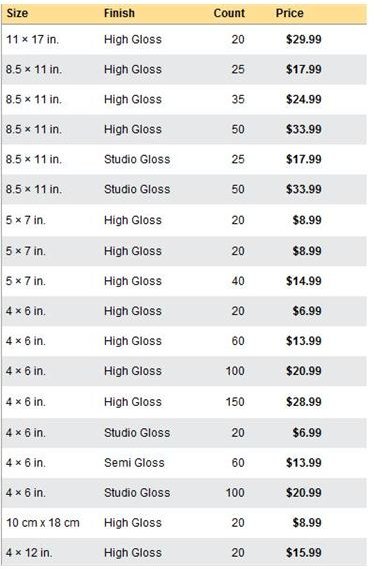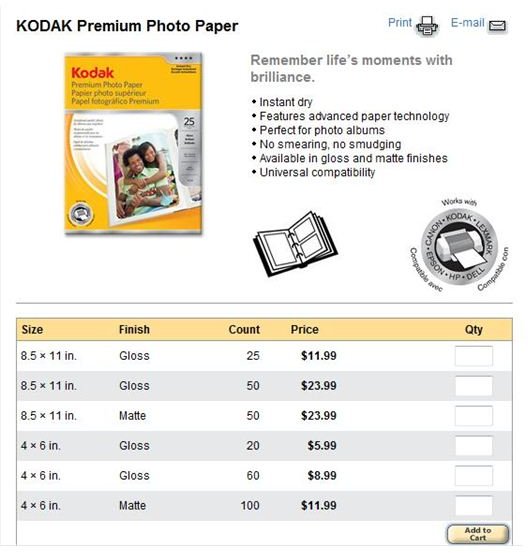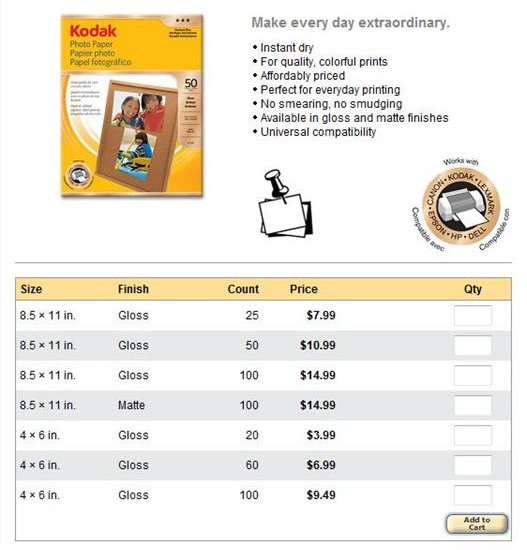 User reviews (2 out of 5)
Many users were not happy. The average of the user reviews at Amazon was two stars. While people were generally happy with the actual print quality, the quality of the printer was called into question by almost every reviewer. Many people returned the printer to Kodak for replacement more than once; one user reported they had gone through four new print heads in less than a year. Kodak does seem to respond fairly well to complaints of problems with the printer, and shipped new printers or print heads to most dissatisfied users after they had gone through Kodak support.
Most people were happy with the ink cartridges, both for price and quantity of prints. One review said the colors were less vibrant in the photo prints than he would have expected from Kodak. A user did complain that his printer printed a document, and then told him it was out of ink when he tried to print the next one, without a low ink warning or the option to continue printing although the print quality might be less. He did not feel the printer should tell him when it was finished.
Other people felt that Kodak had deliberately set up the printer to do lesser quality printing on any other photo paper than their own. Another reported his printer refused to use other photo paper. It seems that it is impossible to use comparable ink cartridges, or to refill them.
Users reported paper jams and scanning problems, usually occurring suddenly, after working perfectly well. They also reported that using non Kodak regular paper made poor color copies, although Kodak's own Ultimate paper made reasonable and crisp color copies.
Conclusion (3 out of 5)
Kodak has created a printer line with much greater saving on ink costs, especially since ink can often be found discounted somewhat online from their own price. The ESP 3 does not seem to be networkable. You must provide your own USB cable. Linux users are out of luck. Users are very dissatisfied with the quality control process in Kodak's manufacturing process, although Kodak seems to respond with replacement parts or printers without too much hassle. Since the Kodak printer does its most optimized photo printing on Kodak photo paper, users who want the highest quality results are at the mercy of Kodak's photo paper prices. There are some mixed reviews about the quality of the actual printing, with some people very happy, and others feeling Kodak has let them down.