Samsung NC10 Netbook Review - Top Netbook to Rival the Lenovo S10 and MSI Wind?
Introduction
Having demo'd, trialled and tested several netbooks over the past few months I feel it is an appropriate time to review the best models that have been rolled out across various companies I deal with (government, public and privately owned.) I have seen models rolled out to sales staff, field support technicians and consultants (i.e. the real road warriors,) and I have seen netbooks rolled out to management executives, hospital staff, technology experts and financial market movers.
In every instance three netbooks stood out – the afore mentioned MSI Wind, which is renowned for being the top netbook currently on the market, the Lenovo S10 and the Samsung NC10. It is the NC10 that we review here.
Design & Screen (4 out of 5)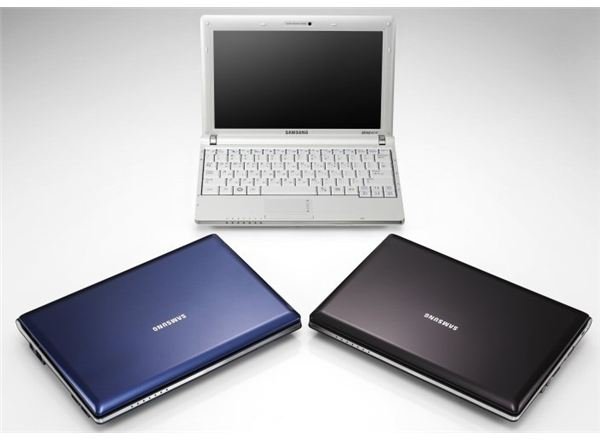 Very much built in the style pioneered by the MSI Wind, the Samsung NC10 has many of its rival's design and performance characteristics. As a minimally ruggedized ultra-portable PC, the NC10 has an exceptional build quality, with a chrome exterior that presents a professional image and is easy on the eye.
On a purely personal level I am inclined to prefer darker shades of laptops and netbooks than the standard pearl/white chassis, which always somehow looks dirty to me. The NC10 offers different color choices, the blue and black of which look particularly slick. The matte finish of the lid is an excellent design change from the glossy norm and for netbook PC needs, where constant handling and touching is a given, this matte look helps reduce the visible signs of smears and fingerprints. Having seen the NC10 used by clients and colleagues as a travel companion, personal organizer, and for heavy duty use in hospitals, finance centers and construction sites, this is a very nice touch.
The 10.2 inch display delivers 1024 x 600 resolution that is vibrant and easy to see at multiple angles. There are also some nice utility settings that can be set to tweak brightness and reflection.
Performance (4 out of 5)
Under the hood the Samsung NC10 delivers a standard netbook spec. An Intel Atom N270 1.6 GHz processor, 1 GB Ram, and 160 GB HDD provide good levels of performance and storage, which is perfectly acceptable for a machine built for portable computer users. That said, unlike other netbooks the NC10 cannot be upgraded to 2 GB Ram (or more) as it only has space for the 1 GB Ram slot.
On the subject of power, the NC10 has a best in class 6-cell battery which outlasts any on the market (netbooks by and large come with a 3-cell battery.) This makes the NC10 an excellent performance netbook as it can run for over five hours, allowing for longer periods of productivity, and battery power that should suffice for all travel needs.
Features (4 out of 5)
As is standard, the NC10 comes with Windows XP, which is no issue if you are happy with a legacy Windows OS. Besides, as we have mentioned when reviewing the Lenovo S10, you can't run Windows Vista without an upgrade of memory, and why would you want to for netbook activities. That said, even considering how solid an OS Windows XP is for the mobile PC market, the installation of a clean and minimal OS is an important consideration. Thus, working Linux into the mix would be a good idea. We have tried three Linux distro's on NC10's (Ubuntu, Mandriva, Puppy) and the NC10 runs beautifully with all three. Providing improved processing power and battery life over XP.
The NC10 has a full width keyboard with responsive keys, and this extended size makes it excellent for long periods of typing. As with the Lenovo S10 the keys are well spaced, and maximizing the real estate of the navigation panel, there is a neat offset touchpad. Some users have complained about its size, being smaller than those on other netbooks, but I feel this and its positioning are a nice trade off to enable the NC10 to hold a quality, large format keyboard.
The NC10 has an array of features and connectivity options: Bluetooth, wired and wireless as standard. As with the S10, it is a shame that the NC10 doesn't have wireless Draft-N, which is a big advantage for the MSI Wind, and something that needs rectifying looking at the future of netbook technologies. The NC10 does come with a 3 in 1 multi card reader, built in 1.3 mega pixel webcam , 3 USB ports and VGA output.
It weighs in at a light 1.33.kg.
Conclusion (4 out of 5)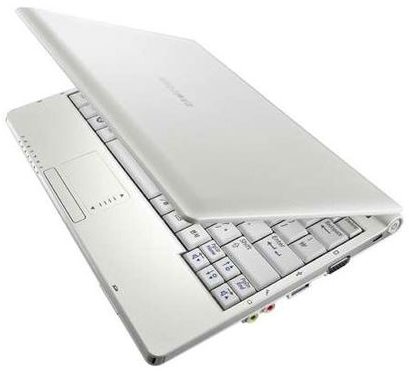 As with the MSI Wind, the NC10 has a perfect balance of power and performance at a great price ($425). Online, it can be found for as low as $389 at some locations.
It performs online activities such as browsing, email, and office tasks with ease and for long periods. Just as one small caveat however, it is worth re-iterating (although this is a standard comment when reviewing all netbooks), that the NC10 is not packed with enough processing power to deliver seamless multimedia or a slick gaming experience. That said, netbooks are the 'in' technology of the roaming PC user market, and in this regard, for professional or social needs the Samsung NC10 is a superb buy.