Business Desktop PC Review - HP Compaq dc7900 Series
HP dc7900
HP Compaq's dc7900 convertible minitower desktop PC is the successor to their dc7800 series of business computers. It is a great addition to HP Compaq's line of business machines and I have worked on dozens of them at my place of employment. These are great machines that are easy to configure. Prices range from $799 to $1019, depending on the hardware configuration.
Hardware (5 out of 5)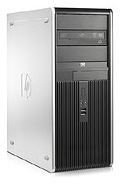 HP Compaq provides quite a few hardware configuration options for these machines. You can get an Intel Core 2 Duo processor from 2.53 to 3.33 GHz, or even get a Quad core at 2.5 to 3 GHz. You can get from an 80 to 500 GB 7200-RPM hard drive, or an 80-160 GB 10,000-RPM hard drive. They also come with either a DVD/CD-RW drive, or a SuperMulti Lightscribe DVD Writer. It has a total of eight USB ports, with 2 in front and 6 in back, plus headphone and microphone audio ports in front and back.
I do wish the USB ports had been placed higher up on the PC, because they are located toward the bottom of the faceplate. The problem this creates is that if you keep the PC on the floor under your desk, there is a tendency for some people to lift up when removing flash drives. This has long been a problem with HP business desktops, and I've seen several computers with broken front USB ports because of it.
Should you decide to upgrade this PC, there is definitely room for improvement. It can take up to 8 GB's of 800 MHz DDR2 RAM, although you will need a 64-bit operating system in order to use more than 4 gigs RAM. As far as expansion slots, it has 3 PCI, 1 PCI Express x1, and 2 PCI Express x16. It also includes a 365 watt power supply that can handle a lot of higher end video cards should you choose to beef up the video to use, for example, CAD software.
Pre-loaded Software (3 out of 5)
My only complaint about this PC is that HP loads it up with a bunch of their HP ProtectTools security software and I always remove it before deploying the machine. I don't want to have to support their software nor do I want to have to figure out how to undo file encryption or anything else the user might 'accidentally' set off. HP also pre-loads the machine with a demo version of Office 2007 that I remove in order to install our own copy. The last thing I remove is a mostly worthless PDF conversion program called PDF Complete because it is a demo and only works for a month before it starts tagging files with its logo.
Maintenance (4 out of 5)
Getting into the case on this PC is as simple as lifting a lever and sliding the side panel backward. Getting it back on takes a little more work, and I recommend you lay the PC down on its side if you're having trouble. The faceplate snaps on using large plastic tabs that are actually quite sturdy, but you still want to be careful not to yank the faceplate off or else you might break the tabs.
Once the cover and faceplate are removed, which do not require any tools, removing a drive is as easy as pressing a release button and pulling it out. The drive bays are lined with rails made for screws to put in the side of the drives, and HP makes their drives with these screws ready to go. There's also a bank of eight spares on the front side of the case in order for you to use non-HP brand drives. Swapping out a drive takes only a couple of minutes.
Overall (4 out of 5)
All in all, I am very happy with the HP Compaq dc7900 desktops. They are not overly heavy so they can be easily carried by hand for short distances, and getting inside them easily is always a plus. If you're looking for a good business class desktop PC that is both reliable and affordable with its $799 starting price, you should definitely consider the dc7900.
For more information, visit the HP Compaq dc7900 page at HP.com.