Lenova Idea Pad Netbook Review - Lenovo S10 Best Price to Performance Netbook?
Introduction
Many netbooks that come to market today have flaky build quality, whether it be their part composition, casing structure or keyboard operability. This is an inevitable chicken and egg scenario, as users demand faster performance specs and extensive features, in a smaller unit at a lower cost. Simple logic is that computers will go as small as the technology that runs them will take them. But that will come at a higher price.
Thus, delivering the computational power that is demanded in today's compact and ultra portable PCs is a challenge many suppliers have yet to master. As computing gets more and more mobile, PCs must be resilient to bumps and scrapes, dissipate heat and noise efficiently, manage tasks expediently, perform with increased speed, and come with an ever evolving mix of connectivity options.
In this regard Lenovo appear to have brought to market a netbook that excels in almost every way. The Lenovo S10 is a netbook that beats all others in the market (the MSI Wind excluded).
Design & Screen (4 out of 5)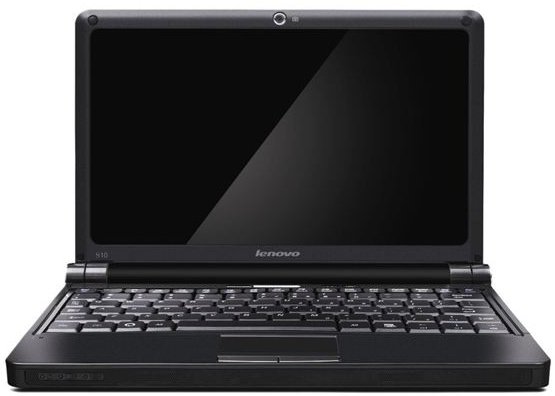 Effectively built from the expert development cycle that gave us IBM laptops (Lenovo is simply a Chinese offshoot from IBM), it is no surprise that the S10 is an outstanding ultra portable netbook that is rugged and functions well in multiple settings - on the go, in an office, or at home.
The S10 is a budget netbook with a clean chassis design, professionally assembled to meet the needs of today's mobile PC user market. It is lightweight (1.2 kg) and impressively comes with a 10.2" LCD display (standard netbooks come with an 8.9" screen). However, the S10 screen is a slight disappointment as images have a dull, less vibrant look than others in the range. The difference is minimal, but noticeable when the S10 is compared to the MSI Wind and Samsung NC10.
Performance (4 out of 5)
With an Atom N270 1.6 Ghz processor, the S10 is the equal of the MSI Wind and Acer Aspire One. It performs admirably running multiple office applications, email, word, and online services. However, with only 1 GB RAM, it could do with an upgrade to 2 GB as we move forward with 64 bit platforms and applications. With a 160 GB HDD the S10 has best in class storage capacity, but it would be good to explore 64 GB SSD options for enhanced reliability and durability of storage.
The S10 keyboard fits neatly across the unit and is of an excellent size for a netbook keyboard. Keys flex beautifully for easy touch typing and it is not difficult to work for extended periods of time using the S10. The touchpad is neat and responsive. Some users have complained at its size, but for a netbook where space is at a premium I think Lenovo has utilized every inch optimally. Personally, I feel keyboard size, feel and operability are more important than an extended touchpad.
Platform & Features (4 out of 5)
The S10 comes with Windows XP as standard, which suits its spec. An upgrade in this department would be nice, as a Lenovo S10 with 2 GB RAM would be much more performance savvy, and potentially run a stable and seamless Windows Vista. Still, my personal choice would be to install a lighter OS such as Linux Ubuntu, Puppy or SuSE (OK- the 3rd option may be a bit old school!).
There is no additional software bundle supplied with the S10, which is no great issue, as its seamless connectivity to the Internet means that downloading and installing any number of apps is available with any connection/upload. However, as is the norm with other netbooks, it would be nice if the S10 came with the Open Office freeware. But again, this is a free download, so go online and download it yourself, unless, of course, you are partial to Microsoft Office or Microsoft Works – eek!
The S10 also has an excellent set of utilities for energy and power management, which are configurable and very easy to alter depending on your location. The power saving options on the battery life are mighty useful, as the S10 has a disappointing battery life of less than 2 hrs during standard use, which means you really need to schedule your tasks and know when and where the netbook can be recharged in advance of use. Screen resolution, contrast and brightness are easy to switch for outdoor or indoor settings.
As you would expect in a netbook, the S10 has wired, wireless and Bluetooth connectivity options. It also has a built in 1.3 mega pixel webcam, two USB ports, VGA outputs, memory and express card slots. Sound output is distinctly average but the afore mentioned combination of comms, ports and features offer plenty to a wide range of potential users.
Conclusion (4 out of 5)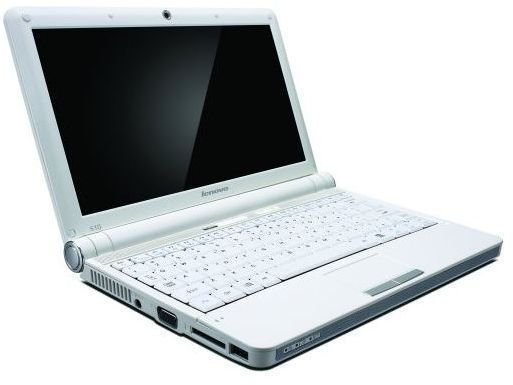 This is a professionally designed and delivered netbook. It is robust and reliable, delivers adequate performance and comes with all the communications features and ports a mobile user will need. At under $450 the S10 is outstanding value for money, particularly considering others on the market with lesser specs have a higher price tag (models from Samsung, HP and Asus come to mind). Online, it can sometimes be found on sale for as low as $360.
For a balanced netbook, with excellent price and performance deliverables, the Lenovo S10 netbook will take some work to beat.