Western Digital MyBook Mirror Edition 2 Terabyte Review
Introduction
Western Digital MyBook Mirror Edition comes with 2 Terabytes capacity in two 1 Terabyte Western Digital Green Power disks. The drive is external and the only connection available is USB 2.0.
Features (4 out of 5)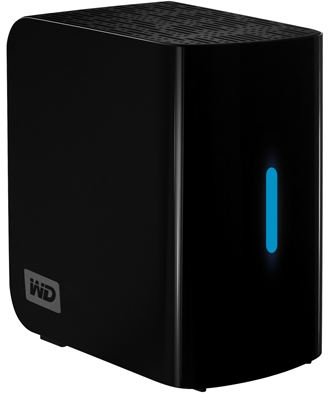 As I mentioned above, the case houses two 1 Terabyte disks arranged in RAID 1 configuration by default, offering a capacity of 1 Terabyte. This is for your data's safety, meaning that anything you copy to the drive is written identically to both disks. But the capacity increases to 2 Terabytes, if you want more performance, but you have to go with the RAID 0 configuration.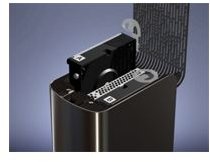 When you open the drive, you will see that there are two disks side by side and there are also two plastic handles as well. If one of your disks fail, you can easily pull the handle and take out the disk easily. Western Digital really made changing disks a breeze. However, you can only use WD drives with Green Power technology with the device.
The disk case does not have a built-in power supply. It comes with an adapter. If you think about fitting two 3.5" disks into a case and adding an adapter, the WD My Book Mirror is not something so portable. Therefore it is better to consider this drive as a desktop drive.
There is a blue light on the front which shows disk activity (read or write) by blinking. The light going up and down makes a beautiful view (modders rejoice!). In addition, the light also acts as capacity gauge: you can guess how much of your space is filled by just looking at the disk.
Configuration (5 out of 5)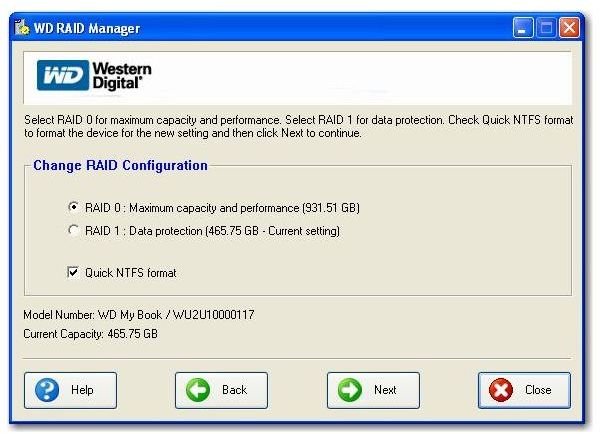 The configuration is done with the help of the software included with the box. The installation is Next – Next – Finish routine. Upon completion you will see the WD icon in your taskbar.
The RAID configuration can be done by the Western Digital's software. I am happy to say that the software is also available for Mac users as well as Windows users. A word of warning: changing the RAID configuration erases all the data on the hard disks, so back up all of your disk's contents before changing the RAID configuration.
Price and Warranty (5 out of 5)
The product comes with a 3 year limited warranty and is available for USD 199.00. Considering price/performance, I believe the price is fair for this drive and offered features.
Overall (4 out of 5)
The product offers 1 Terabyte safe storage and 2 Terabytes of fast storage. However, I have to mention that there is only USB 2.0 option, I would prefer to see eSATA and/or FireWire on this disk. This will come as a bottleneck when you want to transfer large files, such as movies.
And to get better performance, defrag the drive often. However for defragmenting such a drive Windows's default defrag program won't help. It is better to go with a dedicated defragmentation program, such as Auslogics Disk Defrag.
Plus, XP may not handle this big amount of space if you configure the disk to start with the boot time and close with the shutdown. If your Windows can not boot to desktop, take the USB cable out, cut out the power and reboot. When you reach your desktop, plug the power and USB cable back to reach your disk.
I would recommend this drive for users who are producing lots of data and need to keep them safely. Since USB 2.0 is the only connection option, this drive will not be suitable for corporate use for file sharing but can be used as a back-up disk for families.