A Review of the Asus Nova Lite PX22 Desktop PC - Asus Desktops Review
Introduction
The ease of use of netbooks, quietly working components, and cheap prices that come with low powered hardware for basic computer use, draws many users' attention to this type of portable computing. Asus was the first to see this opportunity and as such, the first to introduce a desktop version of the EeePC, called the EeeBox and then the EeeTop. Now Asus is trying to attract media center users with a new offering. Here we review the Nova Lite PX22 which, while it does not come from the Eee series, is from the same concept.
First Looks (5 out of 5)
The Asus Nova Lite PX22 has 242mm x 51mm x 184mm (L x W x H) dimensions and weighs only 1.5 kilograms. As a desktop, it is more portable than many notebooks but you must bear in mind that it does not have a display, keyboard and mouse. So, before thinking of bring it out with you, make sure that you will have at least a monitor at your destination (fitting/carrying a keyboard and a mouse is easier.) The computer has a stand that allows it to be placed horizontal or vertical. In any position the computer looks very slick and professionally built.
Top Three: CPU, RAM and Hard Disk (3 out of 5)
The Nova Lite PX22 comes with an average hardware configuration, housing an Intel Core 2 Duo E6320 processor which runs at 1.86 Ghz. The netbook also has a standard 1 Gigabyte of RAM, Intel GMA 3000 graphics adapter, and a 160 Gigabyte hard disk that runs at 5400 rpm. Such a specification makes the PX22 ideal for basic computing needs but not ideal for anything requiring some extra computational power. The optical drive is a slot loading DVD Super Multi drive. The power and the eject buttons are touch operated and they really make the case look stylish if going for the black option.
Features (5 out of 5)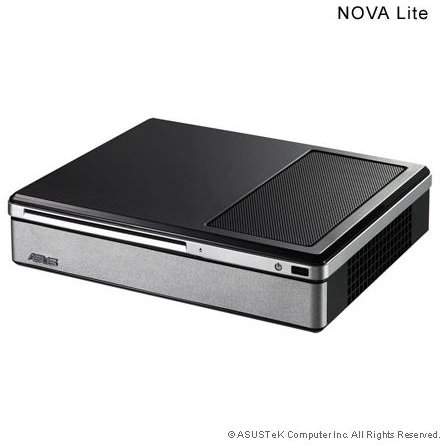 The display link is DVI which pleasantly surprised me, and there is also a DVI-VGA converter in the box for users who do not have a DVI port on their monitors. There are four USB 2.0 ports on the case which is impressive and the PX22 as a unit is very quiet, dissipating the heat from the heat channels in both sides of the box.
The sound quality of the Nova Lite PX22 is excellent, using Intel's High Definition Audio chipset and onboard Hi-Fi speakers. The sound system supports Dolby Digital and DTS Connect. There is also an S/PDIF adapter as well.
The network connection is 10/100/1000 Megabit (Gigabit) Ethernet and there is built-in wireless 802.11 a/b/g/n. In addition, the Nova Lite PX22 has a Bluetooth chip with 2.0+ EDR capability.
What is more, Asus packs a Windows Media Center (MCE) remote control in the box. Since the Nova Lite PX22 comes with Windows Vista Home Premium, you can enjoy your multimedia to the maximum without considering any complicated configuration. So you can set your movies, music, photos and connect the computer to your monitor or TV.
Overall (3 out of 5)
I would personally rate this product as "excellent" had Asus not announced the Nova Lite PX24 to the market. The PX24 is manufactured with HD media in mind and will be more suitable as your Media Center PC.
Considering the PX22 that is already on the market, I would better prefer this model with Windows XP or Linux because of the processor speed and the default RAM, which have difficulty running Windows Vista.
I recommend the PX22 for your basic computer needs but not as your media center of choice. For that I would wait for the PX24 which is a far more 'fit for purpose' Media Center solution.
The product is available for USD 665 from Amazon.com.