Epson Stylus Pro 4800 Review - A Printer with Great Quality and an Addictive Ink Habit
Epson Stylus Pro 4800
Capability and Cost (4 out of 5)
The Epson Stylus Pro 4800 printer is aimed at professional printers who want to be able to work in large format. The Manufacturer's MSRP is $1995 USD, or for the Pro edition Bundle, $2500 USD. The bundle includes the Colorburst RIP, PostScript software, and an Ethernet card. Online, it is available from $1690 for the printer to $2700 USD for the bundle.
It prints on paper up to 17 inches wide, in sheets or from a roll, and comes with a built in cutter that can be used manually or automatically. It has eight ink tanks for UltraChromeK3 inks, a pigment and resin type ink. This is a bit of a problem which we will discuss later, because the printer uses nine different ink colors. The printer comes with a USB port, FireWire port, and an expansion slot for an Ethernet card. It has a 1 year warranty.
The printer is 34 x 14 x 30 inches, and weighs almost 85 pounds. An optional printer stand is available.
It was released with Windows 2000 or XP and Mac OSX 10.4 or higher drivers, and now also has Vista compatible drivers as well. People are working on Linux drivers, but I did not find confirmation of a stable Linux driver.
The Epson Stylus Pro 4800 produces archival quality prints that are light and scratch resistant and estimated to last up to 100 years for color and 200 years for monochrome prints stored in an album. It has advanced black and white printing capability, with a very dense black, comparable to what can be created in a chemical darkroom.
It takes about 19 minutes to print a 16 x 20 inch print, or just over 6 minutes to print a 8 x 10 at the highest quality. Lower dpi prints are produced in about 4 minutes for a 16 x 20 print and 8 x 10 inch prints in only 1.5 minutes.
Epson Stylus Pro 4800 Photo Printer Stock Image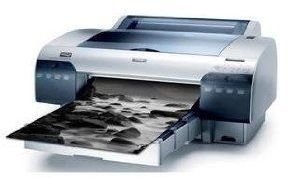 Next: Continue on to page 2 to find out more about the features and supply costs of the Epson Stylus Pro 4800 Photo Printer.
Features (5 out of 5)
The printer has both mono-directional and a bidirectional printing mode, for faster printing. The one inch wide print head has a resolution of 2880 x 1440 dpi. There are four different ways to load print media; one a direct front loading path that can handle poster board 1.5 mm thick.
Prints resolutions are 2880 x 1440 dpi, 1440 x 720 dpi, 720 x 720 dpi, 720 x 360 dpi, 360 x 360 dpi or 360 x 180 dpi. The first major maintenance is due after 45,000 8 x 10 inch prints at 720 x 720 dpi, 29,500 prints at 1440 x 720 dpi, or 15,200 prints at 2880 x 1440 dpi - likely to be a lengthly interval. If printing is done solely in unidirectional mode, the print quantity before maintenance is halved.
There are 180 nozzles per ink tank channel, which can deliver three sizes of droplets within a print line, down to 3.5 picoliter droplets delivered through control curvature of the nozzle. Eight ink tanks hold either 110 ml or 220 ml cartridges of three different blacks; Black, Light Black, and Light Light Black, with black available as either photo black or matte black. Colors are cyan, light cyan, magenta, light magenta and yellow.
The ink tanks are stationary, with channels that feed to the print head. Each ink cartridge is chipped, allowing your PC to track ink usage and let you know when a cartridge needs replacing. Both 110 ml and 220 ml cartridges can be used simultaneously, allowing you to customize the cartridges based on expected color use. A sensor cleans the print head automatically when needed, even clearing partially clogged printer nozzles.
The printer holds up to 250 sheets of plain paper or 50 sheets of letter to 17 x 22 inch photo paper. It can print on both sides of a sheet without damaging the other side, and the prints are moved through the printer by fans, not rollers, eliminating roller marks from prints. The fans do add considerably to the loudness of printing.
On roll media, it can produce left and right side borderless prints up to 17 inches wide. Roll media can be on 2 or 3 inch cores, and up to 132 feet in length. The Epson Stylus Pro 4800 can print to varied lengths on roll media, depending on the OS, application, and RIP or driver used.
Epson Stylus Pro Model printers are manufactured differently than the rest of Epson's printers. Instead of being put together on an assembly line, they are built singly, and then each individual printer goes through colormetric calibration, which is then burned to ROM, so colors are completely consistent from printer to printer.
Epson Stylus Pro 4800 Photo Printer Stock Image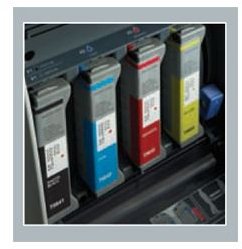 Supply costs (4 out of 5)


Ink cartridge prices run from $54 to $70 for 110 ml, and $90 to $120 USD for the 220 ml size. 25 sheets of Epson Luster 17 x 22 inch paper were available online for prices ranging from $60 to $70 USD. 25 Sheets of 17 x 22 Epson velvet matte paper were $99 - $110 USD, and 50 sheets of Epson matte paper were $48 to $58 USD. 100 sheets of 8.5 x 11 inch Epson luster paper were $26 to $34 USD. There were no figures on costs per print.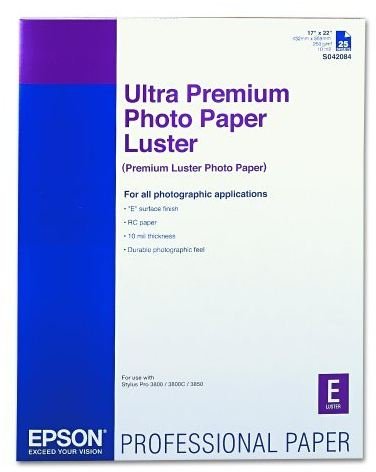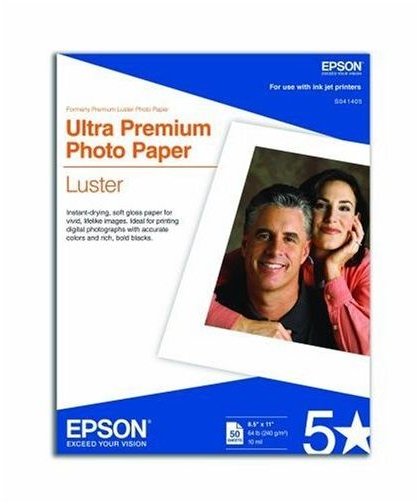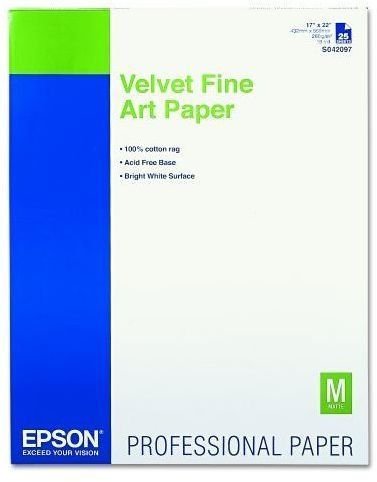 Next: What do users of the Epson Stylus Pro 4800 Photo Printer have to say? Continue on to page 3 to find out.
User Reviews (3 out of 5)
Despite the general user appreciation for the quality of the printer and the excellence of the prints on all types of paper, there were a couple of complaints which came from almost everyone. The first is that Epson created a wonderful professional printer with eight slots for ink tanks, despite users needing nine different tanks to print on both matte and glossy paper. The printer is not configured to accept both photo black, for glossy printing, and matte black, for printing on matte and art photo paper. All the other colors, including light black and light light black ink, stay in the printer for use on all types of paper. Epson advises that people only switch to the other type of ink when they have a large run of prints to be done with the other paper media. People who generally print on glossy paper are advised to keep photo black in the printer. Those who generally print on non glossy paper are told to keep the matte black in the printer.
This brings us to the other major complaint from users. The ink tanks in the Epson Stylus Pro 4800 are stationary, with channels leading to the print head. When swapping black inks, about 10% of the ink in a 110 ml cartridge is flushed from the printer. This occurs not only in the cartridge being swapped, but in the other cartridges of ink as well. Users estimated that they lost about $75 dollars worth of ink every time they swapped black cartridges. It also seems to take up to 25% of the ink in the provided 110 ml cartridges that come with the printer when you buy it to fill the channels out to the nozzles in the print head for the first time. In addition, it used a lot of ink every time the printer geared up for automatic cleaning or unplugging clogged nozzles.
Changing an ink cartridge when it was empty did not produce large ink losses. The printer does come with a receptacle for waste ink, and users reported that while it was a good idea to have two receptacles on hand when it was time to clean out the waste ink, the filled receptacle did not have to be completely discarded. Instead, it could be emptied and refilled with feminine napkins rather than buying a new receptacle.
Users have come up with solutions for the ink issue, although their solutions are not endorsed by Epson. There has been software written that allows the user to keep matte black ink in the tank where light light black ink is meant to go, allowing printing on both glossy and matte paper without swapping inks. Profiles for the papers were created that compensated for the lack of light light black by moderating the amounts of light black put on the paper, as well as using the conventional method of cyan, magenta and yellow to print gray tones. Epson maintains that users are not getting the best quality blacks and whites in their prints by using this third party software.
Others have reluctantly gone to the use of two printers, one for glossy paper and the other for matte paper. Epson is probably not unhappy about that approach, as long as they are both Epson printers..
Epson Stylus Pro 4800 Photo Printer Stock Image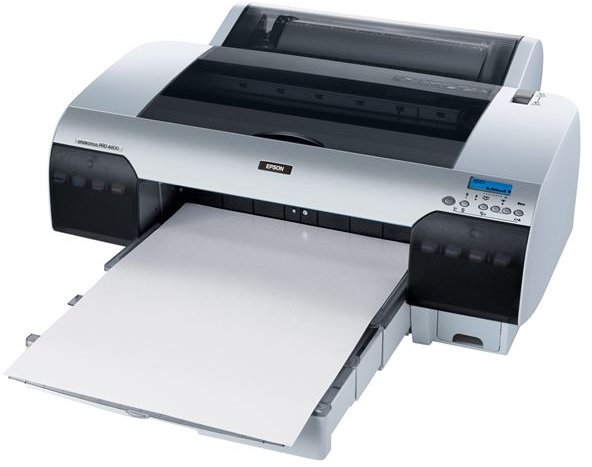 In conclusion (4 out of 5)
The Epson Stylus Pro 4800 produces excellent quality prints, with black and white photos that seem to rival those made on silver halide paper. The UltraChromeK3 inks are a clear advance over previous inks, and photos are scratch resistant, light fast and true to color. Professional photographers and graphic designers alike are very satisfied with prints, which are considered much better than lab quality. However, there is aggravation with Epson. Users feel that the printer was designed hastily, and if Epson had taken more time and care, they could have created a printer that printed as well, and did not have the ink swapping problem, because it would have nine spaces for ink. For photographers who tend to use glossy paper almost exclusively, or matte paper, it will give exceptional results without ink issues other than a belief the printer uses an excessive amount of ink during cleaning cycles. For professionals who want to print equally on glossy and matte paper, or switch between types of paper merely by changing the paper, my advice is to consider a professional quality printer from another manufacturer - even though you would be giving up the truly excellent printing of the Epson Stylus Pro 4800