GeForce GTX 285 Review - GPU Design
What's new with the GTX 285
We can start off by saying this: the GeForce GTX 285 is the fastest single-GPU solution, period. Nvidia is in the business of making monster GPUs, and they definitely did not disappoint this round. While sure, it's basically an overclocked GTX 280, this by no means lessens Nvidia's achievement here. The GTX 285 offers high-end performance without the hassle that accompanies multi-GPU cards, such as micro-stuttering and the frustrating lack of support in some games.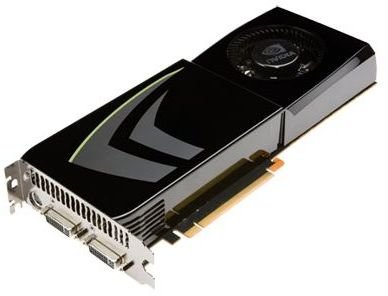 The new GTX 285 and the older GTX 280 share many similarities, and in fact, they both use versions of the GT200 core. The GTX 285 is based on the 55nm GT200b, a shrunken version of the original 65nm GT200 used in the GTX 280. Both cards have a full 240 stream processors, and both cards use a full 512-bit memory interface. Because the GTX 285 core uses a smaller manufacturing process, the chip itself is smaller and can be cooled more effectively, meaning that the GTX 285 can run at higher speeds than the GTX 280. The core clock speed of the GTX 285 runs 46MHz faster, at 648MHz, than the older GTX 280 which runs at 602MHz, giving it the edge in games.
GTX 285 Specifications:
Name: GeForce GTX 285
GPU Core: GT200b
Manufacturing Process: 55nm
Transistors: 1.4 billion
Core Clock: 648 MHz
Shader Clock: 1476 MHz
Stream Processors: 240
TMU: 80
ROP: 32
Memory Interface: 512-bit
Memory Type: GDDR3
Memory Clock: 2484 MHz
Memory Bandwidth: 159 GB/s
Interface: PCI-express 2.0
DirectX Version: 10
OpenGL Version: 3
Price
Currently the GTX 285 goes for around $340; a high price to pay for an equally high-end card. Is it worth it though, when compared to other similarly priced video cards? Considering that one could buy 2 Radeon HD 4870s for a similar price, it's hard to say. The GTX 285 has many advantages over multi-card setups, which are really the only way to get close to the 285 in terms of performance. A single card will be much more consistent in its performance than a multi-card setup, as many games simply don't scale well with more than one video card. You don't have to worry about a game not supporting the GTX 285, but this can be a problem when dealing with multi-card setups. If a game doesn't support rendering over multiple GPUs, performance can be cut in half, or more. These concerns are why many people prefer a powerful single card over two or more less powerful cards.
Performance Assessment
Being a high-end card, the GTX 285 is expected to perform well at resolutions of at least 1920x1200 and up. Here are a few benchmarks, comparing the GTX 285 to a GTX 280, and a HD 4850 X2, which are in the same price segment.
The first benchmark is Far Cry 2, a currently popular title that can be graphically demanding.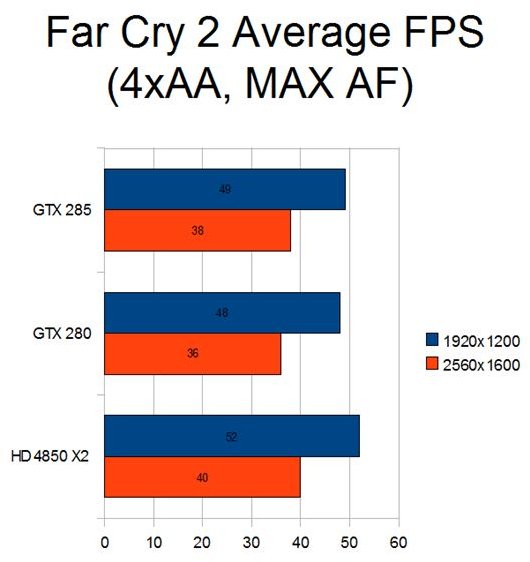 Our next benchmark is Enemy Territory: Quake Wars, which uses OpenGL rendering as opposed to DirectX 10.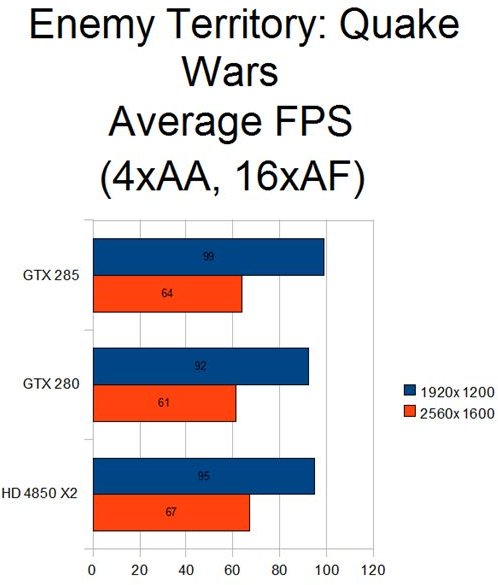 Lastly, we have the 3DMark Vantage Synthetic Score. Tested using the "Extreme" setting, at a resolution of 1920x1200.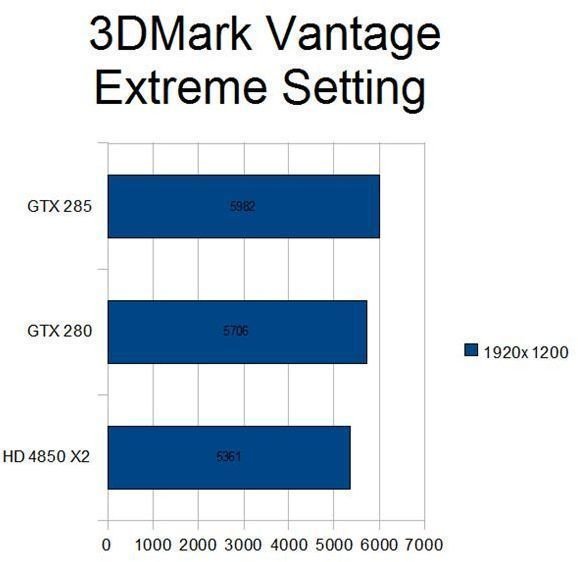 Conclusion (4 out of 5)
Overall, the GTX 285 is a great card if you have the money. It doesn't have to great an edge over the GTX 280, but there are some notable gains. While some multi-GPU solutions, such as the HD 4850 X2 offer better raw performance, they also come with driver troubles and increased power consumption. And really, multi-GPU is the only way you can get performance to rival the GTX 285. So, if you want the best, without the frustrations associated with more than one video card, the GTX 285 is for you.