GeForce GTX 295 Review - Top Video Card Worth the Price?
Whats New With the GTX 295
The GTX 295 was released by Nvidia in an effort to regain the performance crown lost to ATI's HD 4870 X2. While the GTX 295 achieves this goal, the margin of victory is not great, and at the highest resolutions it runs neck and neck with ATI's competition. The GTX 295 does have a few advantages however, in that Nvidia's SLI tends to scale slightly better in games than ATI's Crossfire, and the drivers are generally slightly better.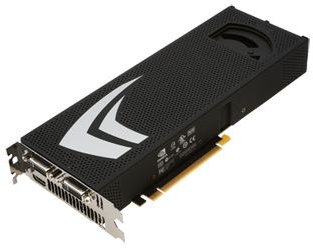 Specifications
Name: GeForce GTX 295
GPU Core: Dual GT200b
Manufacturing Process: 55nm
Transistors: 2x(1.4 billion)
Core Clock: 576 MHz
Shader Clock: 1242 MHz
Stream Processors: 2x(240)
Texture Units: 2x(80)
ROPs: 2x(28)
Memory Interface: 2x(448-bit)
Memory Type: GDDR3
Memory Clock: 1998 MHz
Memory Bandwidth: 2x 112.0 GB/s
Interface: PCI-express 2.0
DirectX Version: 10
OpenGL Version: 3
Cost
If you can find one on the used market, or rarely at this point: new, the GTX 295 will sell for around $150 to $200. At this price, it can be a hard sell, considering you could buy a same-generation HD 4870X2 for $100, or a more modern GTX 560 ti or HD 6950 for $200. You could also buy 2 GTX 460s for less than $200, which would offer better performance. Of course, price tends to increase exponentially with diminishing performance returns in the super-high end, so this can be expected. At its launch price of $500, the GTX 295 was a hard sell in most cases, considering the competition. However, there are certain situations where the GTX 295 is desirable. If you had a motherboard without an extra PCI-express x16 slot, the GTX 295 was the best performing option available. Alternatively, if you had an SLI capable motherboard, 2 GTX 295s were one of the top performing combinations.
Performance Analysis
The only real single-card competition to the GTX 295 is ATI's HD 4870 X2. Dual card setups, such as 2 GTX 260s or GTX 285s also offer slightly better or worse, performance, depending on the setup. Certainly, these ultra-high end setups can be expected to perform well at the highest resolutions, including 2560x1600, with AA and AF enabled. We'll take a look at a few benchmarks comparing the GTX 295 to the HD 4870 X2 and other setups.
The first benchmark is the popular title Far Cry 2, tested both at 1920x1200, and 2560x1600.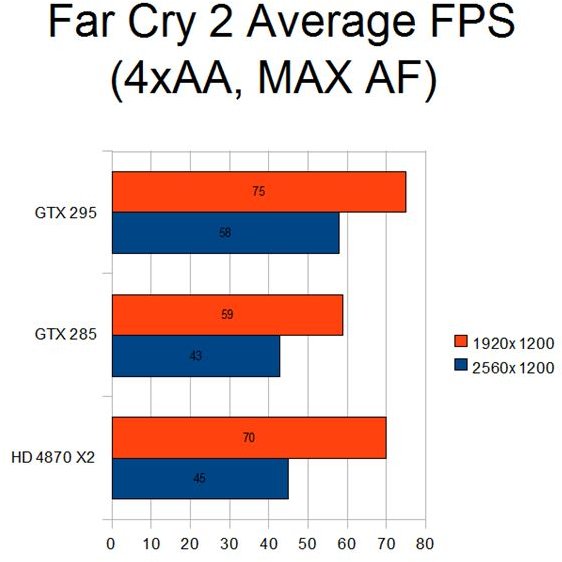 The next benchmark is Enemy Territory: Quake Wars, which uses OpenGL rendering as an alternative to DirectX 10.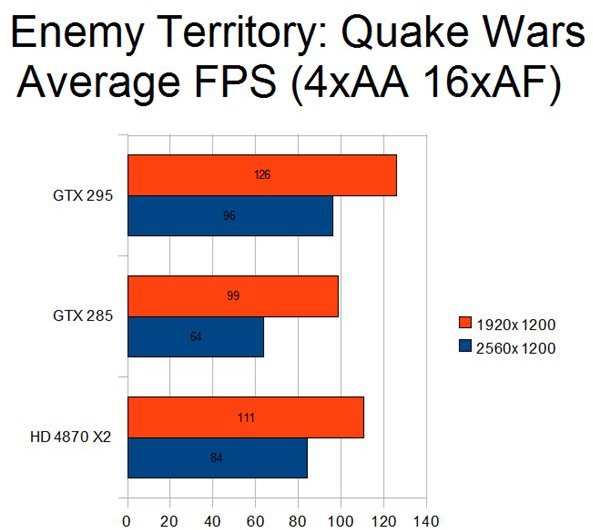 Our final test is the 3DMark Vantage Synthetic benchmark, at the "Extreme" setting.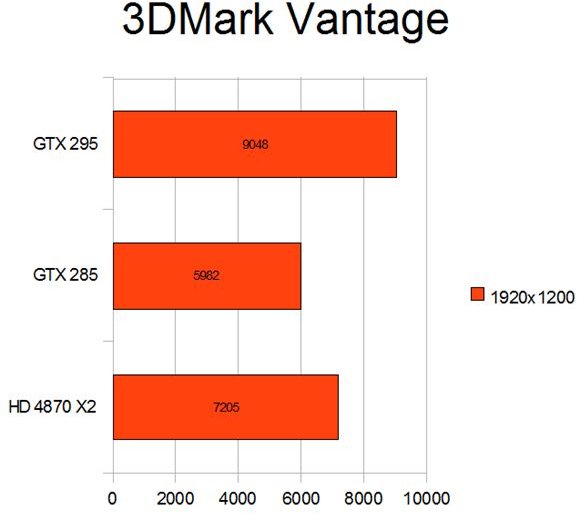 Conclusion (3 out of 5)
At the current price, we can't really recommend the GTX 295. Other solutions are simply more cost efficient, with performance generally within 20% of the GTX 295 for substantially less money. While the GTX 295 costs 30% more than the GTX 285, it only offers 20% more performance. Compared to the HD 4870 X2, it costs 20% more, and offers around 6% better performance. In most cases, the performance is already so high that you wouldn't notice a difference between the two cards. The only reason to get this card is if you have a 2560x1600 monitor, and your motherboard only supports a single PCI-express slot.
References