Canon Pixma Pro 9500 Review - Quality for the Art Photographer or Small Scale Photography Business
Canon Pixma Pro 9500 Photo Printer
Capability and Cost (5 out of 5)
The Canon Pixma Pro 9500 photo printer currently has a MRP of $900 USD. It was found online for $700 on February 18, 2009. The Canon USA site is offering it at $50 USD off through February 26, 2009. From user comments, Canon offers a rebate fairly regularly. It uses 10 different pigment inks to provide a high quality ability to match colors, and because its ink cartridges include photo black, matte black, and gray, it also produces high quality monochrome prints, with an excellent gray scale and has the capability to reproduce extremely minute graduation. One user compared the quality of the monochrome prints to be as good as anything he was able to get when he was developing his own black and white pictures in a darkroom. The inclusion of red and green pigment inks allows additional color reproduction, with which printers equipped with only four to eight inks can not compete. It can print envelopes and papers from 4 x 6 inches to 13 x 19 inches. There are two paper paths through the printer, because it has a front single sheet feeder which can handle art quality paper up to 1.2 mm thick.
Connections and Connectivity (3 out of 5)
The Pixma Pro 9500 comes with a USB port, but no cable. It also has PictBridge capability. It does not come with Ethernet connection, firewire connection or wireless capability. Especially frustrating, because it is a photo printer, is the lack of any sort of media reader.
It works with Windows XP / 2000 and Mac OS X 10 versions. It is certified to work with Windows Vista, although there have been a few frustrated comments about problems with the drivers and an inability to work with Adobe Elements - which does work perfectly using the printer with Windows XP.
It comes with a CD containing printer driver, setup and user guide, electronic photo application and electronic user guide, and other applications, including a plug in for PhotoShop designed for the printer series. Some software for the Mac is not on the disk, but can be downloaded from the Canon website.
I spoke with Canon's very helpful technical support, as mentioned further down in this article, and they particularly stressed that working in PhotoShop to create the picture you wanted, and then using Canon's included Easy Photo Print Pro software allowed the user a lot of control over the printer driver settings, and allowed additional adjustments to be made to the picture before printing, as well as giving you an extremely accurate view of the picture that would be printed.
Features (5 out of 5)
The Canon Pixma Pro 9500 photo printer seems suitable for use by professionals with a relatively small business, or dedicated amateurs. Its 10 pigment ink tanks allow extremely good color reproduction and, because three of the colors are matte black, photo black and gray, it produces quality monochrome prints that users say are at least as good as photo lab prints. As well as allowing you a wide range of color, the ten individual tanks mean you need only replace the colors that you use up. It prints both black and color prints at 4800 x 2400 dpi. Users commented that the printer reproduces an extremely rich and solid black. The print head has 768 nozzles per tank, delivering 3 picoliter ink droplets per ink tank, for a total of 7,680 nozzles.
It is not a fast printer. While 4 x 6 inch prints take about 30 seconds each, an 8 x 10 inch borderless print will take over two minutes to print, and an 11 x 14 inch print on 13 x 19 inch paper takes over 4 minutes. An unusual feature is two different paths for paper handling, depending on what you are printing. It has a top loading feeder for multiple sheets, and a front single sheet feeder for special papers. It can handle fine art paper up to 1.2 mm thick in single sheets. Because it uses a separate paper path, the single sheets need a rear clearance of about 20 inches when printing on 13 x 19 inch paper. Since the printer is on wheels, it does not need to have this clearance unless you are using that feature.
The printer can handle envelopes, 4" x 6", 4" x 8", 5" x 7", 8" x 10", 13" x 19", letter and legal sized sheets. You can print on matte, semi gloss and gloss paper as well as art papers. Canon says, not unexpectedly, that it performs best using Canon paper, but users have successfully printed on a number of other papers brands. Archival quality paper and pigment inks produce pictures that are expected to last for 100 years of exposure to light.
Considering the size paper it can print, it does not have an excessive footprint, taking up a 26" x 8" x 14" space, and weighing about 34 pounds. The printer comes with a 1 year warranty.
On Page 2 of this review of the Canon Pixma Pro 9500 we look at performance and user comments.
Canon Pixma Pro 9500 Stock Image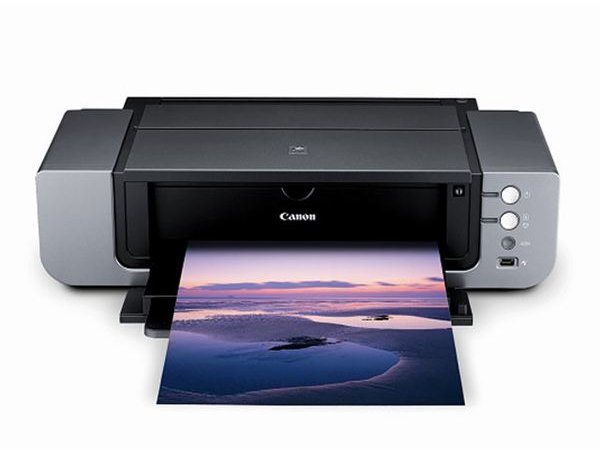 Performance (5 out of 5)
Based on user comments, forum posts, and online chatter, most users agree that the printer is easy to set up, easy to use, has a very high quality output, good media handling, and is durable. When users have needed to go to Canon for problems, virtually everyone was satisfied with the support.
An ongoing issue found in virtually every source I checked is dissatisfaction with the printer's performance using glossy paper. Some users complained that the pigment inks used on glossy paper made it seem as if they had printed on matte paper. The ink seemed dull and results were washed out, unlike user experiences with every other type of paper. One user commented that while using semi gloss paper, the prints initially looked dull, but after 24 hours were perfectly satisfactory. Users tried many different types of glossy paper, including that sold by Canon, and overall, people printing on glossy paper advised against using it for that purpose.
The other issue that turned up in numerous places was the problem people had printing borderless prints on 13 x 19 inch paper. As set up by Canon, the printer uses 13 x 19 inch paper to make 11 x 14 inch prints - leaving a wide border on all sides. All fine art paper settings had this issue. A number of forum posts had work arounds to allow the 13 x 19 inch paper to be fully printed, but the general feeling was that Canon was trying to force users to have prints with borders when using any of the fine art printer settings on the large format paper.
I called up Canon technical support and found them very helpful. They told me Canon's position on both these issues. Canon, in the user guide, recommends against printing on glossy paper, as the pigment inks do not do well with that paper. An option is the Canon Photo Paper Plus glossy paper, but they don't advise using Canon's regular glossy paper at all with this printer. Technical support also mentioned that the user's manual was online, and interested readers could download it to see Canon's recommendations for use of the printer.
The rep I spoke with also talked to me about the Canon driver set up which did not allow users to print borderless 13 x 19 prints on fine art papers. Prints have a tendency to curl at the ends when printed to the edges on the fine art paper types, and this affects the quality of the print. He suggested that users who wanted borderless prints trim the borders after printing.
Comments indicated low running costs, quiet - but slow - printing, excellent quality prints on all sizes of paper, true to color prints, and once settings were dialed in, a WYSIWYG printer. Users in general were satisfied to very happy with their printer choice.
An ongoing discussion taking place in the forum at dpreview.com has tips, tricks, and notes for owners of Canon Pixma Pro 9500 photo printers. It could be of interest to anyone considering buying the printer and is definitely a useful resource for owners. Among things discussed in the forum was printing on canvas as well as photo paper.
On Page 3 of this review of the Canon Pixma Pro 9500 we look at supply costs and conclude with the discussion of who might find this printer the best choice.
Supplies and Cost (5 out of 5)
The ink tan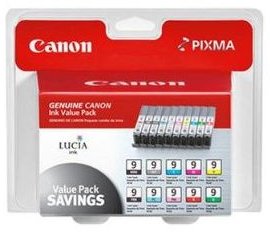 ks for the Canon Pixma Pro 9500 Photo printer are, according to the sparse information available, 14 ml. A full set of the 10 Lucia pigment ink tanks comes with the printer in the box, requiring only installation into the print head. The computer will keep track of ink usage, and the individual tanks also have lights to indicate ink levels. Several users commented that they were able to get more prints from the printer, even after being told the ink usage was low or out. Canon will connect you directly to their site to order new ink tanks, at $15.99 USD each. A multi pack of all 10 tanks is available for $140. Online, tanks can be found for $14 USD - although one seller also had them for a dollar more than Canon's price. The multi pack of inks was available online for about $117 USD, more typically at $120.
Photo paper comes in an enormous number of varieties - although, as expected, Canon recommends Canon paper be used. They sell a couple of extremely high end art papers - Museum Etching pape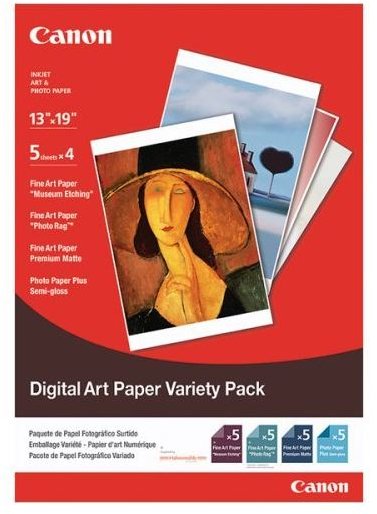 r and a 100% acid free cotton rag paper - with the 13 x 19 inch Museum Etching paper going for 20 sheets for $99.99. There is a fine art multi paper pack which includes 5 sheets of 13 x 19 inch Museum Etching paper and 5 sheets of 3 other fine art papers for about $49 USD, a bargain to try out the expensive papers. Also, 4 x 6 inch matte photo paper is available in a 120 sheet pack for $13 from Canon, and 8.5 x 11 inch matte photo paper in a 50 sheet pack is $9.99. Other papers with different profiles can cost a good deal more. Despite Canon's advice, people have successfully used off-the-shelf paper from places such as Staples, as well as other brands from photo paper manufacturers.
I was also told by the technical support at Canon USA that additional types of Canon paper are sold outside of the United States- so you may wish to look for them if you are reading this in other countries.
Due to the variability of paper costs and sizes, I was not able to find any sort of figures for costs per page. However, I pass on this advice from a couple of different users: "Aways check your print in print preview mode before printing it - you can see things there that you hadn't realized needed to be adjusted or fixed - and the habit will save you $$ in paper and ink costs." However, the consensus was that running costs for the printer were fairly low. A few users did say that their ink tanks went down much more rapidly than expected after a few prints, but because they did not give the size of the prints they were producing, it is hard to tell how to evaluate the information. The 11 x 14 inch and 13 x 19 inch prints are going to use a lot more ink than 4 x 6 or 4 x 8 inch prints.
In Conclusion (5 out of 5)
This printer seems to be well suited to the serious hobbyist, the professional running a home photography business, or the artist producing photographic prints. It has a reputation for being durable and well made. Things to be aware of before purchasing; The pigment inks do not perform well on glossy photo paper, producing dull prints. Pigment ink in general seems to provide slightly less color 'punch' than photo dyes, but the printer does an excellent job reproducing the picture on your screen on all types of paper except for glossy. Its large format allows the user versatility with quality, and when used with art paper, it produces prints suitable for sale in a gallery. It is not a printer for high production, due to the length of time it takes to print, but it is a good printer for a artist producing limited editions. For a user with a serious camera hobby who can afford the printer, it would be a delight. It will upgrade the quality of your prints to a professional level you will find amazing, if you were previously using one of the many inexpensive photo printers available - even one of Canon's lower priced printers.