Brother MFC 6490 CW 11" x 17" All-In-One Review - Printer Capability and Features
The Brother MFC 6490 CW
Capability and Cost (5 out of 5)
The Brother MFC 6490 CW All in One is a surprising treat. As of writing this, there is no other printer/scanner available under $500 with the 11" x 17" scanning area on this machine, let alone with the other features of an AIO. And this was found on sale with rebate, for $199 USD from Staples at the time I bought it. It has also had additional rebates in the several months I have owned it. More typically, it is available for $250 to $300 USD. I wanted a printer scanner with this large a screen for my daughter's artwork, which she draws on oversize sheets and then scans to her computer for Internet publication or additional work in PhotoShop or other paint programs. Small businesses find this machine valuable because it can scan, copy and print tabloid sized sheets in house, saving a lot of money and time over using printing shops.
When I started looking for a printer scanner with this large a screen, I did not expect to find what I needed in an AIO. I was delighted to find the Brother MFC 6490 CW, because it could scan and print at 11" x 17". Getting a copier from the deal was a bonus, and the fact it came with faxing made no difference in our decision.
Connections & Connectivity (4 out of 5)
We hadn't expected to use the fax capability, but something came up, and we now have used the fax once. We were able to send the fax directly from the printer, putting the sheets through the ADF, and it was easy to input our phone number and name for use on the fax, as is required by law. It has several options for fax use sharing on a single phone line, including distinctive ring detection, although our selected option requires our answering machine to be connected to a jack on the printer and 20 feet of phone cord to get back to the desk around the far side of the room. It did come with a phone cable - not one long enough for our purposes, but probably adequate for a printer set up directly next to a phone jack or a desk.
It did not come with a USB cable, for use with non wireless computers, although it has Ethernet and USB ports. Luckily, we have a wireless router, and the MFC 6490 CW has an embedded wireless printer server. Installing it to work wirelessly and scan to email or file on the computer was fairly easy, although some user reviews said they had problems setting it up. One user in particular complained that he had tried multiple times to get help from Brother with his installation problems, and was getting no satisfaction, and was probably going to return the printer because of the lack of support. It works with Windows and Mac OS, and although it does not say so in the specs, user comments indicated people had been able to find a Linux printer driver which worked with the device.
Brother MFC 6490 CW Stock Photo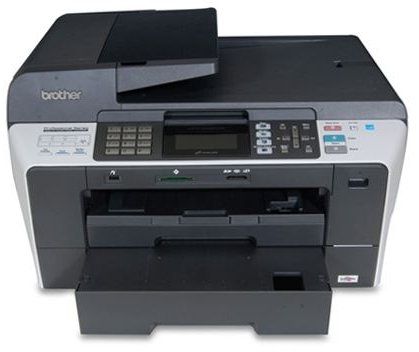 Features (4 out of 5)
According to the reviews, users are quite impressed with the scanner capability and quality, which is what sold me on getting this printer. It can scan at 1200 x 2400 dpi, with originals sized up to 11 x 17 inches. It can also print, copy and fax at that size. The maximum duty cycle is 5000 pages, but Brother recommends it be used for just 500 to 2000 pages a month for best printer life and performance. If you are going to be printing in color most of the time, plan on usage closer to 500 pages a month, since color prints require four passes from the print head.
Copying can be done at 23 cpm black, 20 cpm color, directly at the printer. It can reduce down to 25%, and enlarge to 400 %, although some users said the quality started to deteriorate with higher enlargements.
It has two paper trays, the bottom one able to hold 250 sheets of letter through ledger sized paper, while the upper tray is adjustable from 3 x 5 inch photo paper up to ledger size (A3) and holds up to 150 sheets. It cannot tell what size paper is in the tray automatically - frustrating when you don't remember and need to check. It also has no automatic duplexing - although at this price, the lack of that feature is not surprising.
The manufacturer's specs say it can print 35ppm black, 28 ppm color, but that is really only in draft mode. In actuality, printing is much slower, especially in color. It uses a four color cartridge system, and you can get large capacity cartridges for a little more than a third higher price that can print twice the pages. Multi-color cartridges are a real savings when my daughter goes through blue or green phases in her drawings. Our old printer would often be out of one color and have more than half full capacity in the other colors, but because it used a single color cartridge, we had to toss it and buy another. It is capable of print resolution of 6000 x 1200.
It also does photo printing, at about the same quality that you'd get from your corner drugstore. The printer allows enhancing of photos directly at the printer with the LCD screen, fixing skin tones, red eye, and changing colors to monochrome or sepia.
It comes with a license for two computers to use proprietary software and a site hosted by Brother with a number of special printing features for templates and decorative materials. Except for the limit on using the special print software, multiple computers can be connected to the network and share the printer.
Performance (4 out of 5)
We found that paper moved smoothly in our printer, without jamming, and that it was easy to use the memory card reader to print pictures directly from our camera without using a PC at all. The LCD screen gives a good preview of what will be printed, and lets you move through the pictures on the card to find the one you want to print. A few user reviews said they had occasional trouble with paper jamming; one complained the jamming was so bad that they were going to return the printer, but most user reviews also said they did not have trouble with jamming.
Some people complained about the size, and were not certain of the sturdiness of the printer. However, the MFC handles 11 x 17 inch paper, and its dimensions are 21.3" x 19.2" x 12.7", which is not excessive. It only weighs 34 pounds, and I was able to carry the box upstairs without any trouble. We do have it parked in an unused corner of the room on the floor by a window, rather than taking up space on a desk. It comes with a 2 year warranty.
We found that the scanning to the computer produced very good pictures, with great detail. Black and white printing, when using the better print modes, was good quality, and so were copies in black and white. However, we do have some issues with color printing. Especially when using darker colors, printing tended to be a bit muddy, and details were not clearly discernible when printing deeply shaded drawings. It is possible that using a much better stock of paper would clear up some of these problems, but the medium quality paper we keep in the printer does not reproduce color detail as faithfully as my daughter wanted. Other users also noted this issue, and felt that colors were duller than the originals.
Cost of Supplies (4 out of 5)
The Brother MFC 6490 CW also keeps an icon in your system tray where you can click to check the status of the ink cartridges. It offers the facility to connect to Brother online and let you order replacement cartridges directly from them, but that is not the most economical way to replace the ink. Online sellers have black ink high yield cartridges, expected to last approximately 900 pages, for prices as low as $21 USD, and high yield color cartridges, rated at 700 pages, for about $12 – 15 USD. The regular capacity cartridges cover half as many pages, and sell for about $18 – 20 USD for black and $9-12 USD color. Color cartridges from Brother are pretty comparable in price to other online sellers, but their black ink cartridges are definitely more expensive, at $25 for the regular cartridge, and $30 USD for the high yield cartridge. Brother estimates that a black & white sheet costs about 3 cents to produce, and a color page just over 9 cents per page.
In Conclusion (4 out of 5)
The Brother MFC 6490 CW does a very good job of scanning, which was our main purpose for the purchase. It has the ability to produce quality black and white graphics on 11 x 17 paper - great for Auto CAD programs and other people who need large monochrome prints. It is less satisfactory with color printing, both in color intensity and in accuracy of the reproduction, losing details with dense graphics or dark colored prints. Copying is adequate, it performs properly as a fax machine, and is handy to print snapshots. For graphic artists who need quality color printing, I advise you to get a more expensive machine. For small businesses who want to print their own 4 page folded booklets with some color, it is an ideal solution, at an extremely good price. I recommend it for use if you want its strengths, but if you want really professional color and reproduction in your large prints, you will not be satisfied.