Asus N10J-A1 netbook PC Review: Specifications, Looks, design, Build Quality and Ergonomics
Specifications
Processor: Intel Atom N270, 1.6 GHz
Motherboard: Mobile Intel 945GSE Express
RAM: 2 GB DDR2 installed (cannot be expanded more than 2 GB)
Hard Drive: 160 GB, Serial ATA-150 at 5400 rpm
Optical Drive: No
Graphics Card: NVIDIA GeForce 9300M GS (Graphics interface can be switched between 9300M GS and the integrated Intel GMA 950 on the motherboard)
Screen: 10.2 inches TFT active matrix at a resolution of 1024 x 600
Wi-Fi: Yes
Bluetooth: Yes
Web cam: Yes
Card Reader: Yes
Finger Print Reader: Yes
Battery: 6-cell Lithium-Ion
Weight: 1400 grams
Dimensions: 10.8 x 7.6 x 1.4 inches
Operating System: Windows Vista Home Premium
Price: USD 691.98 at www.amazon.com
Images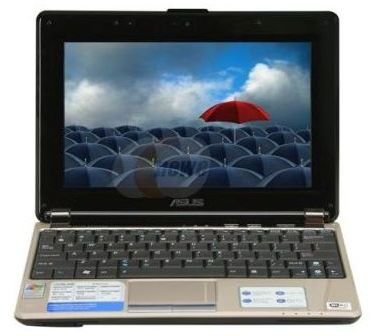 Looks, Design, Build Quality and Ergonomics (4 out of 5)
Asus N10J-A1 is based on a very modular design, using the latest technique and an improved paint scheme of gold with chrome accents. However it takes over the same elegant shape as its predecessor, the Asus Eee 1000HA.
The main body is made up of hard plastic and at some places metal is also used to provide ruggedness during travel and rough use. This time Asus has tried to improve its keyboard design by adding larger and flat keys to broaden the typing area as compared to all previous versions of its netbooks. But if you will ask me, I still find HP Mini 1000 a better option as far as keyboard is concerned, as it has the most user friendly interface of all the netbooks available in the market.
All the control keys and the touchpad (which is larger as compared to other Asus netbooks) are very well placed and provide an easy user interface. However, I found the toggle keys, which are used for switching the graphics card and the Wi-Fi key, to be a bit small in size and a bit difficult to use.
The screen hinges are also of poor quality as compared to previous versions of Asus N10J-A1. The 10.2 inch glossy back-lit TFT display has a lower resolution and no effort has been made to prevent the glare of the screen. Otherwise, the screen is bright with vibrant colors and a better viewing angle that does not put much strain to the eyes.
Asus has also added a finger print reader which is placed between the touchpad's right-click and left-click buttons to improve the security of the netbook.
Configuration, Features and Performance (4 out of 5)
The main feature that differentiates this netbook from others is its dedicated graphics card and its ability to deliver better performance. This netbook has almost the same configuration as you will find in other brands, with the Intel N270, 1.6 GHz processor fitted on the Intel 945GSE motherboard. But, it comes with an nVidia GeForce 9300M GS graphics card which has 256 MB of video memory, enabling this mini PC to handle games, graphics and video editing easily. However, the user can switch over to the in-built graphics card (Intel GMA 950) with the help of a toggle switch to extent the life of the battery.
Asus N10J-A1 is fitted with 2 GB of RAM, which is more than enough to run all Windows Vista applications easily. The 160 GB of hard drive space comes handy while storing your favorite MP3 and video collection. However, I missed an optical drive, but considering its size it seemed a bit difficult to add it in this mini computer. This space can however be filled by three USB ports which can be used to connect a larger external hard drive or an external optical drive to the netbook.
This netbook come pre-fitted with a Bluetooth and a Wi-Fi, providing excellent wireless connectivity. Other connectivity options include a headphone and a microphone jack each, a VGA port, A HDMI port, an Express Card/34, an Ethernet port and a card reader.
It comes with a 6-cell Lithium-ion battery which the company claims to provides a backup time of 6.5 hours, which is quite impressive. Asus provides 2 years limited warranty, 1 year accidental coverage warranty, a carrying case and an optical mouse with this product.
This netbook PC provided excellent graphical interface while watching movies and playing games. I cannot say that I was able to play games like Crysis easily on this mini PC, but at a lower resolution this netbook displayed impressive results with the game. However, I must admit that the blend of Intel Atom N270 with nVidia Geforce 9300M GS has somewhat slowed down the speed of this PC and video decoding was slow and irritating.
But, as far as normal home computing is concerned like opening of office documents, multitasking, playing normal games and surfing the Internet, this netbook PC displayed excellent results. So an avid gamer or a video editor who has bought this PC for routine work might get a little disappointed, but this mini laptop is way ahead in performance over all its competitors in this segment and scores maximum points in all the benchmarks like 3D Mark06 and PC Mark05.
Value for money (4 out of 5)
Looking at the configuration and the performance this netbook PC has to offer, the price of USD 691.98 doesn't seem too much to me. it is a very fair price for a netbook that competes with some entry level 12 inch notebook PCs.
Conclusion (5 out of 5)
Asus N10J-A1 has a great configuration and delivers excellent performance as compared to any other 10 or 10.2 inch netbook PC. Besides having some minor issues like poor hinges, weak video decoding and absence of an optical drive, this mini PC is a great option for many of us who are planning to buy a 12 inch notebook laptop and won't mind paying a little less for a powerful and compact PC like Asus N10J-A1.