BenQ E900HD 18.5" LCD Monitor Review: Specifications, Looks, Design, Ergonomics, Features and Performance.
Specifications
Screen size: 18.5 inches Widescreen
Dimensions: 458.1 x 360 x 178.7 mm
Display color: 16.7 million colors
Color: Glossy Black
Brightness: 300 cm/m2
Aspect ratio: 16:9
Contrast ratio: 1000:1 (Dynamic Contrast Ratio = 10000:1)
Resolution: 1366 x 768
Response time: 5 ms
Power consumption: 30 watts maximum
Power supply: built-in
Speakers: Yes, built-in 2 x 1 watt
Images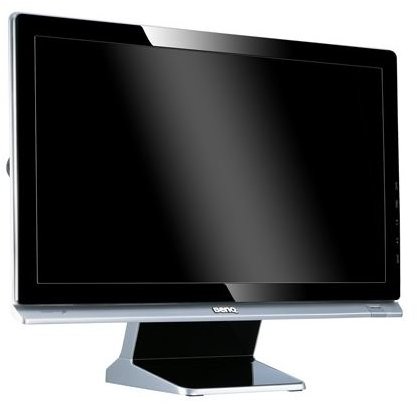 Looks, Design and Ergonomics (4 out of 5)
BenQ E900HD is a beautiful monitor and its elegant and intelligent design can turn many heads. The panel is made out of hard and flexible plastic which has a mix of a glossy black and gray finish to it. Its sleek design makes it a super desktop space saver and it can become your everyday-use desktop PC screen. The 18.5 inches screen is bright, with an aspect ratio of 16:9 that allows you to keep watching movies without putting too much strain on your eyes.
All the control buttons and connectors are well placed and easy to access. The panel rests on a rectangular stand that shares the same glossy finish as the bezel, and keeps the screen leveled and stable so that it does not shake while accessing monitor controls. The controls are moved to the side making it extreme­ly simple to use and you can get used to the interface within minutes. Overall, BenQ E900HD is a beautifully designed monitor with an easy user interface.
Features and Performance (4 out of 5)
As I told you before, setting up the screen is a very simple job and it will hardly take 2-3 minutes. All the details of the display controls are mentioned properly, providing an easy user interface.
This monitor is a great power saver and the company has taken much initiative by using an energy saving environment-friendly production process. The new power saving technology uses two lamps instead of the traditional four without compromising on the brightness of the screen, hence saving more power than any other monitor.
It uses BenQ's Senseye+Photo Image Technology which provides five different preset modes like standard mode, dynamic mode, movie mode, photo mode and a sRGB mode for a better viewing experience. However, the presets provided with the screen are too gaudy and over emphasized.
Along with a contrast ratio of 1000:1, this LCD monitor provides a Dynamic Contrast ratio of 10000:1 that enables the user to see the finest detail even in a darkened and complex movie, giving a clearer and smoother image. While using the screen for desktop applications you will notice reduced workspace in terms of height without compromising on the quality of the picture. On the other hand the screen does very well as the 16.7 million colors are cool and images are bright causing no strain or exertion to your eyes.
There are two 1 watt in-built speakers with the monitor, but they were not able to produce an effective sound output for everyday use, and definitely not so for movies or games and are really of no use.
Overall, E900HD is a good performer with its bright, clear and impressive picture quality, despite having some minor issues like poor speaker output and gaudy preset modes.
Value for money (5 out of 5)
BenQ E900HD is priced approximately at USD 170.00 and is a pretty good deal, especially with its sleek design and good picture quality, which makes desktop movie watching a pleasurable experience.
Conclusion (4 out of 5)
Although 22-inch and above monitor screens would be con­sidered ideal for watching movies on the desktop, this 18.5 inch LCD display still does a fairly good job and was able to perform extremely well by providing a excellent picture quality with better power saving benefits. Also, it is very fairly priced and is a great choice for budget users who want a great 18.5" LCD display without burning a hole in their pockets.