Samsung TOC T220 Monitor Review - A Top Gaming Display with a Price that Keeps You in the Game
Samsung TOC T220
Description and cost (4 out of 5)
The Samsung Touch of Color T220 Monitor has been selected as an exceptional 22 inch monitor by experts and users alike. MSRP was $559 USD, and now has become fairly widely available from online retailers for well under $300. With rebates, one retailer had a final price of $229. It weighs about 13 pounds. It is also notable for its low energy consumption: .3 W in sleep mode, and for being Energy Star rated. It is also an excellent piece of design, and the Touch of Color (TOC) name refers to a inner rose red strip piped into the glassy bezel of the monitor. Overall, it is stylish in appearance. It is now in the middle to lower price range for a 22 inch monitor without HD capability.
Samsung TOC T220 stock image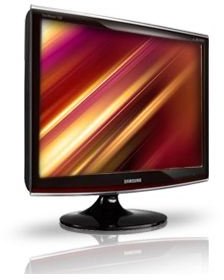 Features (5 out of 5)
The Samsung TOC T220 Monitor has widescreen 1680 x 1050 resolution, 1000:1 contrast, 2ms (GTG) response, 170 degree viewing angle, and analog and digital video input. Samsung also provides the VGA and DIV cables. There are no inbuilt speakers. It tilts, but is not otherwise adjustable. The monitor is plug and play and is certified for Windows Vista. It is not wall mountable. There are numerous settings to change color and brightness, to suit the purpose as you are using the monitor for at the moment.
User comments- general satisfaction (4 out of 5)
If Bright Hub's system allowed it, I would actually give this section a 4.5.
Users in general are extremely satisfied with this monitor. The Samsung TOC T220 is considered easy to install, but the lack of height adjustment has frustrated some users. While the base looks solid, several users had trouble with wobble, and one commented that the monitor was acting like a bobble head as he typed. One user said that if people were better at gaming, they would not be pounding the keyboard so hard - and would not have a wobbling monitor. Another said to just touch the buttons lightly, and there would be no problem.
Nearly as many users who commented No Dead Pixels commented on the dust that collected on the monitor bezel. One user advised getting a toy dust cloth to keep behind the stand to dust daily. Another said his game with a handy cleaning cloth. There were a few, out of hundreds of reviews, which said they did have a couple of dead pixels, but some users found they could massage them away.
Overall, people though the monitor was a stylish and attractive piece of equipment, and found the picture vibrant, crisp, and with excellent contrast. Blacks and whites were deep and clear and the picture quality was felt to be only short of what would be found on equipment meant for professional photo editing or graphics work. The color saturation was considered very good, as well as the brightness, which is easily changed through preset settings suitable for gaming, video viewing, and text and web surfing. It also has settings which can turn the whole display to different colors, gray scale, and even sepia tone (although the user was not sure what use anyone would find for a sepia tone monitor).
The touch power button was disconcerting to some users, although most said they got used to it easily. Some users were unimpressed with the quality of the included cable, although overall, it was felt that the Samsung TOC T220 was a quality product. Comments were made that getting the rebate from Samsung proved more difficult than a normal rebate process. A user did comment that the provided software was not compatible with 64 bit machines.
User comments- A gamer's delight (5 out of 5)
Gamers seemed to consistently be thrilled with the monitor. The response time was thought awesome, with no blurring or ghosting effect. Some gamers did say that in games with very dark gritty scenes it was difficult to distinguish some details, although that was pretty much the only negative comment on the picture quality. Some users did see blurring while video watching, probably due to interlacing. On a black screen, a number of users said there was light bleeding from the edges, particularly the top and bottom. This does seem to be a nearly universal comment from LCD monitor users, so it may be inevitable. This was mostly a problem that people noticed with dark pictures in a darkened room. In well lighted conditions, bleeding was reported as practically unnoticeable to invisible. When watching widescreen movies, the back light bleed was confined to the black bars, so it did not interfere with viewing the movie.
People who upgraded from a 17 inch or 19 inch screen were absolutely stunned by the additional size and the ability to keep numerous windows open at the same time or view two documents side by side. Or play their game on the vibrant widescreen. Several people commented on the fact that the monitor was extremely quiet, without any humming or other noise while in use.
Users thought that the packing was nearly carried to extreme, but their monitors arrived in top notch condition. Buttons are hidden on the side, and a few people found they had to guess which was which at first. On the other hand, many people felt the hidden buttons added to the sleek appearance.
In conclusion (5 out of 5)
Overall, I would rate this monitor just under a 5, or almost Excellent. However, I do rate it a 5 for gamers and color purists.
Bright Hub recommends this monitor to readers, especially viewers to whom the quality of color is very important. It seems to be a great addition to a gaming setup utilizing the highest quality graphics cards, and the monitor is no longer one of the most costly components. The cost has dropped significantly, although buyers considering the purchase should compare online prices to see what the current best deal is. Remember that the rebates Samsung offers at times can also put an extra dent in the price. (Assuming that you have no trouble getting your rebate.) Now, the monitor is a great buy for its features. Do remember that it is not VESA mountable, so you are getting a monitor that will have to stay on your desk or your monitor stand, if you use one.