A Review of the Zebra Card Printer: Budget Friendly Card Printer
Zebra p100i Stock Image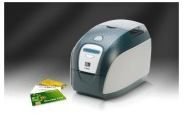 Capability and Cost (5 out of 5)
The Zebra p100i is an excellent card maker. Zebra's site gives statistics for the world wide use of their products, and they are impressive. In the United States alone, Zebra card printers print more than 25 million drivers' licenses yearly. Zebra says, "In more than 90 countries, Zebra® card printers produce over 1.5 million identification cards every business day."
The card printer is also used for creating Bank and ATM cards, college ID, Smart cards, secure identity cards, employee identification, and practically any other sort of single sided secure identification, printable upon demand. A basic printer costs about $800 USD, and as options like magnetic encoding, smart card printing and other features are added to an upgradeable board, the price goes up.
It comes in about 30 variations, including options with starter kits, ranging up in price to $2500 USD for a full suite of options and starter kit. It comes with a two year warranty on the printer and original print head. It uses Windows drivers, and is Windows 2000, XP, Vista and Windows Server 2003 compatible.
Features (5 out of 5)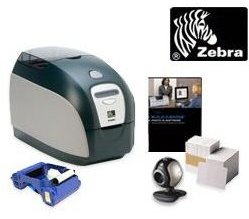 The Zebra p100i stores 100 unprinted cards and a cleaning roll, in three separate card bays for different types of cards. It has an ATM style single card feed. Monochrome cards can be printed in six seconds, and full color single sided cards take about 35 seconds each. Cards are 2.12" x 3.38" (54 mm x 86 mm), and from 20 to 40 mil thick. The Zebra p100i prints at 300 dpi, producing photo quality color. It has a 16 digit LCD screen for status and diagnostics. It does single sided color or monochrome printing, on a variety of different base cards.
The Zebra p100i weighs 10 pounds, and is compact, at 8'' x 13" x 9.25". It is a USB plug and play device, with USB cable included. Built in Ethernet is an available option.
How It Works (5 out of 5)
The Zebra p100i uses PVC or PVC composite cards (which are sturdier), and prints on them in either color or black and white, using color dye sublimation or monochrome thermal printing. The thermal head embeds the printing into the surface of the card, creating a card as a single unit that can not be counterfeited like a cut and pasted photo laminated card. Monochrome ink is melted off the ribbon into the card, while color printing vaporizes the dye into the surface. Various different PVC and composite cards are available, allowing creation of plain PVC cards, bar coded cards, magnetic strip encoded cards, smart card contact cards, and smart card contact-less cards, depending on the media used.
Monochrome printing can be done from black, red, green or blue, gold and silver, and white ribbon cartridges. Color printing comes on a special printer roll, or ribbon cartridge called a YMCKO, which is capable of 3 color printing, black text on the top, and then a clear coat. The color printing for Photo ID pictures is excellent, because the color dye sublimation process lets the edges of each dot of color blend into the next, producing a very smoothly reproduced color photo. The black strip on the color print roll uses resin to produce a crisp true black text which overprints the color, and then the overlay puts a strip of varnish on the card to reduce abrasive wear. PVC and composite cards are also available in a variety of stock colors, and custom cards can be ordered as well. A college could order ID cards with the college emblem in the card stock, and the ID printed over the picture, making a card that is extremely difficult to reproduce illicitly.
Supply Costs (5 out of 5)
A YMCKO ribbon cartridge costs from $70 to $90 USD, and produces 200 cards. Monochrome ribbon cartridges are cheaper, and go further. Black prints 1000 cards, and costs about $30 USD. Red, Green and Blue monochrome ribbons go for approximately $40 each, and also cover 1000 cards. Gold and silver are more expensive, $95 USD, but also cover 1000 cards. White ribbon cartridges cost $45 USD, and cover 850 cards per ribbon.
Cards vary in price depending both on their composition and their features. 500 standard PVC cards, 30 mil thick, are found online for $77 to $102 USD. 500 composite PVC cards go for $96 to $120 USD online. PVC cards with mag strips can be found for $76 to $102 USD, and composite mag strip cards cost $122 to $156 USD. Cards with smart encoding are also available, for correspondingly higher prices. Zebra also produces custom designed PVC card stock with individualized security features based on a customer's requirements - also at correspondingly higher cost per card.
Some office supply stores rent card printers, and if you are only intending a one time use, rental is probably your best choice. You do, however, still need to buy all the supplies. However, if you need cards for an annual event, or one extending over several days, buying the printer can become a more attractive option than renting it. You could also consider sharing it with other organizations to spread the cost. And after all, once you have the printer, you may find more than one use for making secure ID cards.
User Comments (5 out of 5)
In a fairly comprehensive search of the Internet, I was unable to find any adverse comments about the Zebra p100i's capability, performance or features. It is one of the best budget cards printers out there.
A user commented: "The Zebra is a more complete solution which I've seen installed across financial institutions' Manchester and London branches. Solid performance across the board, delivers perfect performance over and over, not quite as good as a laser printer for consistency of print but immaculate copy none the less."
In conclusion (5 out of 5)
Bright Hub recommends the Zebra p100i as an outstanding choice for a budget-priced, on-demand card printer, offering the user a variety of feature options, which are upgradeable, and an excellent warranty. It's suitable for creating a wide range of cards for different needs.