Top Overall 24 Inch Monitor: Review of the Best Displays
No Dead Pixels!
Now, we see how they have stood up to users after a few month's ownership. We look through user reviews, forums, and online chatter. On the way, we look for comments with "No Dead Pixels!"
Samsung f2380 Professional monitor (5 out of 5)
The newest of the choices in this review of the best 24 inch monitors, the Samsung f2380 is a niche product meant for graphic designers, photo editing, AutoCAD work and web design. For professionals who do not have $1000 + to spend on a graphics monitor,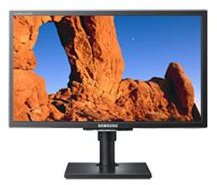 this graphics monitor offers excellent quality at a midlevel price, $320 at newegg.com.
It has 1980 x 1080 resolution, 8ms response time, and 178 degree viewing angles. It can tilt, swivel, pivot and adjust its height, so you can adjust it to the most productive position for your own needs. It looks quite attractive.
It has RGB VGA and DVI inputs, but no HDMI, no Speakers, and no TV tuner, for this monitor is aimed at the serious user.
The exceptional color quality comes from the new cPVA LCD technology, and uses fewer backlights at lower intensity, while giving you color and extremely accurate reproduction. You can read an in depth review of the Samsung f2380 monitor and a quick description of the cPVA technology, with a link to a much more technical paper on the topic.
It has EPEAT certification and 10% recycled material in the construction of the monitor, which with the lower power usage for the quality of the picture, makes it a contender for those concerned with green computing issues.
Users were very consistent in their appreciation of the color quality, although there were people who had some issues with black, and

response time. Since it is not meant for gaming, other users felt the criticism was unjustified. There is some further information on color settings from users in the review.
For those who don't need to split their needs between gaming utility and graphic use, this is likely to be a better choice than the HPw2408h reviewed below.
I did not find user complaints on the quality of the build, and no one mentioned dead pixels.
LG Flatron L245WP (4 out of 5)
The 24" LG Flatron monitor is good looking in every sense, and it has a spec to match. It is reviewed thoroughly in this Bright Hub article (LG Flatron L245WP), but we will recap certain points in this comparison of the top five monitors, before we select the best.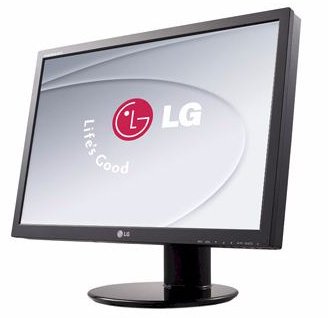 The LG Flatron L245WP is a widescreen with 16:10 screen proportions, and has 1920 x 1200 resolution, 1000:1 contrast, 8 ms response time, and can swivel, tilt, pivot to portrait, and adjust its tilt smoothly. It is also Energy Star compliant. It has multiple input formats, and can be used as an HD TV as well as a monitor.
Its price has not dropped much. It has gotten mixed expert reviews, but actual users seem generally satisfied with its performance, except in the area of color brightness. Some users were also very vocal about their disappointment with color quality and brightness. Some complaints were fixed when put in sRGB mode, but other users still continued to have problems. There were some comments about input lag. Two users who were completely happy for six months then started having severe overheating problems. Crucially, nobody has complained about the monitor having dead pixel issues. Not as many online sellers seemed to carry this model, as opposed to other 24" monitors. A couple of users complained that the monitor was DOA, and decided to change brands rather than get a replacement.
HP w2408h (5 out of 5)
Bright Hub has reviewed the HP w2408h in depth. For a quick review: It is a widescreen monitor with 1980 x 1200 screen resolution, 1000:1 contrast, 5 ms response, swivel, pivot, tilt and height adjustments, Multiple video input including HDMI, and 2 USB ports.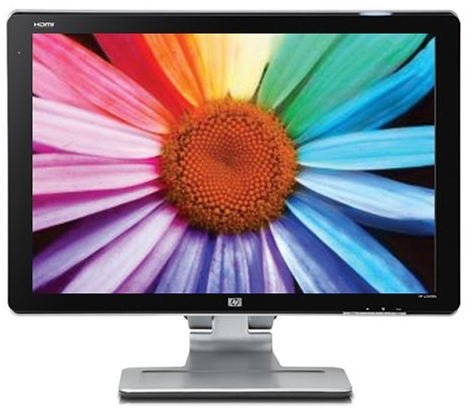 The monitor price has dropped, and can be found for as low as $360 USD. Expert reviews and user reviews rate the monitor very highly for a work monitor, with excellent performance in the areas of photo editing, Auto CAD programs and graphics. It also had some nice comments about its use in gaming.
It is not a monitor for shared viewing, as it has viewing angle problems from anywhere but working directly in front of the screen. Its speakers are adequate for warning you when you have email, but should not be expected to provide any degree of sound performance. It has not had a problem with dead pixels- but almost everyone notes that the glossy finish picks up fingerprints constantly. However, they also say it is quick to clean them off. A few users have complained about color calibration, but it is not a common complaint. The single worst problems users have had is with HP support- numerous people complained about the quality of the help they received on any issues. Luckily for HP, the monitor seems to work extremely well for most users right out of the box.
Samsung SyncMaster T240HD (5 out of 5)
Here is Bright Hub's review of the Samsung SyncMaster T240HD
A recap of the Samsung SyncMaster's features: a widescreen 16:10 with 1920 x 1200 screen resolution, 1000:1 contrast, 5ms response, swivel, and tilt capability, multiple video input capability including HDMI, TV tuner and Dolby digital sound speakers. Bright Hub was also impressed with its ability to render greyscale pictures. It is also notable as perhaps the best looking of all of these monitors.
The price has dropped considerably, with Amazon.com selling it for $400 with free shipping, and at least one online merchant offering it for less than $300. Of all the monitors reviewed here, this is the only one where the sound from the built in speakers has received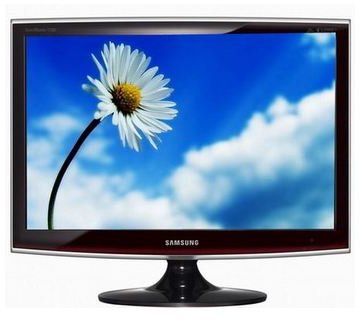 any praise. They are considered very satisfactory in user reviews when used through the optical output, and adequate for monitor speakers when used normally. It also did not seem to arrive with dead pixels. A number of people were dissatisfied with both the adjustability and the lack of a wall mount for the monitor. It was also not considered a good monitor for use in video editing.
A number of people found it difficult to turn off the monitor with anything but the provided remote: although the remote was very useful for using it as a TV, and it performed well there. Of all the monitors here which can be used for both TV reception and as PC monitors, this seems the most satisfactory for TV viewing. There were some comments about the lack of overall brightness and limited viewing angles - which would interfere with using it as a TV for multiple viewers. People thought that Samsung should have included an HDMI cable, but many brands of monitors are sold without included cables. There were a couple of complaints that it buzzed when the brightness was turned down. A number of users were delighted with the quality for use with console games as well as PC gaming.
Dell UltraSharp 2408WFP (4 out of 5)
Bright Hub has thoroughly reviewed the Dell UltraSharp 2408WFP in this article. To summarize its features: widescreen with 1920 x 1200 resolution, 3000:1 contrast, 6ms GTG (gray to gray) response, tilt, swivel, pivot and height adjustments, 178 degree viewing angle, and practically every video input capability you could imagine. It also comes with a media card reader and four USB ports. It is wall mountable. It is definitely the most expensive monitor among those we are evaluating.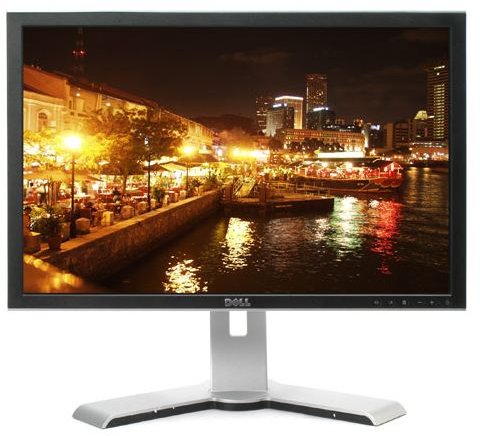 The price is now down below $500 USD at some online merchants when on sale. It has received mixed reviews by users for its gaming usability. Some users are extremely satisfied, whereas others are very unhappy. There have been some complaints about input lag, and this contributes to the responses from unhappy gamers. There is considerable disagreement about the quality of the brightness as well. A number of users have found the display unevenly bright, with a pink tinge, over saturation, and washout - sometimes all on the same screen. However, other users responded that they were able to tweak the color and brightness to be just as they desired. The viewing angle advertised did not seem to be as good with actual use. There were also a couple of complaints about a wobbly or uneven stand.
Some users still had the same issues even when their monitor was replaced by Dell. In general, people were happier by far with the customer support available from Dell, as opposed to that of HP. There were many users happy with its capability as a work display monitor, as a gaming machine monitor, and as a graphics and editing monitor, so it is possible that others received monitors that were defective in some area. However, there were enough complaints that if the issues were due to individual defective monitors, Dell is having a problem with its quality control. Fewer online sellers carried the Dell UltraSharp 2408WFP than some of the other monitors reviewed in this article.
In Conclusion (5 out of 5)
After extensive research and reviews, the monitor with the overall best price, performance and features is the HP 2408h. It was both extremely versatile in the way it could be used, with features that allowed exemplary performance, and it was extremely well priced. While its speakers were considered very poor, users were not making their evaluation of the quality of the monitor on the sound from the monitor. It also had the fewest user complaints about the condition it arrived in, although those people who had to go to HP support were not happy campers.
For those who want a dedicated graphic computer, for a bit less than the HP 2408h, Bright Hub's recommendation is to go with the Samsung f2380, with the newer cPVA screen. It seems to have the quality of those twice its price, with technology that meshes very well with its use.
For that segment of the population, who find that the HD TV aspects of their monitor are as important as the performance of the monitor when used with their PC, the Samsung SyncMaster T240HD would probably make a better selection.