Canon Pixma MX700 - Printer Review for Photographers
The Canon Pixma MX700 offers cutting edge pixel resolution for hobby and professional photographers alike. In addition, this multifunction printer can be used for faxing, scanning images and printing everyday business letters and advertising items.
(Click on images to enlarge)
Canon Pixma M700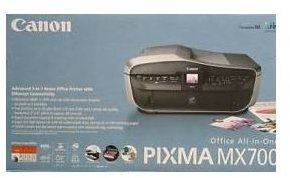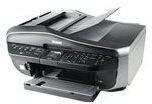 Design & Specifications (4 out of 5)
Canon's family of Pixma printers has grown in popularity as users see the sharp, clear images created by these machines. This particular model offers several features in one: print, fax, copy, scan and photo printing. The printer is inexpensive, prints high resolution and runs quickly and efficiently.
Two separate paper trays can hold either photo or regular paper. Photos are scanned and printed in 2400 dots per inch (dpi) in color making for crisp, photo shop quality portraits. You can also fax in color or black and white. Offers the ability to print front and back by moving the paper manually, but no duplexing function.
Features of the Canon Pixma MX700 include:
1.8 inch LCD Photo previewer (color)
Memory card slot
Print speeds of 30 to 39 pages per minute
PictBridge Port
18.9 inches wide; 18.9 inches deep; 9.4 inches tall
Weighs just over 22 pounds
Automatic document feeder holds 30 sheets
Front paper loader holds 110 sheets of copy paper
Rear paper loader holds 150 sheets of copy paper
Four ink cartridge system
Network ready
Features (4 out of 5)
The Canon MX700 has qualities that are both positive and negative. Here's a breakdown:
Pros
Reasonably priced.
Ethernet port and networking capabilities.
Automatic Document Feeder (ADF) holds 30 sheets for scanning or faxing.
Ink costs are reasonable at about three cents per page for black and white and six cents per page for color.
PictBridge support.
Cons
Limited fax capabilities. You cannot set the fax to send later and incoming faxes are stored in memory.
The only way to limit spam faxes is by unplugging the fax from the phone cord.
Ink cartridges cannot be recycled.
Duplex printing is manual only.
Cost of Printer and Ink (5 out of 5)
The MX700 can be easily found for under $200, although the price varies greatly depending on where you purchase the printer. Add to that the fact that the cost of printing a black and white page is around three cents and a color page around six cents and you can easily see that this printer offers great value for the money.