A Review of the HP 4450 Printer
The Good
As a thoroughbred in the HP portfolio, the 4550 offers much in terms of resilience, reliability, performance and speed. Looking at the best things this printer offers include:
The large paper tray. A tray that can hold more than an ample amount of paper may seem like a minor issue, but if you happen to be printing a large amount of brochures or newsletters you will find not having to baby sit the paper to be a blessing.
Toner, not ink. Ink is not a cheap item and it runs out very quickly when you do any bulk or detailed printing. Running on toner is a lot more cost effective and since toner cartridges are so much bigger they will last a lot longer.
Fast printing, once the machine is warmed up. The significant warm up time is balanced by a high sheet per minute rate once the printing begins.
Quiet printing. While it may not be ninja quiet, this machine can keep going at full capacity and still not interrupt a phone call only 3 feet away.
A solid all round performer with an exceptional shelf life.
The Bad
Significant warm up times. When you first turn it on the HP 4550 can take some time to calibrate and warm up for use. However, once it has aligned itself this is a truly marvelous workhorse printer.
The size and costs. Unless you have a true office or home office you may have a bit of a hard time finding a place to put this machine. You will need to plan your space well. Costs are also significant, therefore, unless you will be able to write it off as a business cost. At least then you will be able to recap some of the significant output.
Faxing. Incoming faxes are only going to sit in queue one at a time and if you want to copy or print at the same time you are stuck out of luck since they will be waiting in that same line. Other similarly priced printers allow you to by-pass such issues and multitask job queue management. This can be annoying when you are in a hurry.
Conclusion (4 out of 5)
If you are in search of a printer that can do it all, and do it without running out of ink in the middle of the job then this printer may just fit the bill for you. It has a large capacity, and the ability to not only handle your bulk printing, but to also do nice work on your detailed color copy too. If you want one machine to do it all (your faxing, scanning and copying) then this is the machine for your needs. While the price may be an initial deterrent for most, if you run a small business or a home business then this may be an expense worth investing in. The model easily takes on multiple faxes, and has a more than suitable number (about 100) of auto dials. All in all this printer is worth the money. The only thing that will be a detraction is that the printer takes a while to warm up. If you need to print in a hurry then make sure the printer is on and ready to go. It takes a full 5 minutes otherwise to align and calibrate from being switched on. You may want to just turn it on in the morning and let it go all day.
Operating systems and requirements
Mac: OSX 10.3.9 and above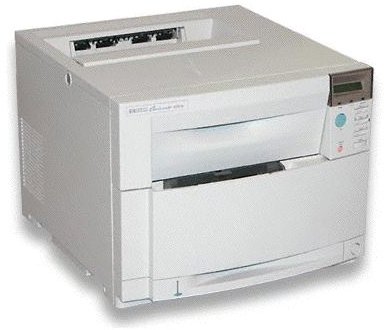 Windows: Windows 2000, Windows XP Home and Professional and Windows Vista
Requirements:
Windows 2000: Intel Pentium 2 or Celeron, 200MB free space
128 MB Ram
Windows XP: Intel Pentium II or Celeron 410 MB free space and 512 MB Ram
Windows Vista: 800 mhz 32-bit or 64 bit processor, 765 MB free space, 512 MB Ram
Mac OS: Power PC G3, G4, G5 or Intel Core Duo Processor 500 MB free hard drive space, 256 MB Ram.
Basic Functions
Printing (Black and White, Color)
* Print speed: Black up to 28 ppm, color up to 22 ppm, photos as fast as 26 seconds on a 4x6.
* Print resolution: Black 600x600 dpi, color 4800x1200 dpi, photo papers 1200x1200 dpi.
* Borderless printing for sizes up to 8.5x11 inch paper sizes.
Scanning
* Scan size up to 8.5x11.7
* Resolution: up to 1200x2400 dpi for greyscale, 4800x1200 dpi for color graphics, 1200x1200 dpi for photos.
Copying
* Copy speeds: Black 28 copies per minute, color 22 copies per minute
* Can be programmed for up to 100 copies
Fax
* Fax memory up to 100 pages
* Fax modem up to 33.6 kpps
* Up to 90 fax speed dials
* Features: Auto redial, speed dial, group speed dial, forwarding (no color), junk barrier with caller ID or phone call
* Fax resolution: color 200x200 dpi, photo 300x300 dpi, black and white 203x196 dpi
Tech Specs
Ports: USB, External I/O's, 1 phone and 1 phone line.
Print Type: Thermal Ink Jet
Processor memory: 16 MB
Processor speed: 120 mhz
Sizes supported: 3x5 to 8.5x14