Canon PIXMA iP100 Portable Inkjet Printer Review - Best Mobile Printer?
Canon PIXMA iP100: The PIXMA with a difference.
The Canon Pixma iP100 is a portable printer from Canon's Pixma range of inkjet printers, coming with an option of rechargeable battery and a Bluetooth adapter for mobile printing needs. Canon has manufactured the Pixma iP100 to be a companion for mobile professionals and road warriors alike, however the Pixma iP100 also performs as a portable photo printer. Photo prints from the ultra-hi resolution inkjet printer are very comparable to those from dedicated inkjet printers. Let us see how we could say this, and how well the iP100 performs in each of the following aspects.
Portability and Aesthetics of the Canon PIXMA iP100 (5 out of 5)
The Pixma iP100 is not the smallest portable printer manufactured by Canon, but it is still very portable. It measures 12.7" x 7.2" at a height of 2.4". The iP100 comes without a battery by default, and you can buy the optional LK-62 Lithium Ion battery for about $100. This gives the Canon Pixma iP100 the capability of printing over 200 pages on a single 3-hour charge. The printer weighs just 4.4 pounds or 2kg.
The iP100 comes with a silver finish, with the side-panels in black, and extendable paper trays above and below. Professionals will find the Pixma iP100 elegant and pleasing to the eye. Canon however, forgot to supply a travelling case for the dear portable inkjet.
Print Quality & Speed on the Canon PIXMA iP100 (5 out of 5)
Print quality is the first concern for many looking for a mobile printer. The Canon Pixma iP100 comes out clean here, with a 9600 x 2400 dpi resolution and 1-picoliter droplet size. The iP100 actually qualifies for photo printing on the move. When used with high-quality glossy paper it can actually help you start a mobile photo printing business. The downside is prints from the iP100 cost almost double those of dedicated inkjet printers. This is acceptable owing to the portability and high quality offered on the printer. There are two black inks for text printing and when they run out a pigment ink can be used for text in composite mode.
Speed of the Pixma iP100 is also impressive, at over 7 pages of text per minute, while Canon states 20ppm. Presentations can take less than 30 seconds each depending on the imagery present. The iP100 inkjet can also print photos in an impressive 55 seconds or less, appreciable as a mobile inkjet printer.
Connectivity and Options on the Canon PIXMA iP100 (4 out of 5)
While the iP100 comes with an infrared port for printing from mobile phones, those of you looking for true mobile printing should consider the optional $50 bluetooth adapter. The BU-30 bluetooth adapter from Canon converts the Pixma iP100 inkjet instantly into a bluetooth compatible printer. This will greatly add to the mobility of the PIXMA iP100 since a large number of mobile phones and laptops will be able to wirelessly issue prints. The iP100 has USB and PictBridge interfaces. Wi-Fi connectivity but card options are lacking. The portable inkjet can print borderless, photo-lab quality prints in 4-x 6 inch, 4-x 8 inch, 5-x 7 inch, 8-x 10 inch, and letter sizes, according to Canon.
Value for Money (4 out of 5)
Canon could as well ship the $100 Li-ion battery and $50 BU-30 adapter as standard accessories with the $250 iP100 while selling the inkjet at a slightly higher price. This would have saved some money as well as hassle for most customers as they would prefer both of these accessories. Overall, the Canon Pixma iP100 is a great buy as a portable inkjet that offers value for money by delivering on its promises.
Conclusion (5 out of 5)
Go get the Canon Pixma iP100 if you want the best portable inkjet printer money can buy and don't mind spending $150 separately for its accessories. Also those of you who want a photo printer on the move will find the Canon iP300 an excellent companion.
Images of the Canon PIXMA iP100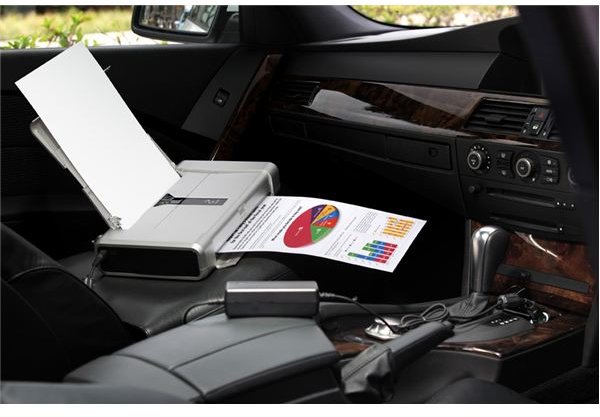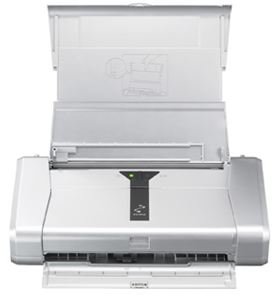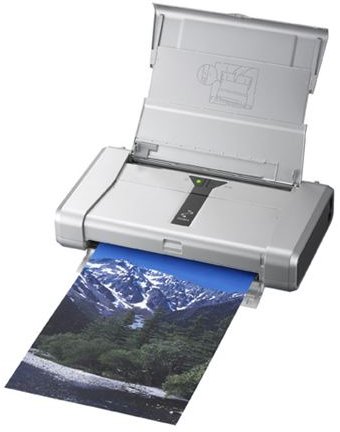 Credits
Images of Canon PIXMA iP100: Canon