Review of Dell UltraSharp 1905FP: Specification, Design, Features and Performance
Specifications
Dimensions: 16.3 x 8.4 x 16.4 inches
Weight: 15.2lb
Color: Midnight grey
Brightness: 250 cd/m2
Contrast ratio: 800:1
Maximum resolution: 1280 x 1024 / 75Hz
Response time: 20 ms
Design (4 out of 5)
The Dell UtraSharp 1905FP uses the same industrial design as its predecessors to retain the simple but flexible look. The panel is very thin and light in weight with a steady stand that offers the same height adjustment range of about five inches. You can move it virtually in any direction you like and it tilts and rotates very smoothly.
The midnight grey body of the monitor is made of hard and durable plastic, giving it a rich shiny look. The monitor can be locked at its lowest height position and the panel can be separated from the stand by pressing a release button, making the display easy to move and store at ones conveyance.
Dell has taken special care that no cables are seen by adding a rubber sleeve on the back which holds all cables in a neat fashion. There are four USB 2.0 ports available on the monitor body, two at the back and the another two on the lower left side.
There is an added connector with both DVI-D and analog D-sub connectors and cables for connecting external speakers at the bottom of the panel. Overall, the Dell UltraSharp 1905FP has a simple, sleek, elegant but useful design with a lot of connectivity options and added features.
Images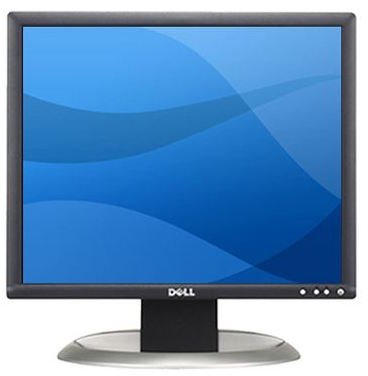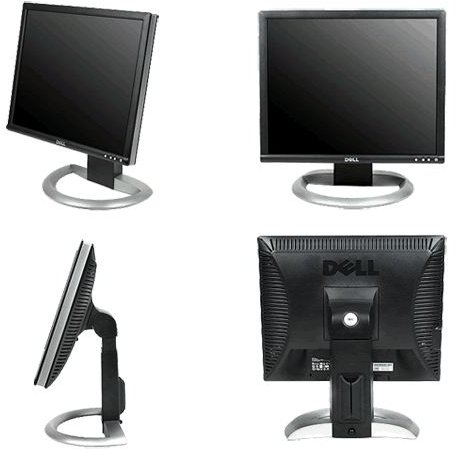 Features and Performance (4 out of 5)
With its sleek and stylish design, Dell UltraSharp 1905FP offers much more mobility than the traditional CRT monitor. It is more energy efficient, lighter and emits much less heat than any CRT display. It has four integrated USB 2.0 ports which mean that you don't have to go look at the back of your computer cabinet every time you want to get connected to a USB device. You can just plug in the device to the monitors USB ports easily.
The 800:1 contrast is superb and much better than found on any of the more expensive 19" models. Another feature that I liked about this model was its capability to connect to external speakers, making it possible to create an HDMI for enjoying your movies and games even more. With a higher response time of 20 ms, this model brings your games, DVDs/Blu-Rays to life.
The most valued feature which I liked about this model was its capability to deliver better image quality than any average LCD monitor, and to my mind it is image quality that counts over any other factor, when choosing a new monitor.
It provided excellent sharpness at a maximum resolution of 1280 x 1024. As far as the quality of colors is concerned, it was brilliant compared to its competitors. However, there was a little green tincture in the darkest shades and a little pink hue in the lightest shades. But again, compared to other monitors these were less prominent in the UltraSharp 1905FP.
All LCD monitors lack the ability to show true black color, and the UltraSharp 1905FP is no exception. But still, it was a lot better than its competitors. I tested this monitor for browsing, multimedia, office applications, text, games, DVD and Blu-Ray playback and much more. The monitor performed exceedingly well in games and video playback and was able to deliver crystal clear images in all the applications without any sort of distortion.
When I ran Dell pixel buddy (a freeware program that allows you to test dead pixels on your monitor screen), I was happy to see that there were no dead pixels on my UltraSharp 1905FP screen.
For anyone who is working on the computer for 10-12 hours a day, this monitor is a dream as it offers maximum clarity and minimum strain to the eyes. For those who are upgrading from a traditional CRT monitor to the UltraSharp 1905FP, it is a drastic change from a faulty display to realism of colors and sharpness.
Like all the Dell products the UltraSharp 1905FP is also covered under a standard three-year warranty and lifetime tech support via telephone and e-mail.
Value for money (5 out of 5)
Priced at approximately USD 150.00, the Dell UltraSharp 1905FP delivers excellent performance and is a great monitor for the home or business. With better options than other expensive monitors in this category.
Conclusion (4 out of 5)
The Dell UltraSharp 1905FP has a great design, offering excellent connectivity with four USB ports, HDMI, DVI-D and VGA ports. With a high response time, good quality color sharpness and a capability to deliver better image quality than any average LCD monitor at a high resolution, it is a great performer. Above all, it is very fairly priced which makes this VDU an excellent choice for budget users.